Jaclyn Hill May Have Teased Her Own Makeup Line With This Killer Smoky Eye Look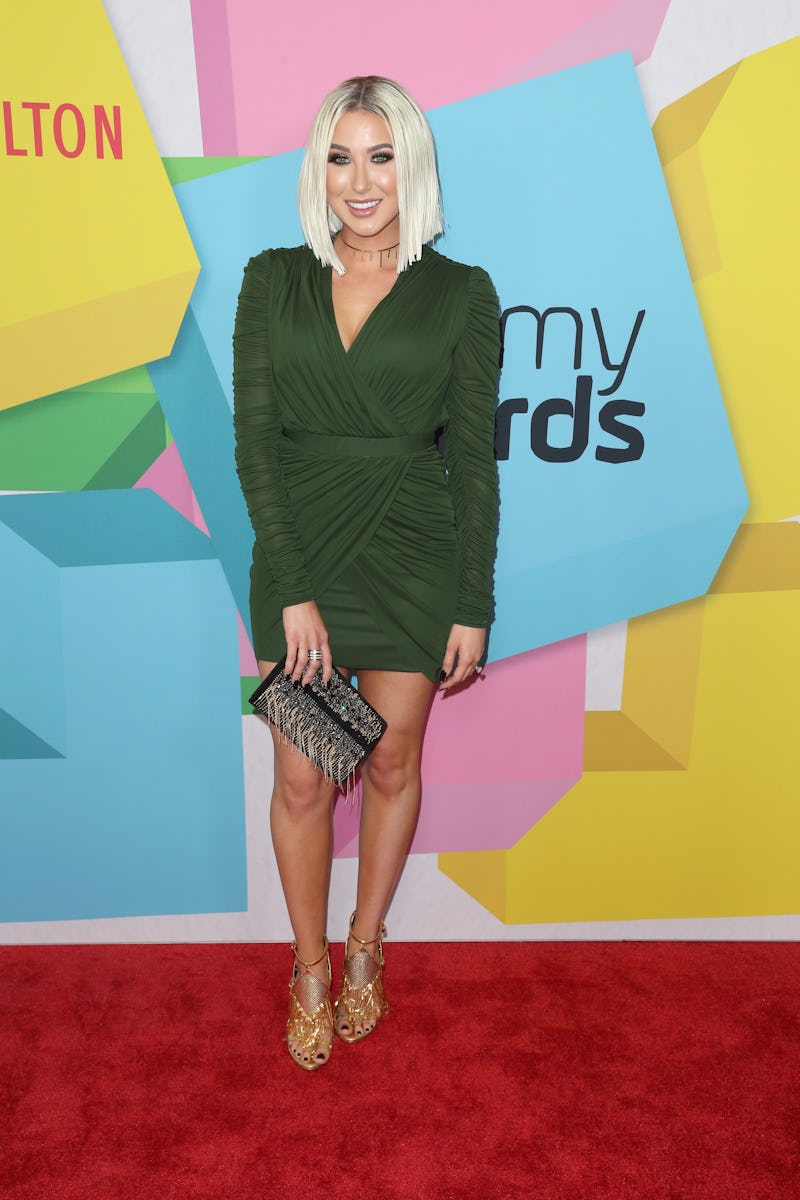 Joe Scarnici/Getty Images Entertainment/Getty Images
In the beauty world, fans and followers are essentially sleuths when its comes to hints and teases regarding possible new products from brands or influencers. Nothing gets by them! Case in point. Beloved influencer Jaclyn Hill posted a dramatic smoky eye look with her signature glowing skin on her Instagram, revealing which products she used to create her look. Except for her eyes. She played coy about that. She simply stated that her eye makeup — a gorgeous and wearable sunset smoky eye with a halo of orange rising over her full black lashes and dark shadow — was "coming soon."
And therein lies the source of intrigue for makeupistas.
Fans grabbed onto that little piece of information — her "coming soon" comment— and they ran with it. Many assumed that her eye makeup is from her upcoming, namesake brand. Makeup news Instagram account Trendmood also reminded us that Hill said her own brand was (finally!) coming this summer in this post. Could products from Hill's own brand be hiding in plain sight? The hint makes us think it's quite possible.
Hill has been teasing her own makeup line for a while now, all the while releasing blockbuster collabs with BECCA (her Champagne Glow range) and with Morphe (her shadow palette). Will it soon be the right time for J. Hill to drop her own range? Perhaps.
Fans instantly reacted to this look and they had questions. They also had theories. BTW, notice that Hill rocked a Kylie Cosmetics "classic" with her nude gloss.
One fan pointed to two very likely scenarios! It could be a new makeup collab with a brand, which is a formula that has proven super successful for Hill and any company with which she works. The same fan expressed some wishful thinking.
That would be amazing, wouldn't it?
This fan could not contain her excitement about "coming soon." That comment is all of us, since we are like, "Jac, what are you getting at? What are we going to be getting and when?"
Hill has rocked sunset smoky eyes before. Remember, her "coming soon" eye makeup could be an advance look at an upcoming palette she received as an influencer. It could be something she has absolutely nothing to do with, in terms of creating it. There are so many possibilities.
Speaking of Jaclyn Hill Cosmetics, there is an unverified Insta account. It has exactly zero posts but nearly 64,000 followers.
The bio states, "I've been working on this since April of 2014 & want it to be perfect! It will be launching in 2017." That obviously requires an update. But the sentiment is real — we'd rather she didn't rush it! These things take time — so much time. But that won't stop fans from hoping, wishing, and wanting.
Of course, her legion of Hillsters were stoked to see her post a makeup lewk. Hill has taken a step back from filming YouTube videos and has been a bit quiet as of late.
While some may think she has been working on a new beauty project offline, Hill admitted via Twitter that she has had to step away because her personal life is taking up much of time. Therefore, tutorials have been in shorter supply. But she still shares incredible makeup lewks on her IG.
Hill certainly deserves to take as much time for herself as she needs — to sort out her situation, and to feel like herself again. While fans certainly miss her candid clips, she will be back. For now, we just have to remain glued to her Insta for her latest cosmetic creations.
If that sunset smoky eye she teased as "coming soon" is indeed created by her own products, we are about to be fully suh-layed.