'Gypsy's Jean Draws Inspiration From Other TV Antiheroes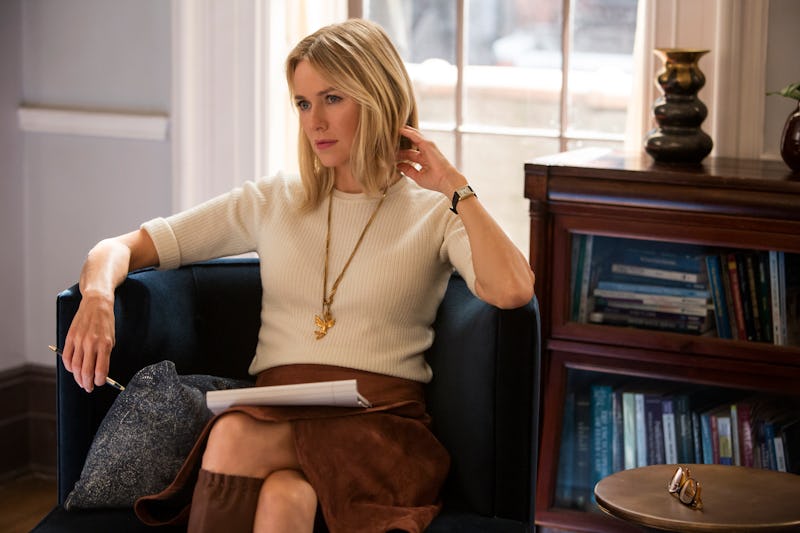 Alison Cohen Rosa/Netflix
'Tis the season to hide indoors from the heat and watch some seriously creepy TV shows. It's hard to keep track of all the eerie summer options, but I'm especially excited for the premiere of Netflix's new series Gypsy on June 30. The only thing better than a summer thriller is one that can be marathoned in one weekend, am I right? (And, fortuitously, a holiday weekend is approaching!) Whenever I dive into a new series, one of my first questions is if any of the plot points are based on real life. So, naturally, I'm curious if Jean from Gypsy is based on a real person?
Gypsy is pure fiction and so is Jean, but she's an intriguing character and I can't wait to follow her journey. Here's how Jean is described in Netflix's official synopsis:
"Jean Holloway [is] a Manhattan therapist with a seemingly picturesque life who begins to develop intimate and illicit relationships with the people in her patients' lives. As the borders of Jean's professional life and personal fantasies become blurred, she descends into a world where the forces of desire and reality are disastrously at odds."
And, based on early reviews, Jean is the type of complex female antihero TV could really use right now.
Forbes notes that her character is "unapologetically feminine" and dutifully goes through the motions of being what society defines as a good wife and mother. But Jean is also ready to take her life (and happiness) into her own hands, no matter what the cost — and, in doing so, she challenges gender roles. "It's an anti-white picket fence show," Gypsy's writer Lisa Rubin told the outlet. "Women do things that are bad and good, just like we've seen many men do on TV and in movies."
Although she's in her 40s, Gypsy is ultimately about Jean's journey of self-discovery — something that can occur at any age or phase of life. Of course, it's no secret that she'll make dangerous decisions in the process — this is a melodramatic thriller, after all. Some of these aforementioned decisions include tracking down the ex-lovers and children of her patients, and abandoning her husband and young daughter at inopportune times.
It's noteworthy that women occupy nearly all the behind-the-scenes roles: the director, writers, and most of the executive producers (one of whom is Watts) are female. This illustrates that, when women are given the opportunity to tell their own stories, viewers are introduced to complex female antiheroes like Jean.
"So much of the show is looking at how human behavior works and how people operate," Rubin told Forbes. "At its core it's about identity, particularly Jean's identity, and in that way it's female-centric."
When it comes to Jean's identity, things get complex. And by "complex," I mean she creates a new identity for herself: Diane, a single journalist. Jean inhabits this character when she's on a mission to cross the line with her patients, but it's also what Collider.com describes as an "unhinged act" and "a distinctly troubling type of escapism." (Seriously, be happy this woman isn't your therapist.) Still, she doesn't create this alter-ego simply because she doesn't care about her family — Jean is far more complex than that, as are most real people.
In the previously referenced Forbes article, executive producer Liza Chasin noted that, for a very long time, people talked about antiheroes like Walter White and Tony Soprano in a specific way, but this type of dialogue was limited to male characters. Gypsy's creators are hopeful that viewers will look at and talk about Jean (and future characters) in a similar manner. Personally, I'm so ready for a female antihero and I'm sure I'm not the only one.