The Convicted Murderer From This Investigation Discovery Special Is Up For Parole Soon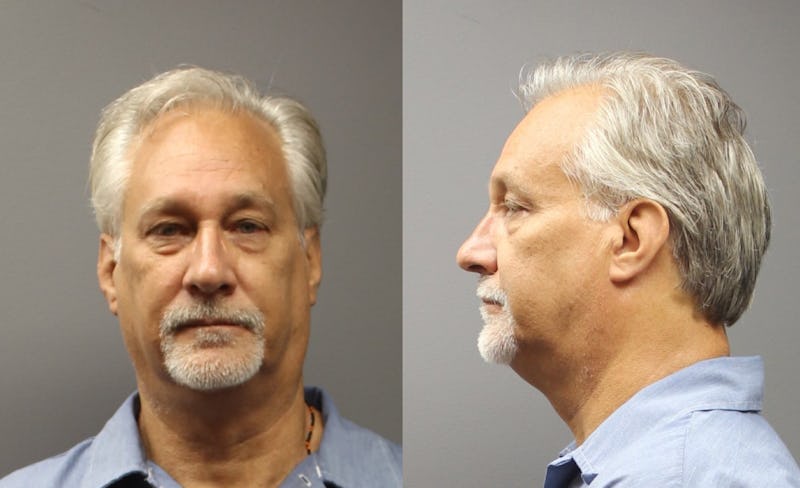 Minnesota Department of Corrections
Investigation Discovery's new series Dark Waters: Murder in the Deep has a sinister theme: Crimes committed in some way relating to water. The Aug. 7 episode, titled "Last Breath" follows the case of Jeff Skelton who lived near Lake Minnetonka in Minnesota with his with Marilyn. But after he reportedly suspected she was allegedly having an affair, Skelton took matters into his own hands. In 2005, Jeff Skelton was convicted of second-degree murder for killing his wife's alleged lover Michael Delmore, according to court documents. Over a decade later, is Jeff Skelton still in prison? He is, but his release date is coming up.
According to his inmate profile on the Minnesota Department of Corrections website, Skelton is currently being held at Minnesota Correctional Facility-Stillwater in Bayport. He's currently 63 years old. Because he pleaded guilty to second-degree intentional murder, per the court documents, he wasn't given life in prison. According to Minnesota state law, second-degree murder is when the crime was not determined to have been premeditated.
Court records show Skelton was sentenced to 33 years, and his inmate profile shows his sentence concludes on July 15, 2038. But, he's up for parole on Aug. 16, 2027, less than a decade from now and two decades since his initial arrest.
In 2005, Skelton reportedly alleged that his wife Marilyn was allegedly cheating on him. According to the Post-Bulletin, which reported on a written criminal complaint, Marilyn claimed the couple had argued about "the fact that she was having an affair" with Delmore while boating on Lake Minnetonka. She claimed her husband became upset and allegedly threw her overboard, even though she couldn't swim. She claimed he allegedly eventually pulled her from the water and left her on shore.
She said she then went to Delmore's house for the weekend. Two days later, Skelton came to Delmore's house and shot him, reportedly while Marilyn was in the shower, according to the Post-Bulletin. The newspaper also reported that Skelton turned himself in to police saying, "I've done what I wanted to do, I'll turn myself in."
Court documents state that he later pleaded guilty to second-degree intentional murder and was sentenced to 33 years for his role in Delmore's murder. In 2007, the same court documents show that Skelton petitioned to appeal his conviction. He claimed he hadn't been informed that he could have used a mental-illness defense and that his guilty plea was therefore invalid. The court dismissed his petition because the record showed he was mentally competent before and during and after the murder.
Minnesota Department of Corrections
Minnesota Department of Corrections
Skelton's crime and the details surrounding it will be explored in the Tuesday, Aug. 7 episode of Dark Waters: Murder in the Deep. The episode synopsis reads:
Living near Lake Minnetonka, MN with his wife and daughter, Jeff Skelton thinks his life is perfect until rumors of infidelity surface. Everyone has their breaking point. Jeff will do whatever it takes to keep his family from being pulled apart.
Whatever the motivation behind his actions, Skelton's sentence is nearly halfway completed, and he's set to be out of prison in as early as nine years or as late as 20. By then Skelton will be 72 if he is paroled or 83 if he has to complete his full sentence. Time will tell which option he's granted.