Jessica Chastain Just Chopped Off All Her Hair & She Looks SO Different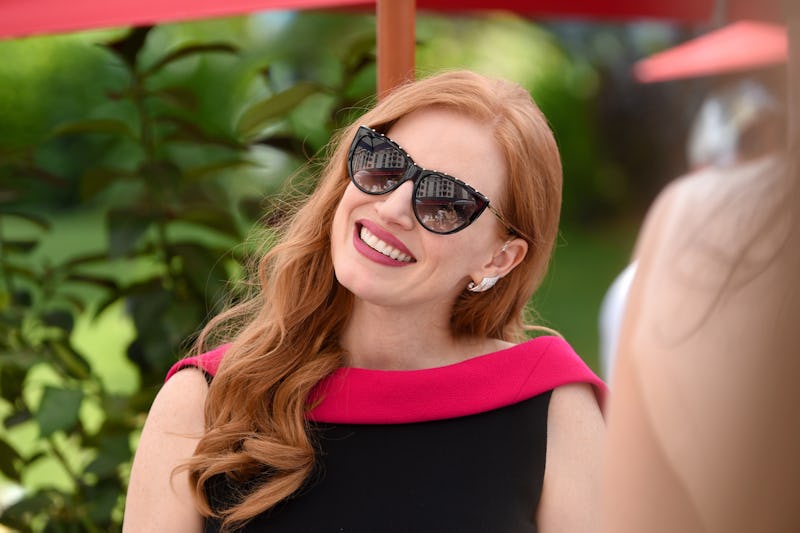 Nicholas Hunt/Getty Images Entertainment/Getty Images
Another celebrity just took the big plunge and cut off all her hair. At this rate, almost everyone is going to be sporting chin-grazing lengths by the end of summer. Jessica Chastain just got a bob, cutting off her long locks that hit mid-back in favor of a wispy cut that sits right above the collarbone. As far as transformations go this is a huge one, mainly because of how much length was taken off.
She revealed the new look on Instagram while wearing a Babaton for Aritzia Lawson trench coat. Her locks were wavy and tousled, and she captioned the photo, "Summer Cut #winterfire @renatocampora." It seems like she wanted a change for the new season, and what better way to do it then play with her length?
The style came courtesy of Renato Campora, who is a Los Angeles-based stylist and Chastain's main hairdresser. He learned his trade from his father who owned a salon in Palermo, Italy, but when Campora came to the Sates he quickly set himself up as an A-list stylist, and now has celebs like Jennifer Lopez, Margot Robbie, Katy Perry, and Reese Witherspoon in his appointment books.
A quick flip through his client photos shows that he specializes in everything from low-maintenance bobs to glamorous, Old Hollywood up-dos and waves, so he's a versatile stylist that can tackle any request. And when getting a dramatic cut, you want to find a stylist that can handle every detail.
On Campora's Instagram, he also showed a collage of photos that shared behind-the-scenes snaps of him giving the actress her new cut, showing the layered look from different angles. The different end lengths give the cut a textured look, and the slight layers around the face create pretty, face-framing wisps.
Chastain isn't the first celebrity to cut off her hair this season, where it seems like more and more people are opting to go shorter and low-maintenance.
Selena Gomez cut off around six inches in what was speculated as a "post breakup makeover" after she and Justin Beiber split, ushering in a sassy, chin-length look that had fans itching to do the same.
In March, Demi Lovato traded in her waist-length hair for a sleek, angled bob that she has been rocking ever since. Rather than going blunt and choppy like the rest of the celebs, Lovato opted for an asymmetrical cut that was shorter in the back and longer in the front. Though not one to be stuck in one style for too long, she also mixes up her look with the help of extensions in varying lengths.
Emma Roberts got her own cut a few weeks ago, where she upgraded her lob for an ear-length bob, probably going the most drastic when it came to length. Nicknamed the "hairline bob" by her stylist, it's meant to be no-fuss but daring.
Jennifer Lawrence also trimmed her longer locks this June into a wavy bob that just barely skims her shoulders, creating the ultimate summer hairstyle inspiration. With its slightly messy and relaxed waves, it looks like the actress spent the day at the beach.
Emilia Clarke also took the plunge, where she got a short 'do thanks to her platinum blonde hair. Since her split ends have become more noticeable and damaged thanks to the bleach, she decided to remedy the situation by hacking off a couple of inches. The end result is a playful bob that hits her around the chin.
It seems like every week a new A-lister is trimming off inches from her length, making the blunt bob haircut the official look of the summer. So if you have been itching for a drastic transformation, look no further then this sassy cut.