Kristin Kreuk Is Starring In Your Next Favorite Drama Series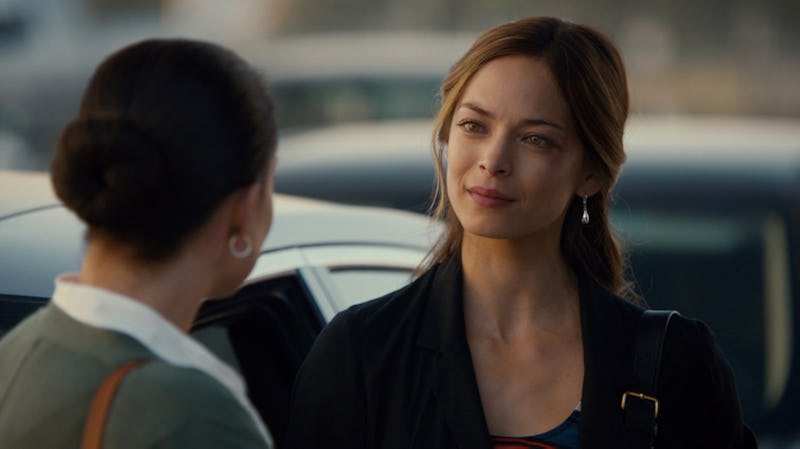 2018 Cause One Productions Inc. and Cause One Manitoba Inc.
Those familiar with Kristin Kreuk from her days as Lana Lang on Smallville or Catherine Chandler from Beauty & the Beast will be pleased to know that the actress will once again be gracing the small screen in Burden of Truth, a Canadian drama which will be airing all 10 episodes on The CW this summer. The story centers around Kreuk's character, Joanna Hanley, a high-shot lawyer who takes on a case in her hometown and finds herself torn between her career and her moral compass. But is Joanna from Burden of Proof a real person or is she completely fabricated for the purposes of the show?
Given the fact that many investigative dramas in the past — for both film and television — have been based on real-life instances and people (Erin Brockovich immediately comes to mind), it makes total sense to wonder if this latest series is following down a similar path. However, based on an interview Kreuk had with The National Post, it looks as though her character is a total work of fiction. In fact, Kreuk, who also serves as an executive producer on the show, even had a hand in developing Joanna's drive and characteristics. "I feel like she's a creation of all of us," she said, regarding her collaboration with series creator Brad Simpson and executive producer Ilana Frank. So from the sound of it, Joanna isn't based on any one specific person.
But just because the story (and characters) are fictionalized, doesn't mean that you won't enjoy trying to get to the bottom of this truly puzzling mystery.
The official synopsis for Burden of Truth reads as follows:
Attorney Joanna Hanley (Kristin Kreuk) leaves her picture-perfect legal career as a partner in a corporate law firm to solve the case of a mysterious illness affecting the female high school students of her hometown Millwood in Manitoba – a prairie town with an industrial past and an uncertain future. She joins her former high school nemesis, local attorney Billy Crawford (Peter Mooney), to find the source of the illness and win justice for the girls. Billy and Joanna will have to put aside their resentments and opposing legal styles to find the answers they seek.
According to the official description, "Joanna also realizes there's not just a legal investigation waiting for her in Millwood, but a personal one. She starts investigating herself just as she would a case, beginning with her darkest family secret: the reason her family was forced to suddenly leave town."
So what is it exactly that's making the girls from Joanna's hometown so sick? Did Joanna's family play some role in whatever is happening, which is why they left Millwood all those years ago? Those are all questions that the series will definitely answer throughout the season, but you'll have to tune in if you ever hope of getting to the bottom of the mystery. This isn't based on a book or any specific person, for that matter, so the answers can't be found with a simple Google search of the real-life version — because one simply doesn't exist.
This town certainly seems to have its fair share of secrets though, and despite Joanna's initial efforts to not make the case — or her time in her hometown — personal, it looks like her moral code will win out and won't let her stop until she gets some answers. However, given her family's possible connection to it all, she may not like what she discovers.
Interested parties can tune into the series premiere of Burden of Truth when it makes its debut on Wednesday, July 25 at 8 p.m. ET on The CW.