Bear's Story In 'Six' Isn't Real, But It Resonates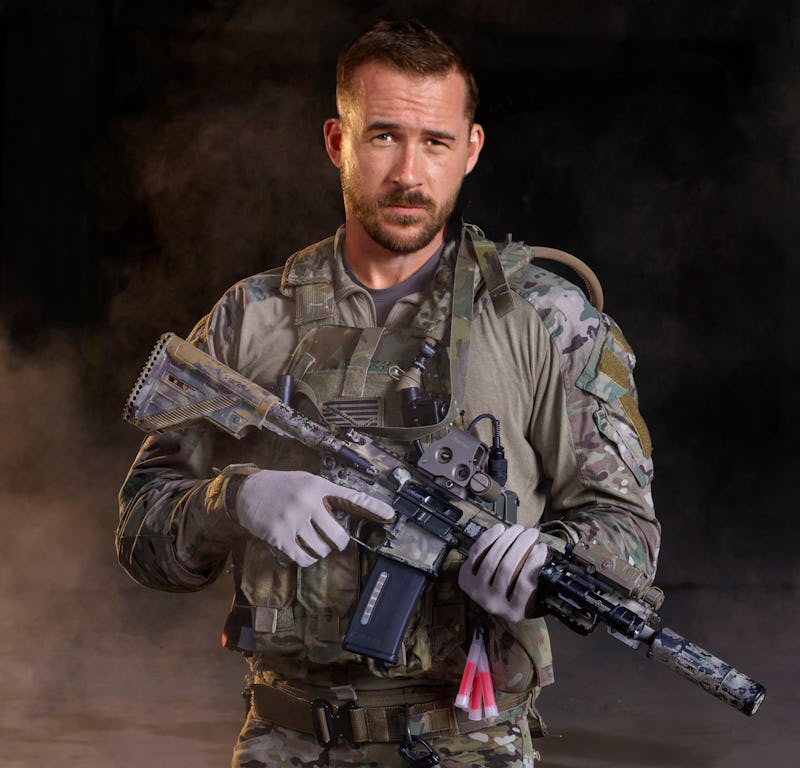 Over the last few years, many Hollywood bigwigs have taken to screen to explore the valiant but taxing complexities of modern warfare. Kathryn Bigelow won a staggering six Academy Awards for her 2008 Iraq-set thriller, The Hurt Locker, HBO drew ample acclaim for its 2010 miniseries The Pacific, and Bradley Cooper notched widespread praise for his gripping lead in 2014's American Sniper. Now, History Channel will unveil their own take on life in combat when Six premieres on Wednesday, Jan. 18. The show has been billed as an authentic portrayal of what it means to be a Navy SEAL and pledges it's based on real missions, but what about the characters that drive it? Is Joe "Bear" Graves a real person?
Unless producers have a big reveal up their sleeve, it looks like the role is purely fiction, but his story isn't unlike one you might find in America. Played by British actor Barry Sloane (The Whispers, Longmire), Graves is a stubborn yet caring man. He had a troubled childhood in Pennsylvania's rural mining country, but was grounded by his high school sweetheart, Lena (Brianne Davis), whom he later married. He found clarity and focus in the Navy, thanks in large part to Rip Taggart (Walter Goggins), who grew into the father figure he never had. Now, he lives his life through three pillars: family, faith, and his SEAL brotherhood.
Overseas, Graves is described as the rock of his team and is wholly devoted to his fellow SEALs. Back home, a promo video shows that his wife is pregnant — something that may ring true for many real-life soldiers. Sloane ties the situation to the sacrifices men and women must make in order to serve their country. As he says in the clip:
"He's trying to balance a delicate home life with an even more delicate situation away from the United States. [He's] trying to keep his family together, trying to keep his brothers together, and trying to keep himself together. It's not very conducive to a stable home life, and that's something that's so exciting about this show: seeing the cost of war, the cost of commitment you have to give to your brothers, the cost to a marriage, the cost to being a father. All these things you have to sacrifice for something which you ask no thanks for."
Graves may not be a tangible figure, but his story carries real weight. There have been several compelling biographical accounts of life in the military, many of which have already been realized on screen. American Sniper was based on Chris Kyle's best-selling memoir of the same name, and a feature for Travis Mills' Tough As They Come is in the works. Perhaps, then, a fictional series that stays faithful to war-time experiences will add a fresh voice to the mix. Decide for yourself when Six premieres on Wednesday, Jan. 18 at 10 p.m. ET.