Joe Biden Is At The Super Bowl — And This Is Who He's Cheering For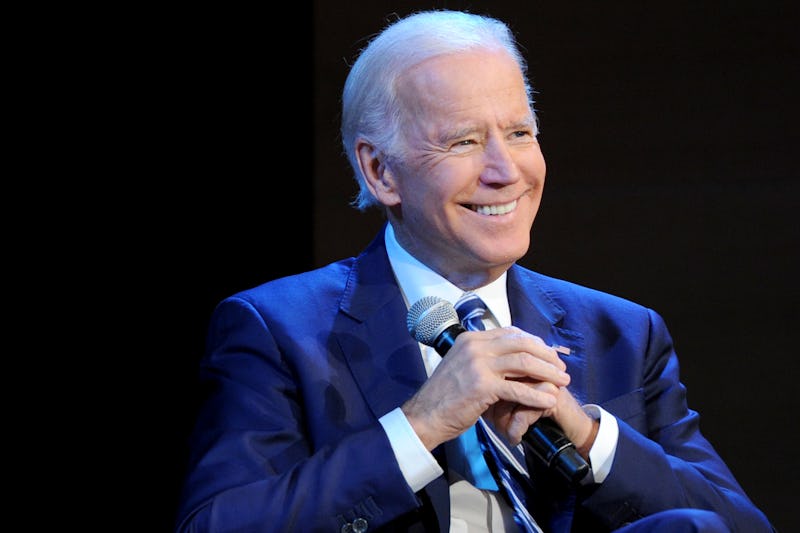 Craig Barritt/Getty Images Entertainment/Getty Images
Former vice president and proud Philadelphia Eagles fan Joe Biden was seen at the Super Bowl, according to ABC News. Biden was not only seen rooting for his team, it was also reported that he was celebrating his son Hunter Biden's birthday who turned 48 on Sunday.
In a photo tweeted by Boston's 7 News reporter Tim Caputo, Biden could be seen enjoying the Super Bowl match between the New England Patriots and Philadelphia Eagles at the U.S. Bank Stadium in Minneapolis.
Biden's wife, Jill Biden, is a massive fan of Eagles quarterback Carson James Wentz. Two years ago, Biden said that his wife's admiration for the popular quarterback drove him nuts. He mentioned this bit while he was campaigning for former Democratic presidential candidate Hillary Clinton in Philadelphia. "I'm getting so damn angry, [Jill] is getting so excited about Wentz. I can't stand it," the former vice president joked at Drexel University in 2016.
In January, Biden told TMZ Sports that he was rooting for the Philadelphia Eagles but wasn't too sure about whether they'd win. He pointed to Tom Brady of the New England Patriots as the reason behind his uncertainty. "I don't think they're going to take out Brady. Brady's awful good," Biden said. Those cautionary words were shared in January. On Sunday, during the Sunday Super Bowl, the Eagles gave an impressive performance against the intimidating New England Patriots though.
It's worth noting that Biden isn't the only famous person to be cheering for the Philadelphia Eagles. The Eagles boast a rather glamorous list of celebrities who cheer for the team. From actor Bradley Cooper, NBA superstar Kobe Bryant, comedian Tina Fey, TV star Sofia Vergara, Rocky actor Sylvester Stallone, to legendary actor Danny DeVito, rapper Meek Mill, actor Bob Saget, musician Questlove, comedian Kevin Hart, actor Ryan Phillippe, and singer Pink, these are just some of the famous people who support Philadelphia's beloved Eagles.
In fact, actor Will Smith is such a huge fan of the Philly Eagles that he made an entire video depicting himself all excited and pumped up for the Sunday Super Bowl. That's right. A full video of Smith just getting ready — waking up, chomping down a hearty breakfast, brushing his teeth, flinging a door open to reveal his Eagle fan paraphernalia, and switching his television on to watch the Sunday Super Bowl. When Eagles fans get ready for their precious team, they really do seem to put their heart into it.
Biden isn't the only vice president with a keen interest in sports. Current Vice President Mike Pence is a fan of the Indianapolis Colts, which he made clear last year. In October 2017, Pence came under controversy after he walked out of a match between the Colts and the San Francisco 49ers.
In a series of tweets, Pence said, "I left today's Colts game because @POTUS and I will not dignify any event that disrespects our soldiers, our Flag, or our National Anthem. At a time when so many Americans are inspiring our nation with their courage, resolve, and resilience now more than ever, we should rally around our Flag and everything that unites us. While everyone is entitled to their own opinions, I don't think it's too much to ask NFL players to respect the Flag and our National Anthem."
Pence's statements arrived shortly after Donald Trump hurled harsh remarks against former San Francisco 49ers athlete Colin Kaepernick for his protests against police brutality. Kaepernick had refused to stand for the national anthem, which led to Trump calling him a "son of a b*tch" (without directly saying his name) during an Alabama rally in September.
With Biden's support for the Eagles and Pence's support for the Colts, it's clear that the NFL attracts some big names to its intense matches.