Houston's Mosques Are Staying Open Around The Clock To Help Harvey Flood Victims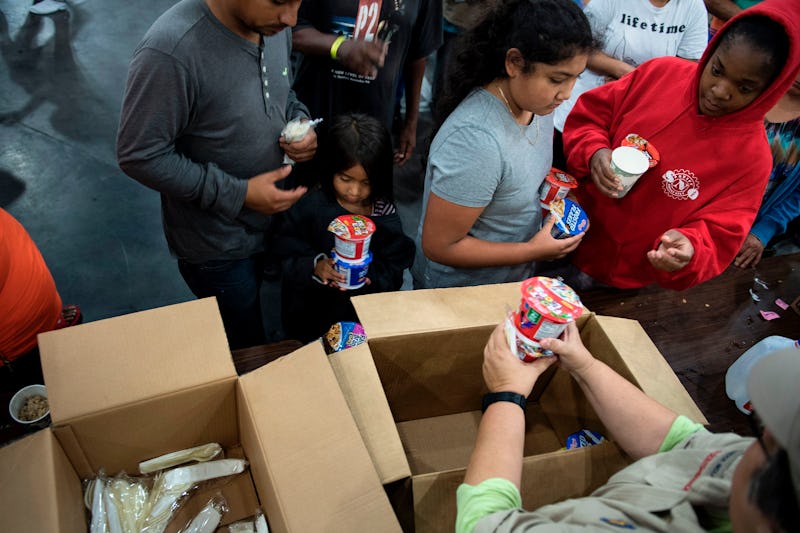 BRENDAN SMIALOWSKI/AFP/Getty Images
After Hurricane Harvey dumped two feet of rain on Houston — and it is likely going to return to bring more — dry shelter is in short supply in the city. Houston's convention center held nearly twice as many people as its capacity limit last night, so smaller centers like the Islamic Society of Greater Houston's mosques are sheltering Harvey victims.
According to the website of the Islamic Society of Greater Houston, two mosques in its network are open as shelters 24 hours a day. A statement on the society's website read:
Houston and surrounding areas are in a state of emergency. Our prayer is for all of those affected by Harvey. Our Social Services Committee continues to work to ensure people in need receive food, shelter, and comfort in the wake of this horrific event.
Several people on social media said that 21 ISGH mosques were open, although that information has not been verified. Bustle has reached out to ISGH for more details.
On its website, the ISGH listed four social service distribution locations, and noted its partnership with Baitulmaal, a Texas-based nonprofit organization, to provide "hygiene products, food, and water to those in need as soon as conditions permit."
The ISGH is the most prominent Islamic center in the fourth largest city in the U.S. Islamophobic incidents have been rife in recent years in Houston and other parts of Texas; earlier this year, a state representative reportedly accused local Muslims of seeking separate laws and courts, leading to an influx of threats to at least one Islamic center in Irving, a suburb of Dallas.
The ISGH taking in flood victims stands in contrast with another much bigger religious organization in Houston. Pastor Joel Osteen's Lakewood Church faced backlash for not opening its doors to flood victims immediately, although Osteen appeared to offer to take them in once shelters are full.
On Saturday, after it became clear that Hurricane Harvey — which made landfall on the Texas Gulf Coast as a Category 4 storm, the strongest to hit the continental U.S. in a decade — was going to be a major ordeal for Houston, Osteen, a world-renowned televangelist tweeted that he was praying for the "safety of our Texas friends & family."
But he has not offered much beyond well wishes. After facing significant criticism on Twitter, Osteen released a statement on Monday saying that his megachurch was "prepared to house people once shelters reach capacity." According to Lakewood's website, the church is accepting donations and organizing volunteers for post-Harvey relief.
According to CBS News, on Monday night Houston's convention center housed over 9,000 individuals when its capacity is 5,000. The area around Lakewood Church was flooded on Monday, CNN reported, and at least three people who tried to seek refuge there were taken to the convention center.
Those seeking shelter in Houston or surrounding Harris County should call 713-426-9404 to inquire about group shelter and call 713-881-3100 to reach officials at the Harris County Office of Homeland Security & Emergency Management. Local media outlet KHOU has a list of shelter centers around the Houston area, including mosques, churches, and high schools.