Here's What Kevin Costner's 'Yellowstone' Character Has In Common With Real-Life Ranchers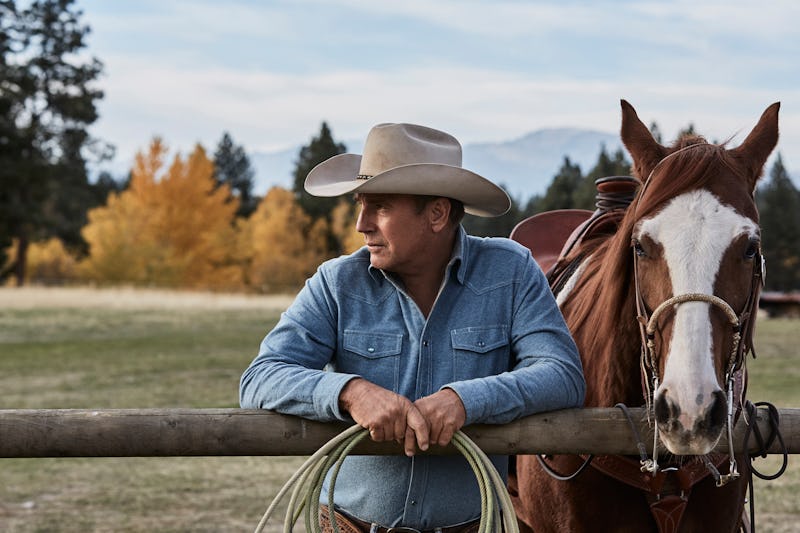 Paramount
Kevin Costner is back in the saddle — literally — playing yet another Western hero in Paramount's new drama series Yellowstone. Costner plays John Dutton, the head of the Dutton family, who owns the largest ranch bordering Yellowstone National Park. This contemporary Western story premieres June 20 and is slated to run for 10 episodes, according to the Star Tribune. But how much is the show inspired by reality? Is John Dutton from Yellowstone a real person?
According to Collider, Costner's character is a no-nonsense, old-school, horse-riding ranch owner who is willing to defend his land from anyone, at any cost. The official synopsis reads:
"Yellowstone follows the violent world of the Dutton family, who controls the largest contiguous ranch in the United States. Led by their patriarch John Dutton, the family defends their property against constant attack by land developers, an Indian reservation, and America's first National Park."
(Finally, an all-American hero for the modern age who can defend "his" land against those greedy Native Americans and pesky national parks!)
While Costner's character doesn't seem to be based on any one person, that doesn't mean Yellowstone didn't take inspiration from the numerous real-life ranchers who live in the area surrounding the world-famous national park. The Duttons are a fictional family, but they likely share a number of traits with real families who have led similar lives.
In a review of the first episode, TVGuide.com notes that the Dutton family ranch is located in Boseman, Montana, and is supposed to be the largest ranch in the country. However, according the The Daily Mail, the actual largest ranch in the United States wasn't located near Yellowstone at all, but in Texas. The Waggoner Ranch, which was first established in 1849 by W.T. Waggoner, remained under the control of his descendants until it went on the real estate market in 2015, listed at $725 million. By Feb. 10, 2016, Dallas News reports that the 525,000-acre hunk of land sold to Stan Kroenke (owner of the LA Rams and Denver Nuggets), who's now the fifth-biggest real estate owner in the country.
When it comes to ranches that actually surround Yellowstone, the Galt family is probably a closer real-life match to the Duttons. According to the Great Falls Tribune, the Galts own the third-largest plot of land in Montana, with 248,023 acres. Their property, Galt Ranch, is located in White Sulfur Springs, Montana, according to their Facebook page.
In 2010, Alaina Mousel of Tri-State Livestock News wrote an article called "The Last Cowboy," in which she mentioned that Bill Galt, owner of Galt Ranch, needed the aid of a helicopter to survey his sweeping lands. TVGuide.com notes that the same is true of Yellowstone's John Dutton.
David McUmber ofThe Missoulian calls Galt "one of Montana's most prominent Republican ranchers," and describes a story in which Galt convinced Steve Bullock, Montana's Democratic governor, that it was a good idea to extend the elk hunting season five weeks past its initial limit. While there's no telling at this point whether Yellowstone will tell a similar story, it's a safe bet that John Dutton also exerts a lot of influence over his community.
Ultimately, the Montana Stockgrowers Association claims that Montana is home to 28,100 different ranches and farms, and any number of them could have been some inspiration for the story of John Dutton. That's not even counting the ranch operations in Wyoming and Idaho, also surrounding the Yellowstone National Park. Regardless of how much their daily lives resemble the events of Yellowstone, there's plenty of story to be told about life out on the ranch, John Dutton dopplegängers not (necessarily) included.