John McCain Is Returning To The Senate After His Brain Cancer Diagnosis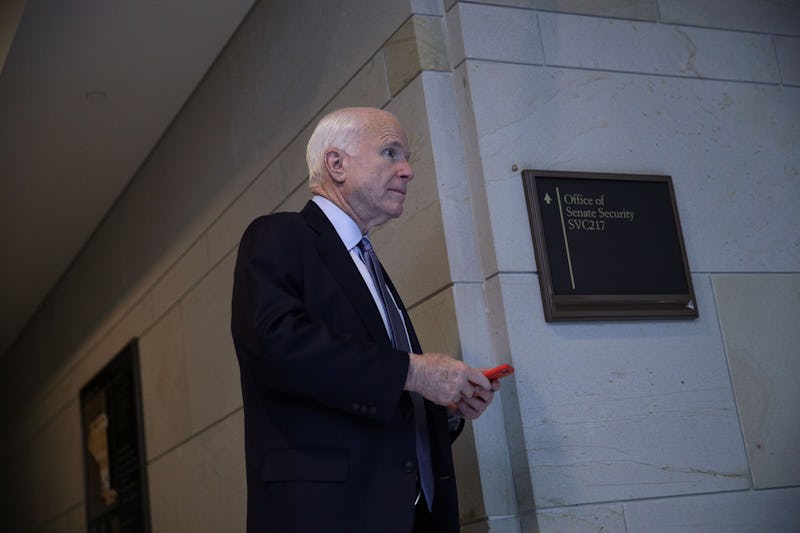 Alex Wong/Getty Images News/Getty Images
Despite returning home to Arizona to receive medical treatment for a blood clot, Sen. John McCain will vote on the Senate health care bill on Tuesday, his office announced Monday. McCain's possible absence was seen as one of the major hurdles to the bill passing, as the vote will likely be on a razor's edge. But according to the Arizona Senator's office, he'll be returning to Washington D.C. on Tuesday so he can be present for the vote.
There's still a great deal of uncertainty surrounding the vote on Tuesday — in large part because Senate Majority Leader Mitch McConnell hasn't yet said what bill is being voted on. There are several different GOP health care bills under consideration, and obviously, the text of the legislation will play at least some role in which Republicans do and don't vote for it.
But before the Senate can vote on the bill, it first has to approve something called a "motion to proceed." This is, in essence, a vote on whether or not to start voting, and so the most immediate question is whether McConnell can rally up 50 votes on the motion to proceed.
In general, there have been a handful of Senate Republicans who've expressed either strong hesitation or flat-out opposition, either to some version of the bill or to the motion to proceed itself. But several Republicans remain silent on their intentions or, in some cases, have switched their positions entirely, and that uncertainty makes it difficult to foresee how the vote will shake out.
What is clear is that Senate Republicans don't have very much room for error. Earlier in July, McConnell pulled a version of the health care bill when it became clear that it was exactly one vote shy of passage, and a subsequent plan to hold a repeal-only vote suffered a similar fate.
This is why McCain's presence on Tuesday is so significant. Although it's entirely possible that the bill will fail even with his vote, it would have almost certainly failed without his vote. If nothing else, his return gives Republicans reason to be slightly more optimistic than they may have been 24 hours earlier.
It might not be enough, though. The fundamental challenge for the GOP has been to craft a bill that's neither too conservative for moderate Republicans nor too moderate for conservative Republicans. So far, this has seemed like a near-impossible task, and no amount of negotiating will change the ideological makeup of the Republican Senate caucus.
Still, the GOP health care bill has already died several deaths, and each time, it's returned. Even if the bill does go down in defeat on Tuesday, that won't be anywhere close to the end of the story on whether or not Obamacare is here to stay.
In addition to health care, McCain will also be present for a vote on the National Defense Authorization Act, his office said.