Why John Oliver Is NOT A Fan Of The White House Correspondents' Dinner, Even Without Trump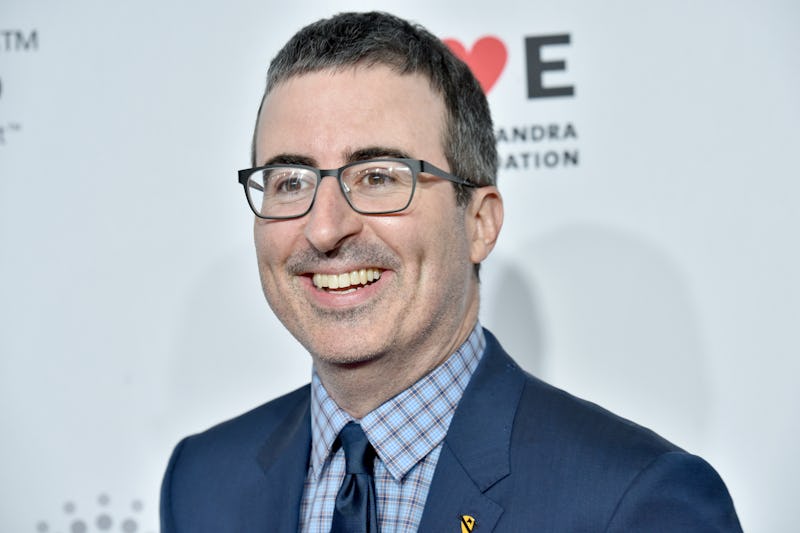 Bryan Bedder/Getty Images Entertainment/Getty Images
President Trump will probably get more than a few jokes thrown his way at the 2018 White House Correspondents' Dinner. Will John Oliver be one of the comedians there to witness his roast in person? Given his comments about the event in the past, it's safe to say Oliver isn't at the WHCD this year — nor will he be in the years to come.
Comedian and Daily Show alum Michelle Wolf is hosting the White House Correspondents' Dinner this year, and although Trump won't be attending, Wolf said she won't be holding back on digs at the president. Oliver, another Daily Show alum, is also known to crack many a joke at Trump's expense, but he doesn't seem fond of the WHCD, based on his remarks. Last year in a video for TMZ, Oliver's comment on Trump skipping the White House Correspondents' Dinner was: "Who gives a sh*t?"
Trump caused somewhat of an uproar last year when he decided to ditch the annual dinner, becoming the first president to do so since Ronald Reagan skipped the event in 1981 (Reagan was recovering from an assassination attempt at the time).
The White House Correspondents' Dinner is usually a good-natured affair where journalists and politicians place nice with each other and the president mocks themselves in a skit. Considering Trump's antagonistic relationship with the press, it may be a little more than uncomfortable for him to sit through the event.
But Oliver doesn't seem bothered by Trump's no-shows. "I think it's meaningless," Oliver told TMZ last year about the president's absence. "If you can find yourself prioritizing being annoyed by that, then it's pretty impressive. I'll put that at the 250th most-concerning thing at the moment. And that's generous." In fact, Oliver estimated there are "thousands of things" more important than Trump not going to the dinner.
Oliver also called the White House Correspondents' Dinner and "unearned celebration on both sides." He added, That whole event already has way too much focus on it."
When asked if he was asked to host the event last year, Oliver reportedly said, "Oh, no. God, no. ... I have such contempt for that, as an evening."
With Oliver and Trump two no-shows at the 2018 dinner, who can you expect instead? Well for starters, White House press secretary Sarah Huckabee Sanders attended in place of her boss, and Kellyanne Conway was also there. Comedian Kathy Griffin also showed up to the White House Correspondents' Dinner.
The majority of the guests will probably be reporters on the politics beat. Often dubbed the "Nerd Prom" by Washington reporters, the White House Correspondents' Dinner has been a point of contention even among the media. The New York Times was one of the major news organizations to pull out of the dinner last year. Dean Baquet, the Washington bureau chief of The New York Times, told Poynter:
We are not being holier than thou, or criticizing anyone who chooses to go. But we came to the conclusion that it had evolved into a very odd, celebrity-driven event that made it look like the press and government all shuck their adversarial roles for one night of the year, sing together (literally, by the way) and have a grand old time cracking jokes. It just feels like it sends the wrong signal to our readers and viewers, like we are all in it together and it is all a game. It feels uncomfortable.
So it seems Oliver isn't alone in thinking the White House Correspondents' dinner isn't worth attending. Last Week Tonight episodes are still coming out every Sunday, so if you want your Oliver fix, you have that to look forward to instead.