Planned Parenthood Is Supporting Jon Ossoff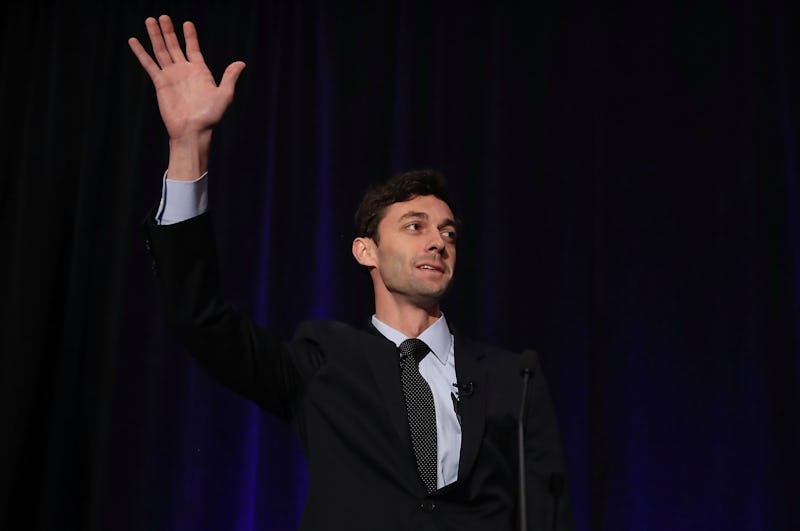 Joe Raedle/Getty Images News/Getty Images
Georgia's 6th Congressional District is the last place you'd expect to be on national news, but in its special election to replace former Rep. Tom Price (President Donald Trump's pick for Health Secretary), the district — and its young Democratic long-shot candidate Jon Ossoff — have risen to fame. It's fairly well-known that Karen Handel, the race's Republican frontrunner, is a Planned Parenthood foe, but Ossoff's stance on abortion and reproductive rights make his candidacy even more outstanding.
To say Ossoff is pro-choice is an understatement — he's such a staunch supporter of reproductive choice that Planned Parenthood Action Fund endorsed him and reportedly donated millions of dollars to his campaign. On his website, "women's health and Planned Parenthood" are in the middle of his policy priorities list, and though the term "abortion" is not used in his statement, the writing on the wall is very clear:
Jon will defend women's access to contraception and a woman's right to choose and fight any legislation or executive action that would allow insurance companies to discriminate against women.
Planned Parenthood provides essential preventative and reproductive health care services like cancer screenings, STD testing and low-cost birth control to millions of American women. Jon will defend Planned Parenthood in Congress.
While PP's decision to financially back Ossoff is likely due to his progressive politics and rising anti-Trump sentiment that might mobilize their pro-choice base, his biggest opponent's decidedly anti-PP stance may also have played a part. Handel, the leading conservative in the 11-Republican pool of candidates for this special election (and the one Ossoff will face in the June 20 runoff election) allegedly helped orchestrate the Susan G. Komen Hope for the Cure's decision to cut ties with Planned Parenthood. In her memoir, Planned Bullyhood: The Truth Behind the Headlines about the Planned Parenthood Funding Battle with Susan G. Komen for the Cure, Handel claimed that the organization's decision was "nonpolitical", and also alleged that Planned Parenthood's response to the break between the women's health organizations was overly aggressive.
The fact that Ossoff won 48 percent of the vote in a special election race that featured 18 candidates in a formerly dark-red district is, by his own estimate, a defiance of the odds. Winning against Handel (who won 19 percent of the vote and was the most voted for Republican among her 10 GOP peers) in the runoff will certainly difficult when the Republican base unifies around her, but if he, his fans, and his backers can keep up the momentum, he might just become the first Democrat to win in his district since the 1970s.