The Way Kate Middleton Is Involved In The Royal Wedding Sounds Super Chill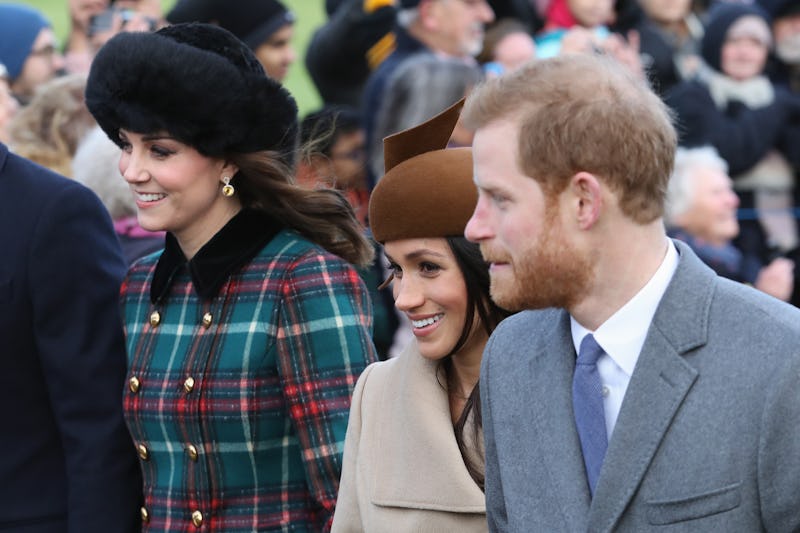 Chris Jackson/Getty Images Entertainment/Getty Images
It's an exciting time to be a royal watcher right now. The Duke and Duchess of Cambridge just welcomed their third child, a boy, into the world on April 23, and Prince Harry and Meghan Markle's wedding is right around the corner. Given all the latest royal news, you might wonder: Is Kate Middleton's going to Harry and Meghan Markle's wedding? According to Vanity Fair, she will, and it sounds like the event will be very low-key for the mom-of-three.
The publication reported that the duchess will not have an official role for the wedding and that there is "no pressure" on her at the event. So, it seems as though she'll be able to simply enjoy all of the wedding festivities. A source told the publication, "Frankly, Harry and Meghan are just happy that Kate will be there given she will only just have given birth." They continued, "They have told her there is no pressure on her to do anything, they just want her to enjoy the day."
Some originally speculated over whether or not Middleton would be a bridesmaid in Harry and Markle's wedding. Yet, a bridesmaid role was unlikely for her. As royal expert Marlene Koenig told Cosmopolitan UK, "the Duchess of Cambridge barely knows Meghan." She continued, "...she is the future queen consort when William becomes king after his father, and would unlikely be an attending person to another royal bride." And now,Vanity Fair's report has further clarified exactly what fans can probably expect of the duchess during the royal wedding.
However, you can expect that Middleton's family members will have roles in the wedding. Prince William is widely expected to be Harry's best man at the event. Koenig previously told Town & Country that it was likely that the future king would be there for his brother on his big day. She also noted that the position could be more akin to a "supporter" role, as per tradition. But, Harry could break tradition, as William did at his own nuptials, and make his older brother his official best man. Either way, William will likely be there for Harry in a big way during the event (even though he joked that he wasn't asked to be his sibling's best man in January, per People).
It's also likely that Middleton's children Prince George and Princess Charlotte will be involved in the wedding in some capacity. As ABC News noted, George will be a page boy in his uncle's wedding. As for Charlotte, the article went on to note that she'll be in the bridal party as a flower girl. Both tots were in their aunt Pippa's wedding party back in May 2017, according to Today. So, it's no surprise that they'd have roles in their uncle's wedding party, as well.
In case you missed the exciting news about the duke and duchess' third baby, Kensington Palace announced via Twitter that the couple welcomed a son on April 23. They wrote that the both Middleton and their son were doing well following the birth and that William was by his wife's side during delivery.
The royal baby's arrival also helped his sister Charlotte make history, as Marie Claire noted. The duke and duchess' baby boy will not cause his older sister to lose her place in the line of succession. This is because of the Succession to the Crown Act 2013, which denoted that gender no longer influenced the line of succession. Before this act was passed, the new royal baby boy would have overtaken Charlotte in the line of succession.
It's incredibly exciting news that the duke and duchess welcomed a baby boy recently. And given how exciting this time is for Middleton especially, it's nice she'll be able to take some time to relax and simply enjoy the upcoming royal wedding.