Katy Perry's Hair Apparently Grew Down To Her Shoulders Overnight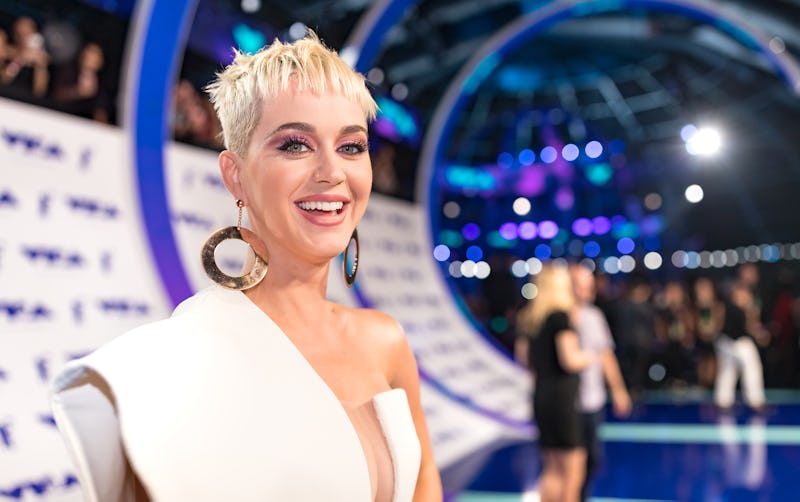 Christopher Polk/Getty Images Entertainment/Getty Images
Katy Perry has swapped coif colors and the shape of her strands so many times over the years that you need a dry erase board to keep up with her many mane moves. She's had bobs with bangs and pink victory rolls. However, Perry appears to have a blonde lob now, swapping out the recent and infamous pixie that she been rocking for most of the Witness album cycle.
Perry admitted that hacking off her hair was freeing since she could not hide behind it. She wanted to prove to herself that she was beautiful without her strands. She did reveal that going platinum traumatized her tresses and ultimately resulted in her going short, since her hair was falling out from the processing damage. The buzzcut was a drastic change, but the singer felt liberated by the 'do.
While no longer being bound to the tyranny of a styling routine was exciting for the pop superstar, it appears as though she is reverting back to her old hair ways. A fan Instagram account posted an image cribbed from Perry's Insta story, in which the singer posted a mirror selfie while rocking a textured, blonde lob.
It's not a look entirely new to the celebrity circuit. In fact, it's not too different from...
... Selena Gomez's new buttery blonde lob with bangs. Both Perry and Gomez are displaying messy, wavy lobs with deep side parts.
Since Perry has been touring and appearing in public with the super short pixie as of late, the lob is obviously a wig that allows her to switch up her coif for the short term. It's not like she took some vitamins that stimulate hair growth and ended up with that beachy and blonde bedhead overnight. As if!
It's worth nothing that a recent American Idol promo spot also featured Perry with the same lob look. While it's a composite image of the new panel of judges, one can't help but wonder if she is going to make a more permanent return to long locks.
The fashion plate slayed the bedhead, textured lob at the Grammys in February. This was her performance look.
Her red carpet look was fab, as well, with her voluminous, shaggy lob. It is one of her best 'dos, remaining edgy, bouncy, and fun, without being too far out there in terms of color.
Perhaps Perry's pitstop at the pixie is coming to a close. While she did seem to express genuine fondness for her buzzed 'do, which inspired comparisons to Guy Fierir, the singer could have gotten a bit bored with it since it's a tad too short to be extremely versatile.
While the super short coif is awesome since it shows off her features, namely her expressive eyes and room illuminating smile, she slays the wavy lob, too.
That said, Perry could veritably have been swapping out the pixie for a one-night-only engagement. The only constant here is that the pop icon likes to keep us guessing.