Wendy Finally Gets A Love Interest In 'Mindhunter' Season 2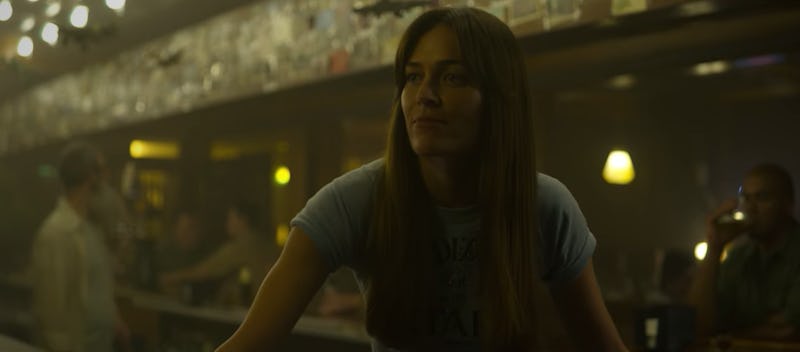 Screenshot/Netflix
Mindhunter mixes fact with fiction in sometimes confounding ways. The members of the Behavioral Science Unit are all based on real people, but their names have been changed and their stories don't always line up with the real people behind the BSU. But the show's featured serial killers are recreated in minute detail to match up with their real world counterparts. While truth and fiction tend to intermingle on the series, occasional side characters are created just for Mindhunter. Such is the case with Mindhunter's Kay Mason, played by Lauren Glazier. She's not based on a real person, but she does allows the writers to explore Wendy's love life in a way that the show hasn't yet.
While Mindhunter places much of its focus on what drives people to kill and commit evil acts, the show also spends a significant amount of time on the personal lives of the members of the BSU. Viewers watched Holden and his girlfriend try to make it work under intense circumstances last season and in this one, Bill struggles to parent both his son and his FBI partner. Until now, the show didn't dive much into Wendy Carr's love life, but Season 2 changes that with the introduction of Kay, a bartender local to Quantico.
However, there's no correlation between Wendy Carr and the woman who inspired her's sexual orientation, as Ann Wolbert Burgess doesn't identify as a lesbian. So, it's almost certain that Kay Mason was created for the series in order to give Wendy a much needed interior life.
Wendy doesn't let loose much in the series, but she starts to open up about her history once she starts to date Kay. Over a round of bowling, Wendy talks up about her most formative personal relationship — one where she dated a professor of hers who had significant control over how Wendy felt about herself. This story reveals why Wendy is hesitant about putting herself out there — that, and being openly gay in the 70's was a pretty huge risk — but Kay allows Wendy to explore a romantic encounter free of toxic power dynamics.
Mindhunter Season 2 marks a big moment for the development of Wendy's character, and outside of the world of the show it also marks a major arrival for the actress who plays Kay. Kay is the most high-profile role of Lauren Glazier's career yet, having previously played Russian Sniper in Red Sparrow and "Young Woman" in Grace And Frankie.
She previously worked with Mindhunter Executive Producer David Fincher on his film Gone Girl, where she played "Fashionista" — which suggests she might continue to be involved in Fincher projects going forward. While Glazier's acting history is peppered with roles that are defined by nouns more than names, Mindhunter could mark the beginning of a new phase in her career, taking on meatier roles.
Mindhunter takes a lot of liberties with its storytelling, keeping the truth of its true crime roots firmly rooted in the show's depiction of killers. Kay may not be a real character, but her relationship with Wendy provides a nice break from the show's exploration into the darkest fringes of humanity.