'When We Rise' Tells Ken Jones' Real Story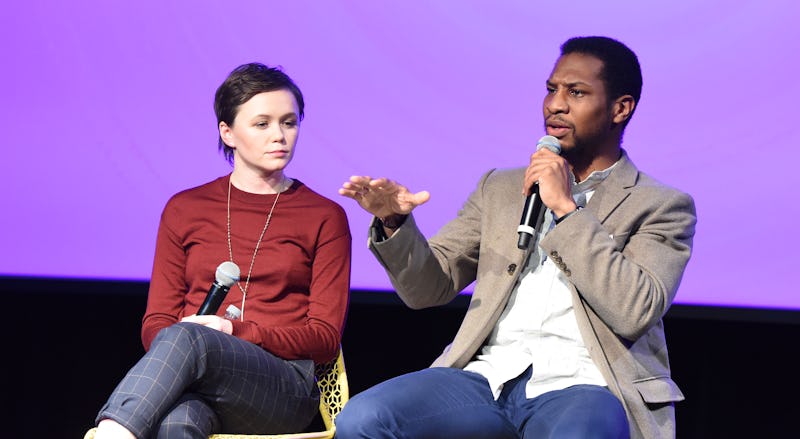 Vivien Killilea/Getty Images Entertainment/Getty Images
ABC's new miniseries chronicles the history of LGBT rights in America, from the Stonewall riots to HB2, and many of the people who fought for those rights. One of the people at the center of When We Rise is Ken Jones, a real person played in the miniseries by both Jonathan Majors and Michael Kenneth Williams. In an interview with Bustle, Majors talks about meeting the real Jones — though there wasn't much information about the activist and community organizer available until now.
Unlike his character, who is introduced towards the end of the Vietnam War, Majors had the internet to use as a resource. "I had the benefit of researching," he says, "Stonewall, and Googling Vietnam War, homosexuals in war, sailors specifically in war... I got to use all that." Said researched helped him get in the general headspace of a young, black, gay, Christian man at that time. It's a multifaceted, complex role. "Then I got to speak directly to Ken," says Majors, "which was better than Google."
From meeting the real activist, Majors learned which causes were important to him and why. "At-risk youth, specifically in the Haight in San Francisco, his clean needle exchange that he brought to the Black Caucus — he's in many ways the forefather of a lot of change that happened in the Castro and around the Castro in the great San Francisco area. So he has stories from all those guys and a lot of those are in the film."
He is not to be confused with Cleve Jones, another real life activist whose story is told in When We Rise. According to the San Francisco Bay Times, the real Ken Jones joined the gay-liberation movement after the Vietnam War, only to discover and confront racism within the gay community. His activism naturally turned intersectional as he then fought to diversify the gay rights movement, while also fighting the AIDS epidemic and organizing services for homeless youth.
"There's very few projects in which politics and art can intersect," he muses about what makes revisiting this story special and important, "be it a superhero movie or what have you, you know? From Lincoln to Captain America." It's rare that a project lines up with current events and manages to be prescient as well as entertaining. The fact that this miniseries is introducing us to real activists who made a lot of progress, but might not be that well known, is one of the things that makes When We Rise so special and important today.
Additional reporting by Samantha Rullo.