Kentucky Can't Force Women To Have Ultrasounds Before Abortions Any More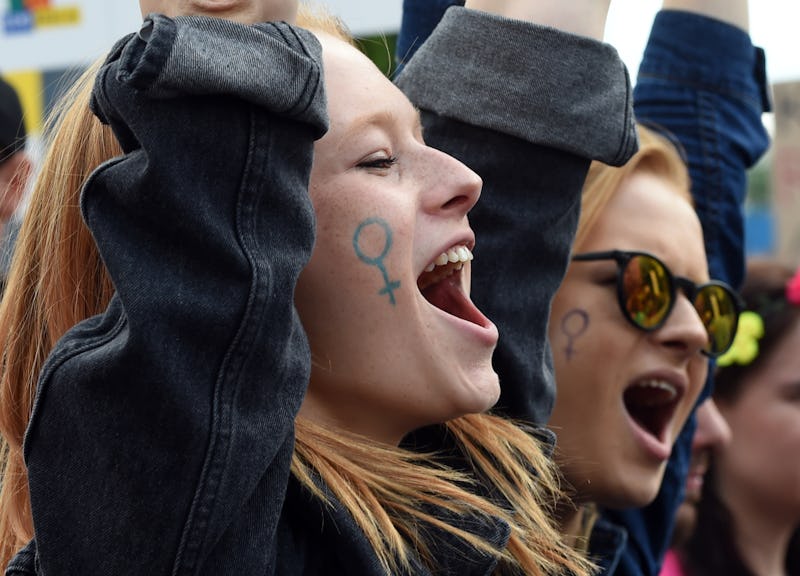 JANEK SKARZYNSKI/AFP/Getty Images
On Wednesday, a federal judge struck down a Kentucky law forcing women to undergo ultrasounds before having abortions, on the grounds that it was unconstitutional. The U.S. District Court for the Western District of Kentucky ruled that the law violated the First Amendment rights of physicians following a federal lawsuit by the American Civil Liberties Union.
The law — also known as House Bill 2 (HB2) — went into effect in January, after being pushed through by Kentucky's State House of Representatives by the Republican majority. Under this law, doctors were required to conduct ultrasounds in an attempt to show patients images of the fetus, as well as audio of its heartbeat before performing abortions. Patients were permitted to avoid looking at the images, as well as to request that the volume of the heartbeat be muted.
The EMW Women's Surgical Center in Louisville is the only licensed outpatient abortion provider in Kentucky, according to The Washington Post. It was on this center's behalf — as well as on behalf of three physicians and their patients — that the ACLU filed a federal lawsuit against the state, mere days after the ultrasound law was passed. "HB2 requires physicians to subject their patients to these images, descriptions, and sounds, when the patient is in a particularly vulnerable and exposed position," the lawsuit argued.
U.S. District Judge David Hale consequently ruled to strike down the law, writing in his opinion that it "does not advance a substantial governmental interest, is not drawn to achieve the government's interests, and prevents no actual harm."
Hale also asserted in the opinion that by forcing doctors to show these images to patients, often against their will, the ultrasound law "appears to inflict psychological harm on abortion patients," and leads them to "experience distress as a result."
In response to Hale's ruling, the ACLU issued a statement lauding the decision as a victory. "We are pleased that Kentuckians will no longer be subjected to this demeaning and degrading invasion into their personal health care decisions," said Alexa Kolbi-Molinas, a senior staff attorney with the ACLU's Reproductive Freedom Project. "This ruling puts us one step closer to getting Kentucky politicians out of the exam room."
This ruling was the latest episode in the ACLU's ongoing battle with Kentucky officials over reproductive rights. Earlier this year, according to the ACLU's statement, the state actually tried to shut down the EMW Women's Surgical Center. The ACLU and a Kentucky law firm reportedly sued the state in response, and a federal judge temporarily blocked the closure attempt earlier this month by granting the clinic a restraining order. However, the clinic's fate is still unclear; the U.S. District Court for the Western District of Kentucky will only issue a final ruling after a 60-day period during which attorneys may submit final written arguments.
However, even if the clinic is permitted to remain open, there is still at least one prominent piece of anti-abortion legislation in place in Kentucky: Senate Bill 5, which bans abortions at or after 20 weeks of pregnancy. This law only makes exceptions to save the mother from death or severe bodily harm, but not in cases of rape or incest, CNN reported. Kentucky Gov. Matt Bevin has signed and expressed support for the state's anti-abortion legislation.
"This is truly a new day in Kentucky," Bevin had said in a statement after signing HB2 and SB5. "It is an honor for me to sign into law these historic pieces of legislation that protect our most vulnerable, guarantee important freedoms for workers and set our Commonwealth on a course for unparalleled opportunity and prosperity."
Meanwhile, Cecile Richards, the president of the Planned Parenthood Federation of America, described the 20-week ban as "shameful" and "dangerous for women."