Kenya Moore Just Shut Down Rumors About Her Baby After Revealing The News On 'RHOA'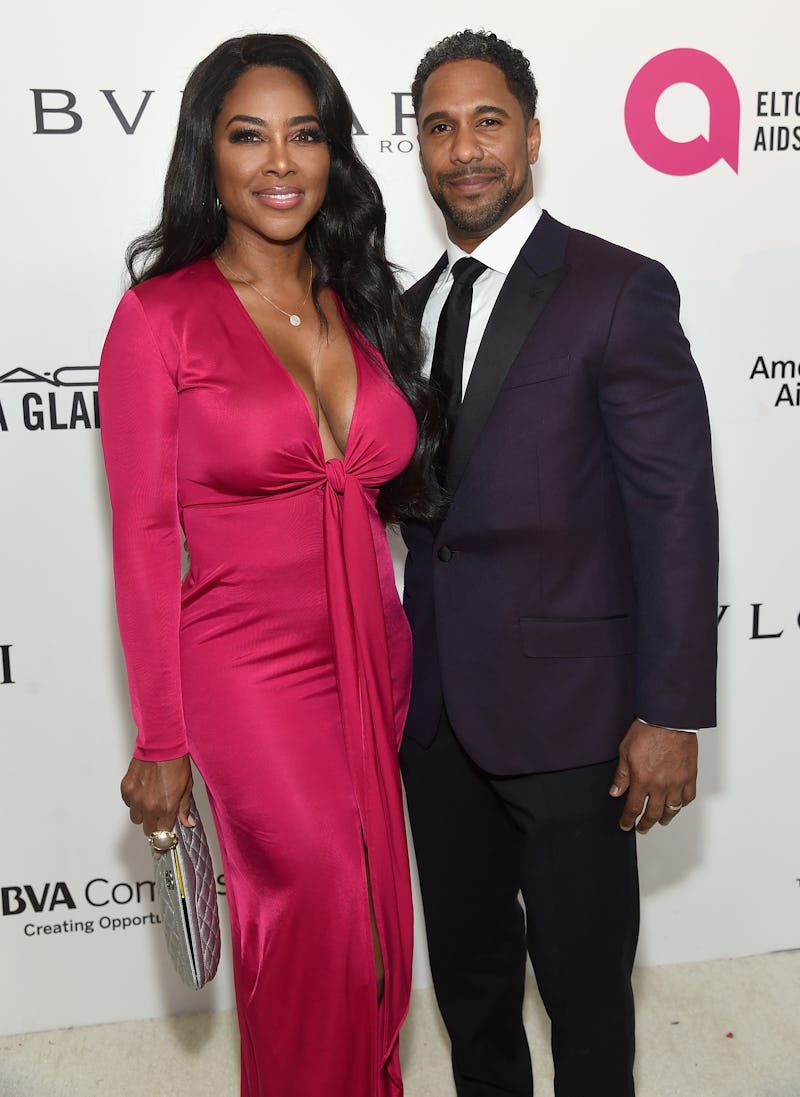 Jamie McCarthy/Getty Images Entertainment/Getty Images
After confirming a child on the way during the first episode of the Real Housewives of Atlanta Season 10 reunion on Sunday, Kenya Moore clarified that a surrogate is not carrying her baby on Twitter. A viewer tweeted, "Kenya never really said she was preggers, but that they will be welcoming a baby at the end of the year, soooooo do they have a surrogate? Hummmm???? #RHOA #RHOAReunion." The Twitter user didn't even tag Moore's account in the tweet, but clearly the Atlanta Housewife was following along with the reunion live tweets, since she quoted the post and responded, "No surrogate but maybe my next one."
Even though there has been pregnancy speculation many times before, Moore's baby revelation came out of nowhere during Sunday's Real Housewives of Atlanta reunion episode. Host Andy Cohen individually greeted each of the cast members at the start of the show and said, "Hi, Kenya. Any word of a baby Twirl?" Moore just responded, "Oh," before she admitted, "Well, he or she wouldn't be named Twirl, for sure. That's my dog's name, but yes."
It was one of the most subtle TV pregnancy announcements of all time. It was so under the radar that Moore's costar NeNe Leakes jumped in looking for clarification and said what everyone was thinking: "We're all waiting." Visibly nervous, Moore shared, "We will definitely be welcoming a boy or girl in... late this year." Even at that point, no one on the reunion stage was actually 100 percent sure if Moore just announced a pregnancy. Once again, Leakes stepped in and said, "Are you serious? Don't play us, Kenya."
Moore told her, "I wouldn't play with anything like that." Then Cohen resumed his hosting duties and asked, "How many months are you?" She admitted, "Well, I don't want to talk about the details because I'm just still very nervous about everything. So I just want to get past a safe place."
Cohen and the rest of the cast members (minus a sour-faced Sherée Whitfield) were smiling and vocal about their support for Moore's growing family. Kandi Burruss commented, "I'm super excited. I can't wait."
It was pretty sudden for Moore to drop that major news during the cast member introductions instead of later on in the reunion taping. Even she herself seemed caught off guard when she was asked about the possibility of a baby right when filming began. Her answers were short and vague, which explains why Real Housewives of Atlanta fans were wondering about her wording. Many viewers tweeted about whether or not she is currently carrying her child or if she and husband Marc Daly are starting their family through surrogacy or adoption.
Moore's wording alone isn't the only reason that people would wonder if she decided to start her family using a surrogate or via adoption. Moore has been very open about her struggles to get pregnant and her willingness to try different medical options to conceive a child.
In November 2017, the Daily Mail reported that Moore and Daly were spotted at a fertility clinic in Barbados. After the Daily Mail report, Moore shared a video of her dogs, Twirl and King, walking on the beach during that Barbados trip. Along with the video, she wrote, "My twins #kingsandtwirl they bring so much fulfillment in my life, calm, happiness and purpose. I can only imagine what children do." She included many hashtags with that caption, including #children.
Now Moore, Daly, King, and Twirl have a new family addition to look forward to. As of this moment, Moore has not revealed much about the child she's expecting, but she did set the record straight on the surrogacy rumor almost immediately after the the baby news broke. As far as other pregnancy details, her friends and fans will just have to wait until she is more comfortable opening up.