Kevin Smith Had A Massive Heart Attack & The Details Are Scary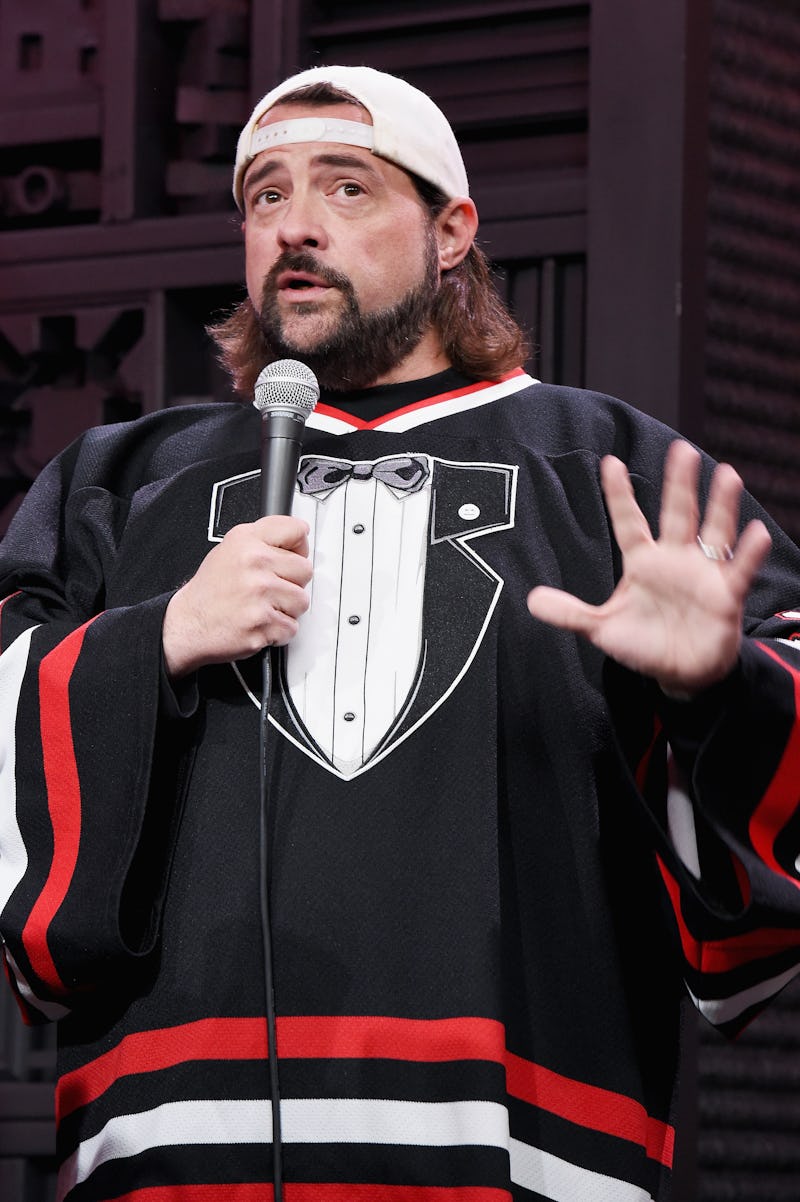 Michael Loccisano/Getty Images Entertainment/Getty Images
Over the weekend, this famed director and comedian had a very scary experience. But is Kevin Smith OK? On Sunday night, Smith tweeted that he had a heart attack following one of his stand up shows. According to what he said in his tweet — which included a photo of him in a hospital gown — it sounds like the outcome could have been much worse if he hadn't made it to the hospital when he did.
"After the first show this evening, I had a massive heart attack. The Doctor who saved my life told me I had 100% blockage of my LAD artery (aka 'the Widow-Maker')," Smith said. "If I hadn't canceled show 2 to go to the hospital, I would've died tonight. But for now, I'm still above ground!"
As Deadline pointed out, earlier that night, Smith was shooting a standup special called Kevin Smith Live! in Glendale, California right before his heart attack. He'd already performed his 6 p.m. show when he decided to cancel the second show of the night to go to the hospital instead. Just hours earlier, he had shared a Facebook post about how excited he was to shoot the special, along with a photo of him standing on stage.
Later, Smith took to Facebook to share the same photo and a much lengthier post about what happened to him that night. According to the comedian, he'd started feeling nauseous earlier in the night, and then started experiencing symptoms like excessive sweating and a heavy chest. Fortunately, that was enough to convince him to go to the hospital, and he shared what having such a close life or death call meant to him.
He wrote:
Even as they cut into my groin to slip a stent into the lethal Widow-Maker, I was filled with a sense of calm. I've had a great life: loved by parents who raised me to become the individual I am. I've had a weird, wonderful career in all sorts of media, amazing friends, the best wife in the world and an incredible daughter who made me a Dad. But as I stared into the infinite, I realized I was relatively content. Yes, I'd miss life as it moved on without me - and I was bummed we weren't gonna get to make#jayandsilentbobreboot before I shuffled loose the mortal coil. But generally speaking, I was okay with the end, if this was gonna be it. I've gotten to do so many cool things and I've had so many adventures — how could I be sh*tty about finally paying the tab.
Several celebrities have already come forward to share their well wishes with Smith online, including Chris Pratt, who tweeted that Clerks had served as a huge inspiration for him and his career.
Pratt wasn't the only one who came forward to send good thoughts Smith's way. Chris Hardwick, Patricia Arquette, and many others also responded to his tweet.
It's obvious from these tweets alone that Smith is so loved. It's such a relief to find out that, by being proactive about his symptoms, he was able to keep an already terrible experience from getting any worse. It's certainly a good thing he decided to cancel that second show and have friends call an ambulance when he did.
In his Facebook post, Smith revealed that he does plan to make some lifestyle changes to live in a healthier way from here on out, calling his life "such a gift." This is definitely good news for his fans. Although his heart attack sounds like a terrifying experience, it's so good to hear that Smith has pulled through and seems to be doing well.