This Lifetime Movie Will Make You Feel So Grateful for Your Sister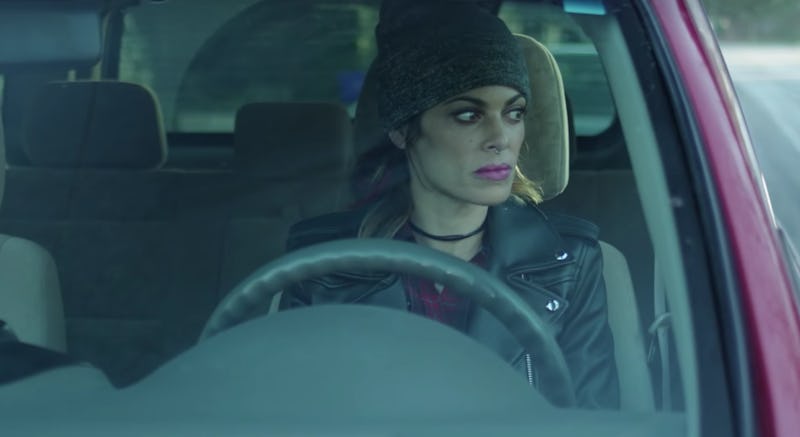 Lifetime
Parent Trap. The Social Network. Every Mary Kate and Ashley movie. While these onscreen twins worked together to solve their problems, Lifetime's latest explores twins who turn on each other. Originally titled A Sister's Obsession, the network's newest thriller, Killer Twin, premiered Saturday, Aug. 4. The movie follows a woman named Kendra Walker (Lindsay Hartley), who seems to have a perfect life. Not only is she rich, married, and pregnant, but she just won a prestigious award. However, her world is turned upside-down when her long-lost twin, Amber, shows up and begins taking over her life. So whether or not Lifetime's Killer Twin is a true story, it sounds like the stuff of nightmares.
Fortunately, the crime thriller is fictional, so audiences can sleep easy after watching Killer Twin on Saturday. But that doesn't mean the plot doesn't still sound terrifying. "Did I ever tell you I had a twin?" Amber (or is it Kendra?) says in the trailer. "We lived in the orphanage; we were separated when we were really young." So while it appears that Kendra went home with a loving mom, viewers will have to watch the movie to see what path Amber's life took.
Whatever happened with the wronged twin, she clearly envies how things shook out for her counterpart. Since they're identical, Amber retaliates by impersonating Kendra, committing identity theft, and murdering her best friend, Monica (Bethany Brown). She even goes so far as to steal her husband. "He's a great kisser, by the way, you lucky b*tch," Amber tells her horrified sister over the phone.
And while it may sound like a silly premise, playing twins is no joke: Just ask Lindsay Lohan or Armie Hammer. "You work twice as hard," Killer Twin star Lindsay Hartley told the Virginian-Pilot. "I think I was in every scene in the movie except the opening, which is a flashback to when the twins were little kids." What's more, in the scenes where both Amber and Kendra appear, Hartley had to act them out twice, with someone else standing in for her twin. "I was a little anxious about it because when you are working with someone, you eventually get a feel for what the other actor is going to do," Hartley said. "I didn't have that. I didn't know what was going to be happening on the other side because I had not done that part.... But playing twins is not that far from what we do every day as actors. It's just a different version of it that's a little more technical."
The actor told MediaVillage that the role was a blast to film. "Amber was my first killer!" she said. "I've done b*tch and evil, but never a killer." That being said, Hartley is no stranger to soapy roles — not only has she been in All My Children, but she also appeared in Passions and Days of Our Lives. Directed by David Langlois, Killer Twin also stars Jason Cermak as Kendra's husband, Dane; Candice Hunter as Kendra's mother, Janet; and Peter Flemming as Detective Mendez.
So will Amber succeed in taking over Kendra's life for good, or will Detective Mendez catch the nefarious sister in time? And why were the sisters separated in the first place? Could something deeper be at play? Since the movie is entirely fictional, it takes audiences on a controversy-free roller coaster ride through some serious double trouble.