This Terrifying Lifetime Movie Might Make You Rethink Your Holiday Vacation Plans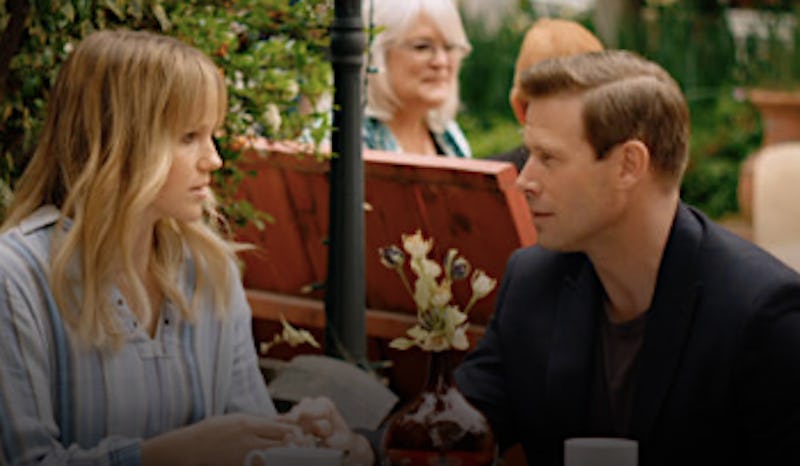 Lifetime
Generally, when you think about taking a vacation, you expect that pretty much the entire experience will be fun and relaxing. But what if that wasn't the case? What if you ran into an ex while you were there and things took a very, very dark turn? That's the tense premise of Lifetime's new original movie Killer Vacation. At first it may make you second guess booking any future trips to a faraway destination, but thankfully, Killer Vacation isn't based on a true story, so you shouldn't have to concern yourself with facing this nightmarish situation in real life. Rest assured: These characters and this storyline are completely fictional and should in no way prevent you from ever going to a resort again. (Because that'd be the true tragedy of this story, right?)
The movie centers around Jake and Lindsey, a happy couple who are expecting their first child together and decide to go off on a babymoon trip to a desert resort so they can get a little extra time to themselves before the joys (and struggles) of parenthood are upon them. Little do they know that they're about to encounter an entirely different form of terror when they run into Jake's soon-to-be-ex-wife, Gwen, while they're there. And yes, it's just as awkward as it sounds.
However, awkwardness might be the least of Lindsey's worries, given the possible foreshadowing of the movie title. (The use of the word "killer" probably doesn't refer to the slang term of being awesome in this particular case.) The official synopsis for Killer Vacation, which can be found below, doesn't sound too promising either. It reads:
"Successful businessman Jake takes his four-month pregnant girlfriend, Lindsey, on a babymoon trip to a desert resort. When they get there, Lindsey discovers that Jake's meddlesome soon-to-be-ex-wife, Gwen is there, too. In a dream vacation gone horribly wrong, it becomes apparent that someone is determined to make sure that Lindsey never uses her return ticket."
Now, typically, when you're visiting a resort, not using your return ticket back to reality may seem like a dream come true. However, given that Lifetime movies have a flair for the dramatic — and the disastrous — it seems safe to assume that Lindsey wouldn't be using her return ticket because she may no longer be alive to do so. It's a dark theory, but that ominous description implies that this dream vacation is about to become Lindsey's worst nightmare.
So, will Jake and Lindsey be able to survive this unexpected encounter with his ex? Is she there to win her husband back and if so, how far is she willing to go to make it happen? Interested viewers will just have to tune in to find out. After all, what better way to enjoy those Thanksgiving leftovers than by curling up on the couch and having a Lifetime movie scare the bejesus out of you?
Killer Vacation premieres Friday, Nov. 23 at 8 p.m. ET on Lifetime.
Correction: A previous version of this story stated Jake and Lindsey traveled to Hawaii. It has been updated to accurately reflect their vacation destination.