Kim K & Khloé's Past Talks About Surrogacy Are Hard To Ignore Now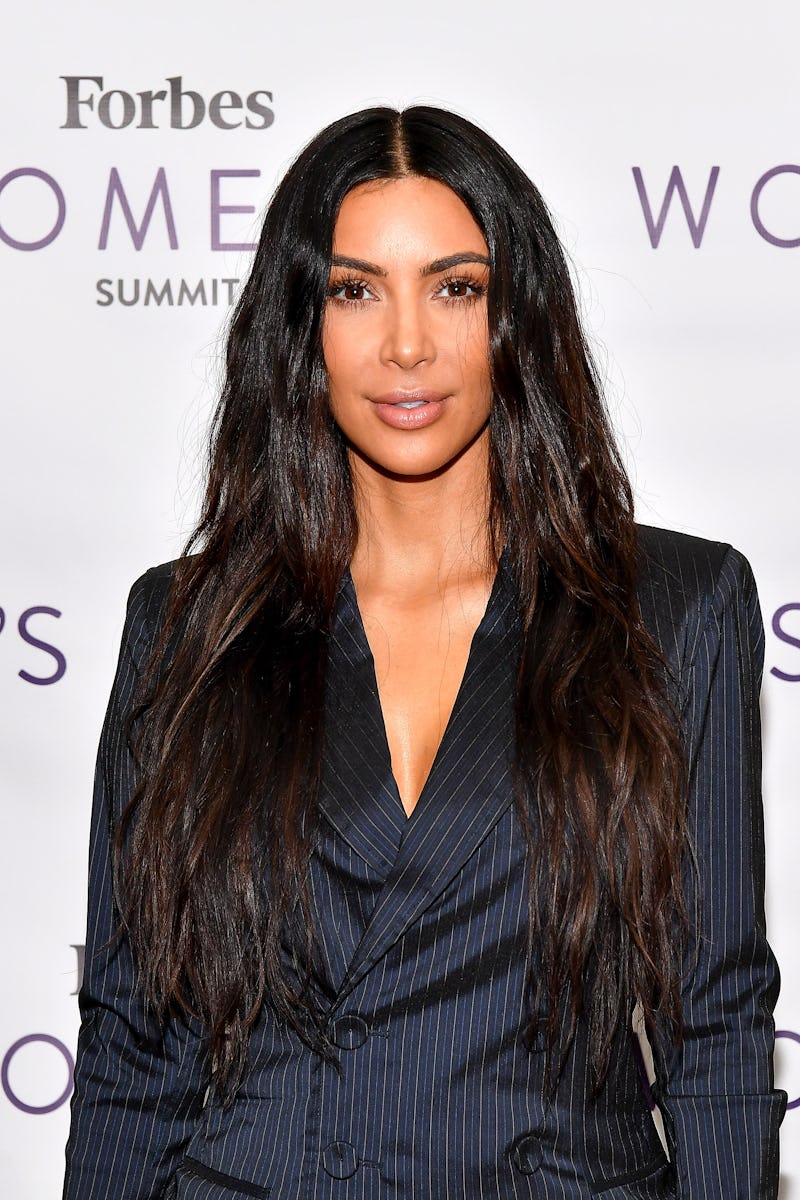 Dia Dipasupil/Getty Images Entertainment/Getty Images
Kim Kardashian and Kanye West might have another baby soon. On Wednesday, People reported that the couple hired a surrogate. If it's true that she is planning to use a surrogate, is it possible that Khloé Kardashian is going to be Kim Kardashian's surrogate? Bustle has reached out to Kim, Kanye, and Khloé's reps for comment, but did not receive a response at the time of publication.
Over the past year, Kim K has been open about wanting a third child and the health risks that would come with her getting pregnant again. In a blog post, she discussed her experiences with preeclampsia and placenta accreta, which are two painful conditions that increase the risks during childbirth. In this season of Keeping Up With the Kardashians, the star underweant a procedure that could potentially help her carry another child, but there were complications and it ultimately was not successful. She revealed later to Khloé and Kourtney that she was now seriously considering surrogacy, and even brought up the idea of one of her sisters taking on that role.
In the Season 13 finale of KUWTK, which aired in June, Kim approached Khloé about acting as a surrogate. It was only a possibility, and while Khloé definitely considered it, she seemed a bit hesitant. However, this didn't stop the sisters from taking a trip to the fertility doctor to further explore the option. During the episode, the doctor gave Khloé some surprising news about her own fertility, revealing that she had fewer follicles on her ovaries than expected for a 32-year-old, but by the end of the episode this was resolved when Khloé found out it was due to her birth control.
During the episode, Khloé also publicly discussed starting a family of her own, especially as things get serious with boyfriend Tristan Thompson. The star first opened up about the possibility on this season of KUWTK, revealing that Thompson wants kids and a lot of them. "He wants to have kids now," Khloé told Kim K in the finale. "He said, 'I want to have kids with you, and if you get pregnant, you could make maternity jeans for Good American."
If Khloé is going to start her own fam, it's a lot less likely that she'll be Kim's surrogate. While the Kardashian sisters have seemed supportive of Kim to growing her family, Khloé might choose to focus on her own life for now. As the KUWTK season finale wrapped up, she did reveal in a solo interview that she'd gone off birth control and was looking forward to her future with the NBA star. ""He wants to have like, five or six kids with me, and that's lovely," Khloé said on the show. "We could start at one and then grow from there. But now, knowing I'm not on birth control, it's really scary. It's like a really big step."
Motherhood has been an incredibly rewarding experience for Kim, and she encouraged her sister to consider having kids. "I know we've scared Khloé so much, or at least I have, in wanting to have kids," Kim said in the finale episode. "But she'd be such an amazing mom." It's clear that Kim supports Khloé's own pursuit of family, and this might mean that having Khloé be the surrogate is out of the question.
It looks like both Kardashian sisters have big plans. It's not clear at this time whether or not Khloé will volunteer as Kim K's surrogate, but given her own family planning, it's a little unlikely. However, both stars are looking forward to more children, so at the very least some serious Kardashian-West-Thompson playdates might be in the future.