'Riverdale's KJ Apa Was Reportedly In A Car Accident After Falling Asleep While Driving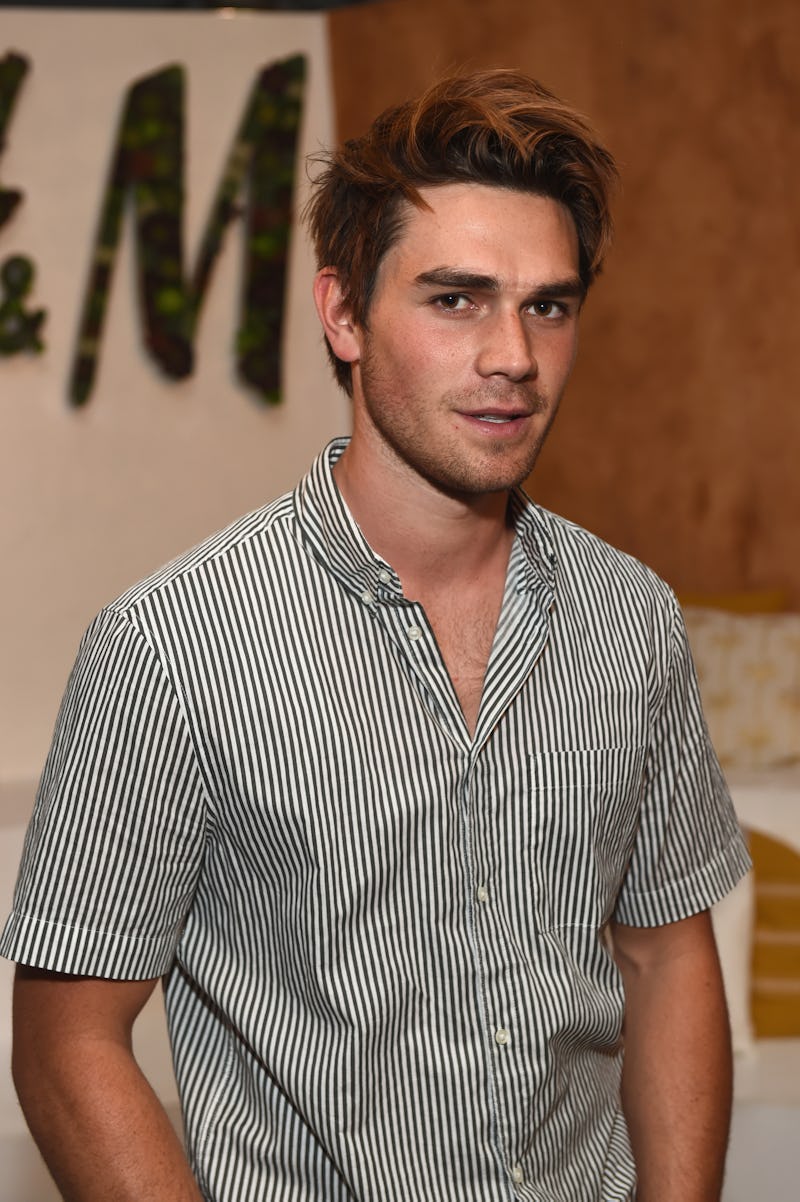 Emma McIntyre/Getty Images Entertainment/Getty Images
After completing a day of production on the hit show Riverdale, according to Deadline, actor KJ Apa was in an car accident in Vancouver, Canada. But, while Deadline reports the accident occurred in the early in the morning of Thursday, Sept. 21, The Hollywood Reporter is reporting that the accident occurred last week, not on Sept. 21. THR reports that Apa fell asleep while driving himself home from the set after midnight. The trip back home was reportedly 45 minutes long.
UPDATE: Warner Brothers Television released the following statements to Bustle regarding the incident
The safety of the cast and crew on all of our productions is of paramount importance to the Studio. Productions adhere to the Screen Actors Guild–mandated turnaround time of 12 hours from wrap time to next day call time for cast members. In accordance with industry standard policy, if any cast or crew member feels tired or unsafe at any time after working, the Studio will provide a taxi, a driver or a hotel room upon request. This is communicated to all cast and crew, both in writing and verbally, at the beginning of production and is reiterated continuously throughout the duration of production.
Warner Brothers Television also released a statement about Apa, specifically:
First and foremost, we are extremely grateful that KJ Apa was uninjured during his recent accident. Secondarily, we want to specifically address the characterization that conditions on the set of Riverdale are of concern. We have a large cast of series regulars, and our actors do not work every day. On the day of the accident, KJ worked 14.2 hours. The previous day he worked 2.5 hours, and the day before that he worked 7.7 hours. KJ has repeatedly been informed about making production aware if he is tired or feels unsafe, and if so, either a ride or hotel room will be provided for him. The accident occurred last Thursday. Additionally, it is untrue that KJ was taken to the hospital. He was treated by first responders on the scene and released by them. We also sent a doctor to his home later that same day for a follow-up to confirm his well-being.
EARLIER: Apa, who plays Archie in the CW show, was reportedly taken to a hospital, but was luckily released after being observed with no serious injuries, THR reports. Bustle has reached out to reps for Apa, The CW, and Warner Brothers Television for comment, but did not receive a response at the time of publication. Additionally, Bustle reached out to the Vancouver Police Department, but they do not release the names of anyone involved in an accident.
Production on Riverdale has not been not been delayed, according to Deadline, and the show is scheduled to have its season premiere on Oct. 11. Sources claim that Apa allegedly crashed into a lamp post while driving a rented car. Someone claiming to be a Riverdale insider who spoke to Deadline claims that there will be a call between Warner Brothers Television and representatives for several members of the show's production team to discuss the accident and safety issues related to the often lengthy shoots on Riverdale this Friday, Sept. 22.
According to THR, Apa had completed a 16-hour day on set before his accident. The vehicle he was driving was rendered inoperable as a result of the incident, and sources alleged that the passenger side of the car was "destroyed," THR reports. Apparently, Cole Sprouse (who plays Archie's friend Jughead on Riverdale and is also said to be a friend of Apa in real life) had planned to be in the same vehicle with Apa, but didn't end up going with him.
Sources who spoke to THR claim that the former Suite Life of Zack & Cody actor changed his mind at the last minute, and that he is now calling for the series to provide transportation to cast members of the series who work late hours. (Bustle reached out to Sprouse's rep for comment, but did not receive a response.) In addition to Sprouse and Apa, many members of the Riverdale cast are friends in addition to being cast mates.
THR also reports that production on Riverdale regularly runs into the early morning hours, and their sources claim this accident has set off a "firestorm of protest on set." That said, THR also reported that a source claimed actors are told they can call a cab or stay in a hotel nearby and the company will pay for it if they feel uncomfortable driving after filming.
It's not currently entirely clear when Apa's accident occurred, as THR and Deadline are reporting different dates and Warner Brothers has not commented. However, if it did happen last week (as THR reports), Apa's social media activity supports the claims that the actor was uninjured. He's been posting selfies from on-set, jokes teasing his Riverdale cast mates, and photos with his family to Instagram, which suggest that production resumed without any major issues. In response to some of his Instagram posts, fans have been posting well wishes for the actors and hopes that he is fine after the reported accident.