The New KKW x Kylie Cosmetics Collaboration Went Fast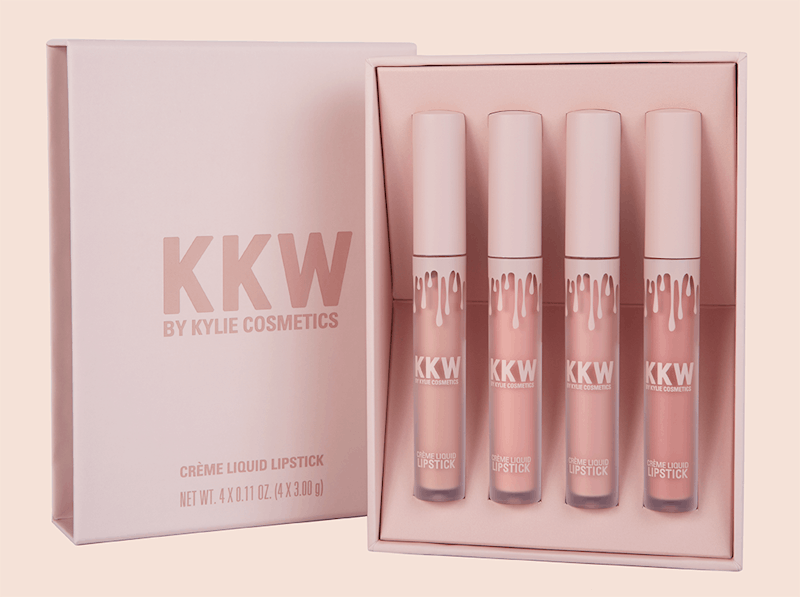 Courtesy of Kylie Cosmetics
It's not every day that one of the biggest names in the entertainment industry partners with her makeup mogul little sister on a collab, so the KKW x Kylie Cosmetics collection pretty much broke the internet when Kim Kardashian West and Kylie Jenner first announced it. Fans' excitement reached a fever pitch Tuesday when the collab finally hit the Kylie Cosmetics website. So is the collection sold out? Unfortunately for fans, if you didn't get the collab already you're out of luck.
The collection, which consists of four nude lippies in a new creme lip formula, sold out pretty much the instant it went on sale on the website. Considering Kardashian is a huge star on her own accord, it's no surprise this collection went just as fast (if not faster) than Jenner's collaboration with Khloe Kardashian. The KKW set of four lipsticks went on sale at 3 p.m. PT, and they were snapped up in less than two hours. Considering both the products and formula are new to the Kylie Cosmetics line, I'm not too surprised fans wanted to get their hands on the full set immediately. I mean, can you blame them when the shades are as gorge as these are?
They're a perfect mix of a nude shade for every occasion.
Plus, how gorgeous do the shades look on Kardashian and Jenner? There's always hope that Jenner and Kardashian will bring back the collab for a restock, and if we're really lucky, they'll sell the new shades separately just like Jenner did with the Koko Kollection. But fans are still pretty upset they didn't get the collab in time.
Has there ever been a better time for a crying Kim Kardashian meme?
Luckily some fans got their hands on the collection.
Although you can probably find the collection on eBay, I'd hold off until there's official word from Jenner and Kardashian's camps about a restock — if I know Kylie Cosmetics, it'll come soon enough.