Kylie Jenner's Black Bob Seems Like The Real Deal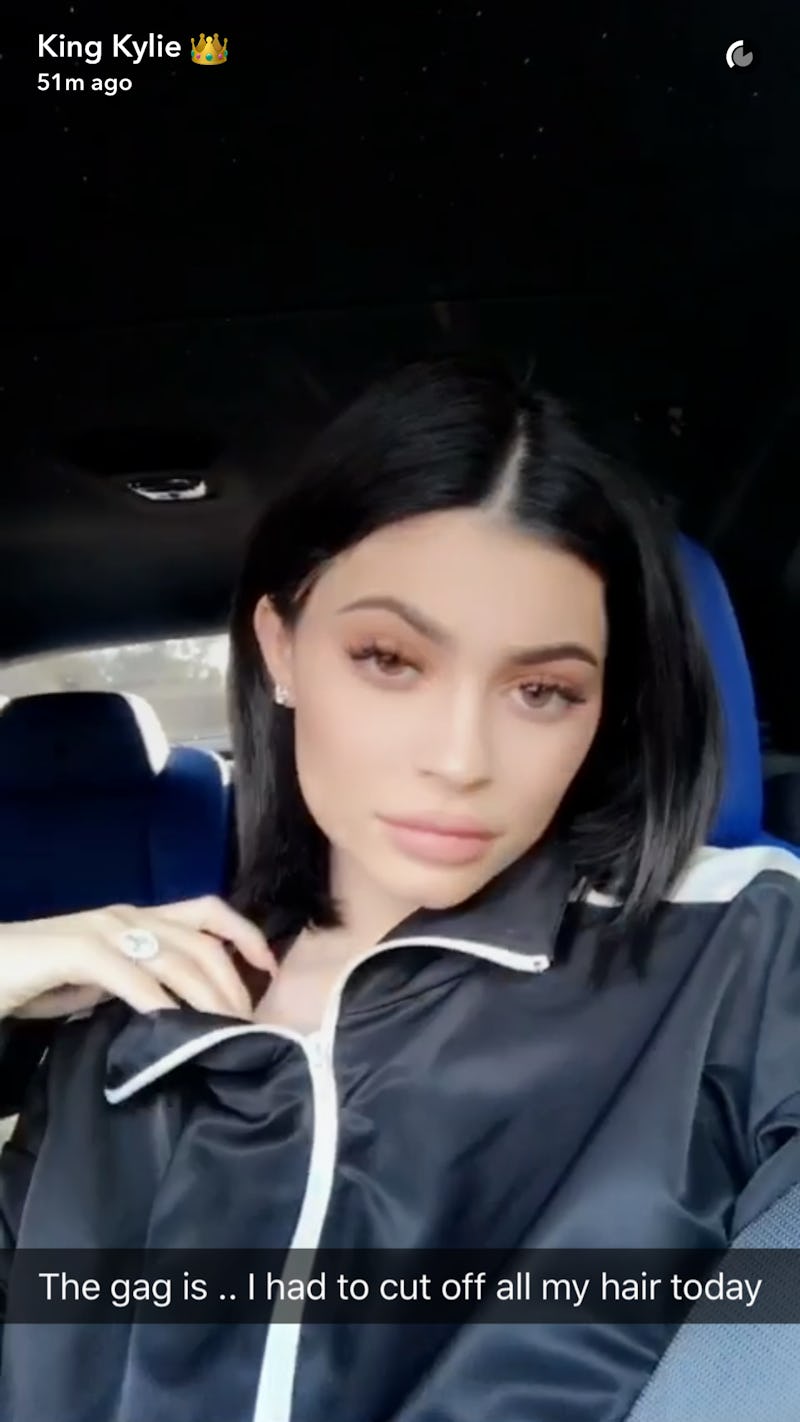 Kylie Jenner/Snapchat
When it comes to dramatic hair changes, Kylie Jenner is basically the reigning queen. She has switched up her hair look so many times, we have pretty much gotten used to her in a new cut or color every other week. Given her open affinity for wigs, though, it's often surprising when she unexpectedly sports her natural hair. So, is Kylie Jenner's black bob real? Fans are now wondering.
The 19-year-old recently flaunted a short blonde bob, which was likely the work of a really good wig, so one would assume she just went for a quick color swap and is rocking another wig, right? Well, not this time!
According to Jenner's Snapchat, the 'do is the real deal. In one of her latest snaps, Kylie shows off a fresh dark brown chop, and captioned the short clip, "The gag is...I had to cut off all my hair today." There you have it, folks. Cold hard proof that Kylie Jenner isn't fooling us this time, like she has done so many times in the past. As for why she had to do so — a clue has yet to be revealed. Perhaps it's for an upcoming shoot? Or maybe she has got another secret project up her sleeve that we have yet to know anything about.
Either way, the new look is killer, as per usual. Personally, I have always been a fan of her natural raven-colored locks.
Let's now compare this black bob to the platinum blonde one she had a few weeks ago.
If you look closely at her hairline, in this photo, you can kind of see her dark roots underneath, making this look a whole lot like a wig, whereas her part in the previous photo looks natural AF.
See the difference?
Hopefully Kylie updates us soon on the reasoning behind this blunt cut, but I must admit, I'm totally a fan.