Lady Gaga Wants You To Watch The Oscars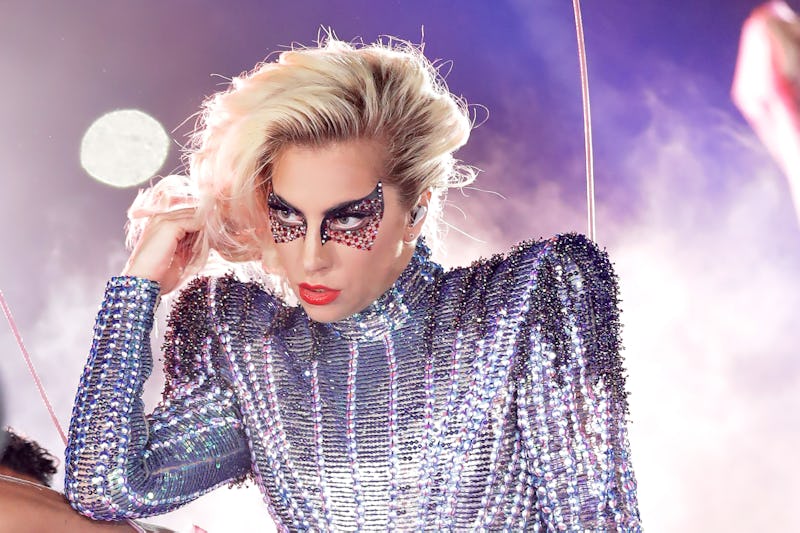 Ronald Martinez/Getty Images Sport/Getty Images
The Academy Awards are a night filled with stars, but you might be wondering about one in particular. Is Lady Gaga at the 2017 Oscars? It's not entirely clear just yet. Bustle has reached out to her rep for comment, but did not receive a response at time of publication. That said, it is clear that Lady Gaga wants everyone to tune in, but not for the reason you're thinking.
On Sunday, the artist tweeted alongside a black and white image of her, "Spread your #lovein3words. Tune in to the Oscars tonight [heart emoji]." According to Us Weekly, Lady Gaga has partnered with Revlon "to help spread the message 'Choose Love,'" which will be showcased in a commercial during the Oscars broadcast.
It is part of The Love Project 2017, which began on Feb. 23. The campaign is continuing to spread the important message of love with a new ad featuring not only Gaga, but also other A-list stars like Ellen DeGeneres and Pharrell. Per Us, these celebs are not "Brand Ambassadors," but are choosing to lend their voices to a cause they believe in wholeheartedly.
The ad is also a way for viewers to learn about The Love Project and they will even be directed to theloveproject2017.com, according to Us. On the website, donations can be made to worthy causes, like Gaga's Born this Way, Pharrell's From One Hand to AnOTHER, DeGeneres' choice The Trevor Project, and the Women's Heart Alliance. Revlon is also said to be donating one million dollars divided among each of the charities.
And you don't have to donate money, but just your voice, if you choose to. At theloveproject2017.com, anyone can "create content that symbolizes what love means to you," as Us reported. If you choose to do just that, be sure to use the hashtag "LoveIn3Words to spread all of the love that is so needed in this world right now.
Even if Lady Gaga doesn't show up in person, at least you'll get to see her in some capacity. All that matters is she's going to be part of the Oscars in an extremely important way.