'Valor's Star Pilot Takes Inspiration From Two Well-Known Heroes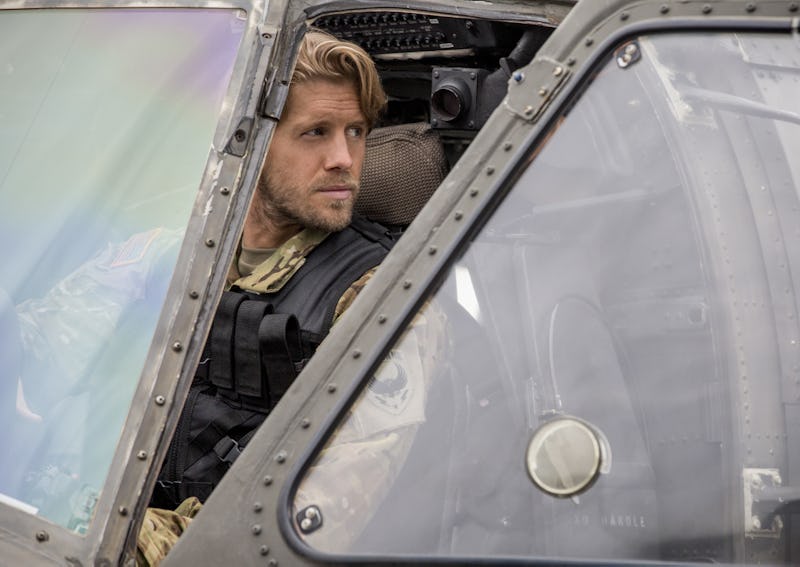 Erika Doss/The CW
Given the spate of military-themed dramas hitting television this fall, the odds are high that at least one takes inspiration from America's many real-life heroes. So, with the Oct. 9 premiere of Valor just around the corner, let's run the numbers, beginning with one of the show's central characters. Is Valor's Leland Gallo based on a real person?
According to star Matt Barr, who plays Gallo, the character is a blend of fact and fiction, drawing from both a classic movie role and an actual veteran. "I'd be lying if I didn't base him a little on Tom Cruise's Maverick from Top Gun. Little 9-year-old me was living out his dream," Barr says, speaking to Bustle at the CW Upfronts red carpet. "But we had this true life hero in the military by the name of Dan Laguna who taught us how to fly helicopters. He was actually in Black Hawk Down in '93 and sort of showed us how to walk and talk. He was on set every second. We wanted to make it authentic."
Maverick, of course, is one of Cruise's most well-known parts — a charming, skilled, and daring Navy pilot with a troubled past. And those ties shine through in Valor: Gallo, too, is a talented helicopter pilot with a devil-may-care attitude. "Leland is an air cowboy," Barr says in a promotional clip for the series. "He's a reckless guy that lives his life that way 'cause it makes him good at his job. It's necessary, but on the other side, it can bite him in the ass."
But while Maverik may lend Leland his charisma, Laguna's influence gives him perseverance and grit. According to the description for Laguna's 2010 memoir, You Have To Live Hard To Be Hard, he was working in a Special Operations Aviation Regiment back in 1994 when he was involved in a near-fatal helicopter accident. His co-pilot died, while Laguna spent months in the hospital recovering from third and fourth degree burns and several broken bones. One year later, he returned to duty and served for seven years before retiring.
Per the official United States Army website, Laguna knew the dangers of war firsthand: Two of his uncles were killed while serving in the Pacific during World War II, and his father was severely wounded in combat. His dad wasn't able to rejoin the military, so Laguna set out to live his dream for him, first becoming a drill sergeant and then a green beret — a colloquial term for a special forces op. He's famous among his peers for being tough, and has survived numerous covert missions over the course of his career. After his accident, he was told he would never walk again, but through sheer determination and copious hours of physical therapy, he was back in the air after only four months. In 2007, while working as a contractor, he survived yet another helicopter crash that also claimed the life of his brother. He was understandably devastated, but two weeks after the funeral, he was back in action.
And it was exactly that kind of dedication that Barr found most inspiring when crafting his approach to Leland. "Everyone's commitment to their duty and the discipline, how seriously they take it," he tells Bustle when asked what he'd learned about servicemen and women from working on Valor. "I always assumed that, but it's almost like premier in their life. I found it fascinating how they can do these sort of high risk, no room for failure jobs and balance that out with family life. They're dads and moms and husbands and wives. That's an interesting balance."
Leland himself isn't a parent — at least from the looks of it — but he will have to navigate the boundaries between professional and personal, and fortunately, Barr has two stellar examples to look to when finding that balance. See him in action when Valor premieres Oct. 9 at 9 p.m. ET.
Additional reporting by Sage Young