Lifetime's 'The Nanny Is Watching' Will Make You Think Twice About Getting A Babysitter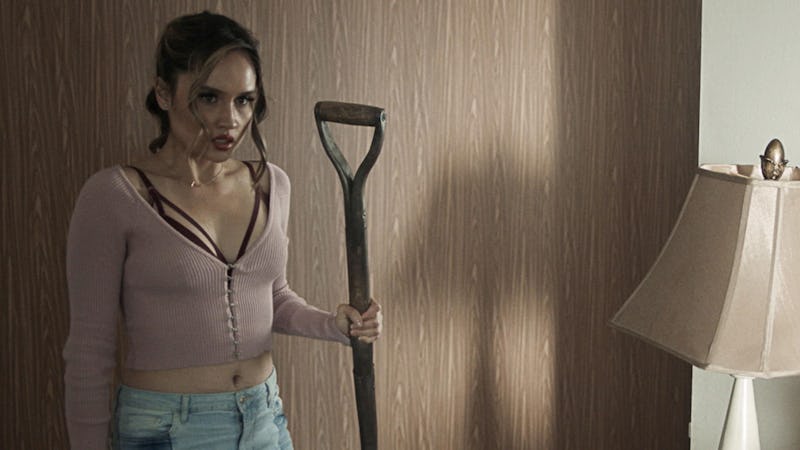 Lifetime
The time has come once again for a new Lifetime movie about dangerous nannies. Because there's never enough, really. The network's latest is called The Nanny Is Watching, and it premieres on Sunday, July 15 at 8 p.m. ET. The movie is about a babysitter who starts spying on a new client, with drama obviously ensuing. Since the plot sounds realistic enough, it's definitely possible that Lifetime's The Nanny Is Watching is based on true events. Or is it just another addition to the network's collection of fictional thrillers?
Fortunately, it appears as though the plot was entirely fabricated and isn't based on real life, so you can rest easy if you have a nanny at home right this very minute watching your kids or something. There's actually a lot that's hard to believe in the movie when you think about it. The movie, which was originally called Nanny Surveillance, according to IMDb, is about the the Franklin family, who hires Rachel (Cinta Laura Kiehl) to help with their adopted daughter, Beth (Olivia Sembra). According to Lifetime's synopsis of the film, the couple decides to install a security system after a break-in. But the babysitter ends up using the family's surveillance system to spy on them. The twist? Beth is actually Rachel's biological daughter, and she desperately wants her back!
"If you try and come between me and my family again, I will deal with you myself," Mara warns Rachel in the trailer. But it doesn't look like she heeds her warning, because audiences see Rachel try to woo the husband, wield a kitchen knife, and throw various fits throughout the trailer. Not a great way to get a character reference for the next babysitting job, if you ask me.
While it might sound silly, The Nanny Is Watching is also a pretty wild ride, perfect for midsummer viewing. If dangerous au pairs are your preferred form of entertainment, Lifetime has more where that came from, too. Here are a few more nanny-centric TV movies to fill that "babysitter thriller" void in your life.