Loki's 'Avengers: Infinity War' Fate May Not Have Been As Final As You Thought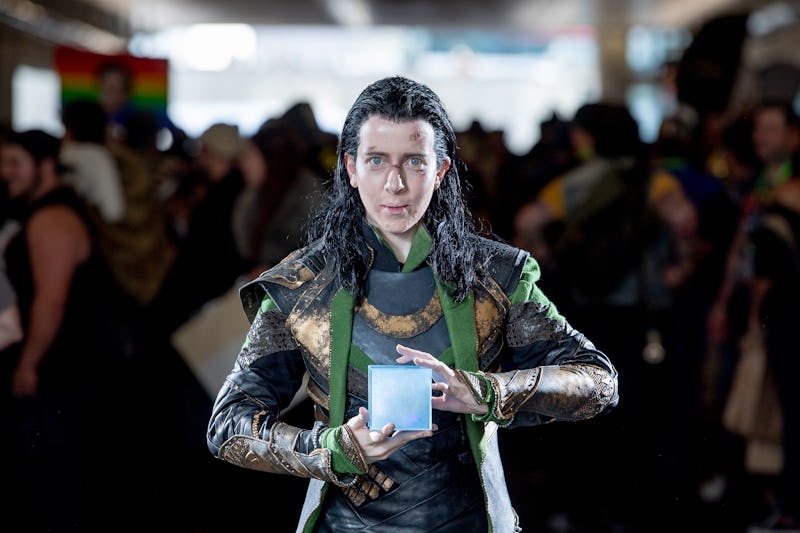 Roy Rochlin/Getty Images Entertainment/Getty Images
Has the god of mischief pulled another stunt? After news broke that Loki (Tom Hiddleston) is getting his own live-action series, the first natural question on Marvel fans' mind: Wait, is Loki still alive? After all, anyone who saw this year's Avengers: Infinity War is well aware that Thanos (Josh Brolin) killed Loki at the beginning of the blockbuster. So how he'll come back for the upcoming series, which will debut when Disney launches its standalone streaming service, Disney+ in late 2019, remains a mystery. (Silhouette Cosplay is pictured above as Loki.)
Adding to the confusion: Marvel Studios chief Kevin Feige told Entertainment Weekly in March that the Avengers: Infinity War deaths would be permanent. When asked about criticism over Marvel characters typically coming back in some way after dying, and if it would be "for real this time," Feige responded:
"Yes. I mean, I could always list off the characters that we've killed in our movies that haven't come back, but the big ones, which I know they're looking at …? [Pause.] I would just say, yes. People need to be careful what they wish for."
As Marvel stans probably remember, Infinity War wasn't even the first time that Loki "died," as he faked his death in 2013's Thor: The Dark World. Hiddleston previously confessed that the death was originally supposed to be permanent then, too.
"It was part of the original pitch and in test screenings, the audience didn't accept it, Hiddleston said on the Empire podcast, per Screen Rant. "They said, you know 'He's obviously coming back. That didn't really happen.' And there was a very strange and almost unanimous resistance to it. They decided that wasn't the end."
Thus began a popular fan theory — as posted on Reddit by an eagle-eyed fan — that it wasn't actually Loki who died in Infinity War. Pointing to a scene where Loki attempts to stab Thanos, the user posted:
"Loki is right handed. If you look, in movies since Thor 1 to Avengers 1 to Ragnarok, he wields with his right hand. He holds weapons with his right and the scepter in Avengers with his right. There are two occasions he uses his left hand (that I've found). One, when he fakes his own death in Dark World. You can find him holding the dagger with his left hand during the entire scene. Two, when he stabs Thanos."
Hiddleston said a fan actually approached him with this theory in London. "I was like, 'That's incredible attention to detail.'" he told the audience at Chicago's ACE Comic Con in October, per comicbook.com. "Your guess is as good as mine."
Also stoking rumors Loki hadn't died was a series of photos of Hiddleston apparently taken on the set of the upcoming fourth Avengers movie (slated for a May 3, 2019 theatrical release). Some believed it could have something to do with a flashback or time travel, though the announcement of the new Disney+ series doesn't do much to support that hypothesis.
Another Twitter fan theory, which was spotted by Screen Rant, uses the same scene as evidence, reminding everyone to that he'd used his magic before to transform into another character in the past. The user's guess? Mark Ruffalo's Dr. Bruce Banner is the one who died.
"Loki's dagger sneak attack on Thanos was feeble," read the tweet. "He knew it wouldn't work. Heimdall [Idris Elba] also knows Banner can probably survive anything Thanos throws at him in the short-term. On Earth, Banner is acting loopy. Can't hulk out. Deception more useful now than force. Banner is Loki."
According to comicbook.com, executive producer Trinh Tran has even admitted there was a fake script in which Loki lived. In the book, The Art of Avengers: Infinity War, she said (per the website): "We created a version of the script where Loki would get away in an escape pod at the beginning of the movie. When we started shooting that particular sequence, we had crew members who were thoroughly confused. We had to let them know that those were fake versions of the script that they read."
As with most things in the Marvel Cinematic Universe, fans will likely have a while to wait until both Avengers 4 and the new Loki series premiere for the mystery to be solved.