Lucy Hale Has Pink Hair & You Can Copy It For Less Than $15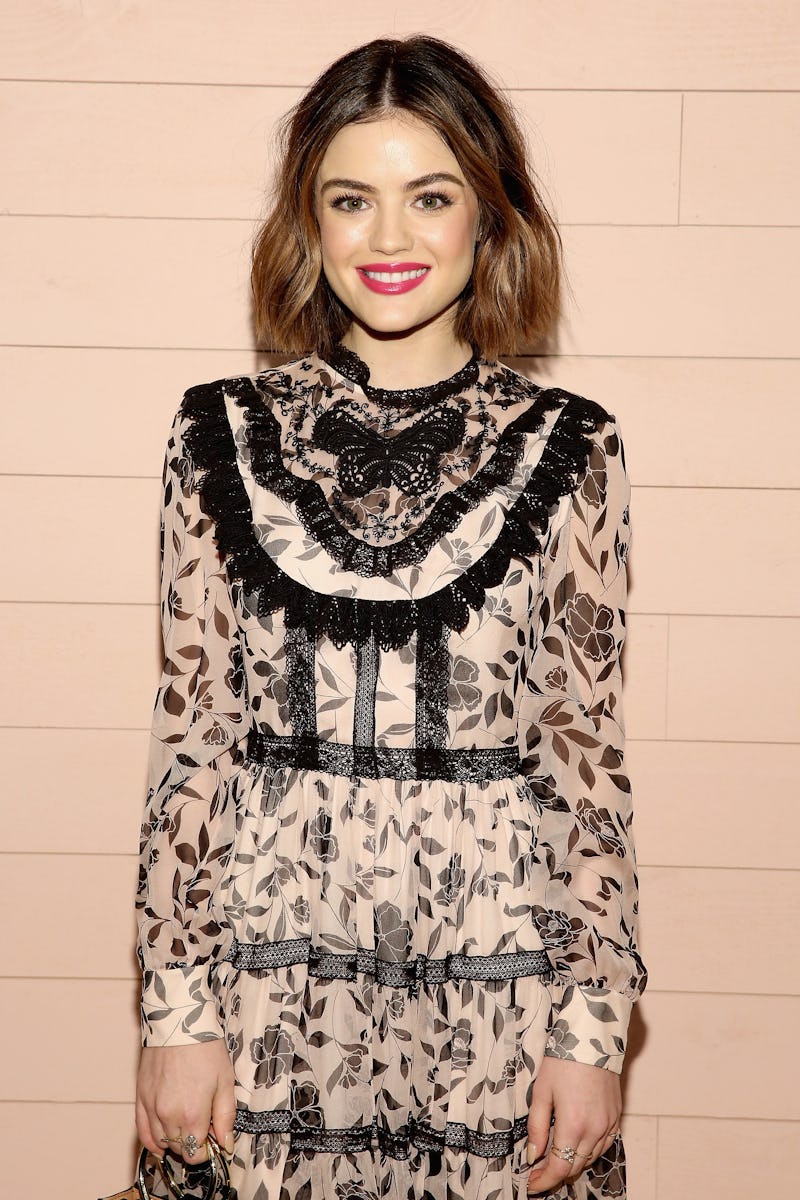 Monica Schipper/Getty Images Entertainment/Getty Images
Once you see Lucy Hale's rose gold hair, you are so going to want to replicate her look. But don't worry — you don't have to book a pricy appointment in your colorist's chair to get this millennial pink and multi-tonal look. You won't need to double process your light locks, either. Lucy Hale's rose gold strands are courtesy of a temporary tinting product you can scoop up at Target — and it's less than $15.
Hale posted images of her wavy, shoulder-grazing lob with this gloriously rosy hue. Her ombre hair had differing intensities down the length of the shaft. She also matched her eye makeup and her soft lipstick — without being too matchy matchy. It was a color coordinated beauty look that was fly AF.
In the caption of her social posts showing off her strands, Hale noted that she rocked Kristen Ess Rose Gold Temporary Tint from Target. So next time you are shopping at the big red bullseye to grab some toilet paper and cheap 'n' chic decor but end up with a cart full of stuff not on your list, make sure you cruise into the hair care aisle to grab this color. If you have light locks, it's pretty much made for you.
Pink you very much, indeed. Ess also posted a shot of Hale's hair twirling about.
The best course of action is to wash, rinse, apply, condition, and then style.
As of press time, Hale's Insta post of her rose gold hair got nearly a million likes. Clearly, her legion of Pretty Little Liars fans and beyond are all about her follicular pit stop at pink. They were super vocal in the comments, expressing their love for not only the actor but also her sexy, sweetly punk rock look.
Users are so ready to replicate these rose gold strands. Lucky for them the tint is available at mass market and won't break the bank.
"Slay" and "gorgeous" are certainly applicable descriptions regarding this look.
Perhaps Hale will add the product into regular rotation and rock it often.
Hale posted a selfie a few days ago, sporting a faux tan. Her wavy locks were a pretty, honey blonde shade. While we are used to Hale with dark chocolate hair, she has been playing with color for a while now.
In case you needed a refresher, here's Hale sporting long hair from the PLL glory days.
Hale has gone progressively shorter, showing a willingness to be embrace change when it comes to her coif. She's remained loyal to the shaggy, textured, and ombre lob for a while now.
The Kristen Ess Temporary Tint shows up so beautifully on her lighter tresses. If you are dark-haired but want to emulate Hale's look, that may require a visit to the salon and double processing. Or you can try a drugstore product designed for deeper locks.
Lucy Hale's rose gold locks are seriously spring #HairGoals.