Malala Is Heading To Oxford University & The Internet Is Too Excited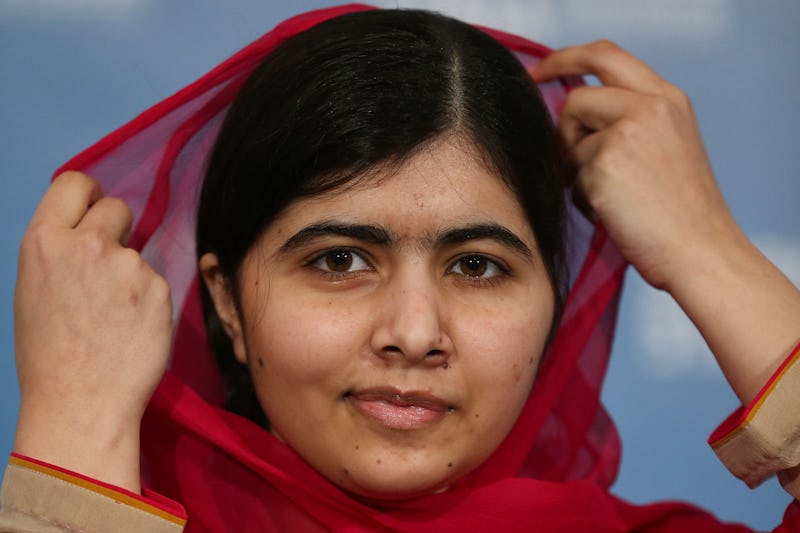 JUSTIN TALLIS/AFP/Getty Images
Not everyone can earn a place in the world's most prestigious universities, but it should come as little surprise that the youngest person to become a Nobel laureate would be among those who can. In a tweet on Thursday, Malala Yousafzai announced she will be going to Oxford University in the fall, after her A-level exam scores, unsurprisingly, were good enough to secure her a place in the U.K.'s top university.
"So excited to go to Oxford!! Well done to all A-level students -the hardest year. Best wishes for life ahead!" Yousafzai tweeted. She had received a conditional offer from the university, which guaranteed her a place if she received three As on her A-level exams. Yousafzai announced this while she was studying for those very exams, and as she's made education the primary focus of her life so far, it would have been a much bigger surprise if she hadn't gotten the necessary grades.
Yousafzai nearly gave her life to the cause of girls' rights to education, as she was shot by the Taliban in 2012 for pursuing it. She narrowly survived and then moved to the U.K. so that she and her family could be safe. Since then, she's used that freedom to continue working for full access to education for everyone. Her dedication in the face of such adversity has already gotten her much recognition, including a Nobel Peace Prize, which she received at age 17.
She was named a UN Messenger for Peace as the youngest person to ever be named to that position, and her focus in the role was girls' education. She also founded the Malala Fund, which of course is dedicated to securing education for women all over the world, and she'll continue to work on that while she's at school.
At Oxford she'll be studying philosophy, politics, and economics, a degree which The Guardian referred to as "the Oxford degree that runs Britain." Assuming she ends up receiving the degree, she'll be joining an elite group that includes former Prime Minister David Cameron, President Bill Clinton, and former Pakistani President Benazir Bhutto. She has expressed an interest in going down at least a similar path as Bhutto did, by possibly going back to Pakistan to become a politician.
Throughout her journey, Malala has made herself into something of an everywoman, always emphasizing the hard work that goes into all of her achievements. "It has been challenging, because I was getting my own education. I had to go to school. I had to do my homework. I had exams. I had teachers. And then, I come out of school and then there's another life, where you have lots of things to do," she told TIME earlier this year.
Now, the work will only get harder once she begins her university studies, but both she and the world will no doubt benefit from it. The congratulations to Malala are already rolling in on Twitter, and the world seems to agree — there's no one who could possibly deserve this more than her.