Melania Will Attend Trump's Speech To Congress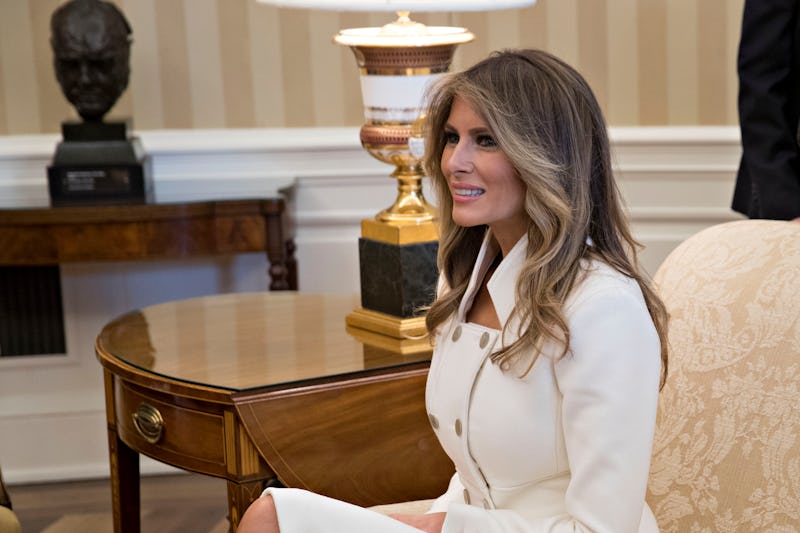 Pool/Getty Images News/Getty Images
On Tuesday evening, President Donald Trump will deliver his first speech to a joint session of Congress. Attendees at his speech will (of course) include both houses of Congress and their guests, as well as Supreme Court justices and Trump's cabinet. However, people are also speculating whether Melania Trump will attend the address to Congress, considering she has largely been absent from official presidential events since she resides in the Trumps' pre-presidency home in New York City.
According to the Associated Press, the First Lady will not only attend the event, but she will also be seated in the gallery along with special guests invited to the speech by President Trump.
The guests seated with Melania were seemingly chosen to represent Trump's political agenda. Three of the guests — Jessica Davis, Susan Oliver, and Jamiel Shaw, Sr. — are individuals who have had family members killed by illegal immigrants in the United States. Davis' and Oliver's husbands were police officers killed in the line of duty by an illegal immigrant and Shaw Sr.'s son was killed by an illegal immigrant in California.
According to The Washington Times, inviting Davis, Oliver, and Shaw Sr. to sit with the First Lady could be an attempt to counteract the fact that Democrats are inviting immigrants as guests to the address.
Several other special guests will also sit in the gallery with Melania. They include Megan Crowley, whose father founded a pharmaceutical company that helped keep her alive by treating her chronic Pompe disease; Denisha Merriweather, who used the Florida Tax Credit Scholarship to attend private high school, a type of school voucher program for which the Trump administration advocates; and Maureen McCarthy Scalia, the widow of late Supreme Court Justice Antonin Scalia. Trump has nominated federal appeals court judge Neil Gorsuch as Scalia's successor.
The First Lady definitely appears to be playing a significant role at Trump's speech to Congress, sitting with and essentially hosting her husband's specially selected guests while Trump is delivering his address. Melania's presence at Trump's speech will mark her second post-inauguration foray into the official presidential limelight. On Sunday, she also hosted the Governors Ball, planning the event as well as delivering an opening statement.
Trump's address to Congress will certainly be interesting to watch and it will be equally intriguing to observe the reactions of and interplay between the President's guests, Democrats and Republicans and their invitees, and, of course, the First Lady herself.