Is Millie Bobby Brown The Youngest Emmy Nominee Ever?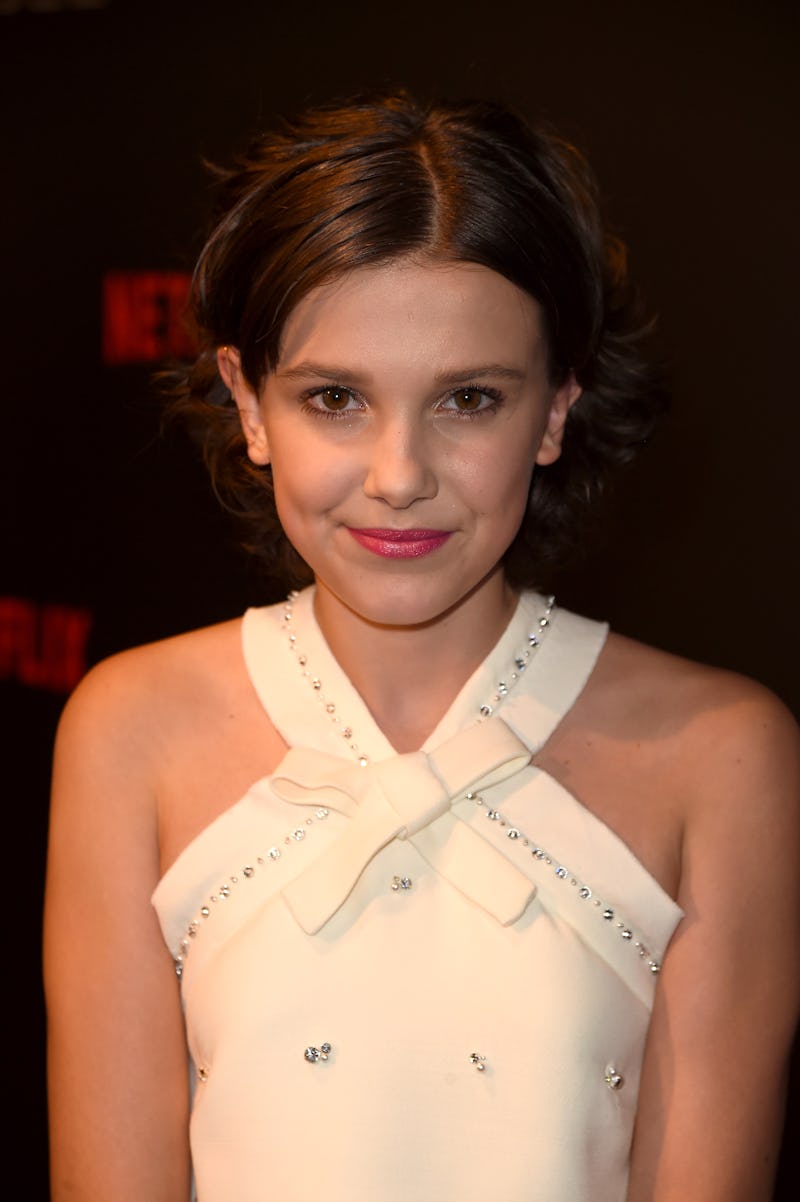 Kevin Winter/Getty Images Entertainment/Getty Images
This actor is already no stranger to winning highly coveted awards, so it comes as no surprise that Stranger Things star Millie Bobby Brown is an Emmy Award nominee for Outstanding Supporting Actress in a Drama Series. The young Brit plays the psychokinetic, Eggo waffle-loving friend Eleven on the popular '80s-themed Netflix series. But at just 13-year-old does the recognition make Millie Bobbie Brown the youngest actor to be nominated for an Emmy in the award show's history?
Not quite. She's actually off by seven years. TV Guide reports that Brown is "the first minor to be nominated since Frankie Muniz was shortlisted at 15 in 2001 for Malcolm in the Middle, and the first in drama since 16-year-old Claire Danes for My So-Called Life in 1995."
But while Brown joins several under 18 Emmy nominees, she's not the youngest. The youngest Emmy nominee ever was Keisha Knight Pulliam, who was nominated for her work as Rudy Huxtable on The Cosby Show when she was just six years old. Her TV brother, Malcolm Jamal-Warner was also nominated as a minor, and was 16 when he was nominated for playing Theo.
Young stars have also been a nominated for Daytime Emmy Awards such as Jodelle Ferland, who was only seven years old in 2001 when she was nominated for Outstanding Performer in a Children's Special for her portrayal of Desi Gill in Mermaid, according to IMDb.
According to The Hollywood Reporter, "The youngest person to win a primetime Emmy was 14-year-old Roxana Zal in 1984 for the incest-themed, movie-of-the-week Something About Amelia. But the academy has never awarded an actor under 18 a statuette for series work."
Brown's silent yet powerful portrayal as Eleven has captivated audiences adding to the immense popularity of Stranger Things. But, the Brit does have some stiff Emmy competition. She's up against Uzo Aduba of Orange Is The New Black, Samira Wiley and Ann Dowd of The Handmaid's Tale, Chrissy Metz of This Is Us, and Thandie Newton of Westworld. However, if Brown wins, the horror show star would break the 33-year Emmy curse that has haunted young Hollywood actors since Zal's 1984 win.
2017 has proven to be quite a year for Brown. Stranger Things premiered almost a year ago on July 15. In that time, the success of the science-fiction series has garnered Brown an MTV Movie & TV Award for Best Actor in a TV Show, a Saturn Award for Best Younger Actor on a Television Series, and a Screen Actors Guild Award for Outstanding Performance by an Ensemble in a Drama Series. Taking home an Emmy would bring Brown's award-winning year full circle.
Just as the disappearance of the Stranger Things character Will Byers kept viewers on the edge of their seats, fans of the show will just have to wait and see if Brown brings home the gold at the Emmys on Sunday, Sept. 17 on CBS.