Jim Carrey's 'Kidding' Character Isn't The First Time He's Channeled Mr. Rogers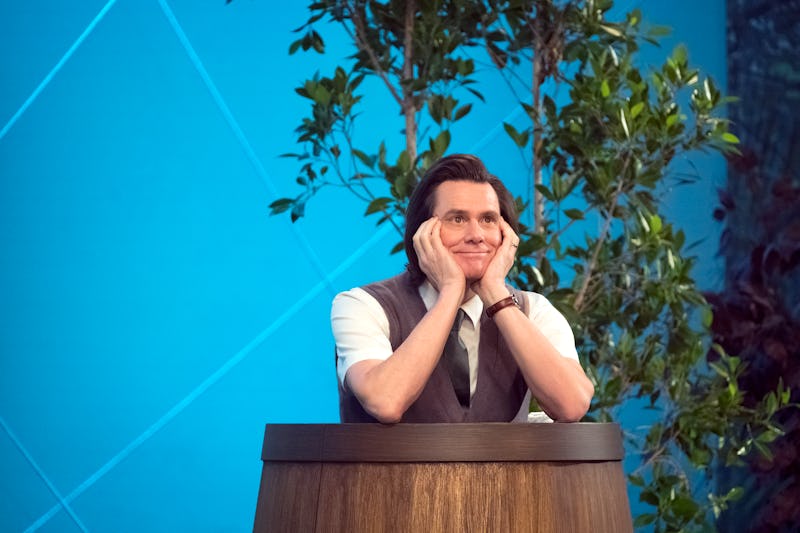 Erica Parise/SHOWTIME
The Showtime series Kidding follows fictional children's entertainer Jeff Piccirillo, known to decades of fans as Mr. Pickles and brought to life by Jim Carrey, as he struggles to keep his work life separate from his tumultuous personal life. Kidding doesn't hide the fact that Mr. Pickles is based on a real person and the character that person played on television for several decades. In a behind-the-scenes feature, Carrey explained that his character Jeff "looks at the world in a very idealistic way, not unlike Mr. Rogers."
Fred Rogers' influence on children's entertainment and generations of viewers that grew up watching him is a near-direct mirror of Mr. Pickles' career on Kidding. Mister Rogers' Neighborhood aired over 900 episodes over the course of 31 Seasons from 1968 to 2001. Much like Fred Rogers was known for hosting an optimistic and empathetic children's program for 33 years, Carrey explains that "Jeff Pickles has raised everybody's kid for 30 years and he's reached out through the medium of television to love." Like Mister Rogers' Neighborhood, Mr. Pickles' Puppet Time also airs on PBS. Even the relaxed, comfortable costume of Jeff Pickles mirrors Mister Rogers' famously cozy wardrobes. While Kidding clearly draws from Mister Rogers, which is surely fresh in audience's minds after the success of the Fred Rogers biographical documentary Won't You Be My Neighbor, Kidding explores its central character by introducing a horrible tragedy into the life of its star in the form of the death of Jeff's son.
Creator and writer Dave Holstein revealed in a behind-the-scenes interview that "Kidding is about a kind man in a cruel world," which one could argue is also an apt description of the film Won't You Be My Neighbor?. However, the difference between Jeff Pickles and the television figure that inspired him is how they react to tragedies. Holstein explains that "Jeff Pickles is a TV personality. That personality hasn't changed and can't change, because that's the world of the show. When he's subjected to a personal tragedy, he has to go to work the next day and be the same person." While Kidding crafts drama from Jeff's struggle to "keep it light" for children's television despite the real-life tragedies of the world, Mister Rogers famously incorporated difficult and complicated issues into his television shows, including death.
While Carrey's performance isn't a perfect replication of Mister Rogers, it's certainly closer to the truth than the last time that Carrey portrayed Mister Rogers on television. During his time on the '90s sketch comedy show In Living Color, Carrey performed an exaggerated impression of Mr. Rogers making sexual advances on women who used to be his fans. Oddly enough, the idea of a Mr. Rogers-type performer pursuing his fans is explored in Kidding through Jeff's relationship with a fan of his, played by Riki Lindhome, after separating from his wife. This is a far cry from Fred Rogers' love life, as he was married to Joanne Byrd Rogers from 1952 until his death.
While Kidding isn't Jim Carrey's first time playing a character inspired by Mr. Rogers on television, his latest attempt skews much closer to the truth than his first. While Carrey captures the soft-spoken diction, idealistic attitude, and comfortable wardrobe of Mister Rogers, the way that Jeff's life spirals out of his control as he attempts to cope with tragedy is wholly unique to Kidding.