Here's Why Netflix's New Rom-Com 'Nappily Ever After' Feels So Achingly Real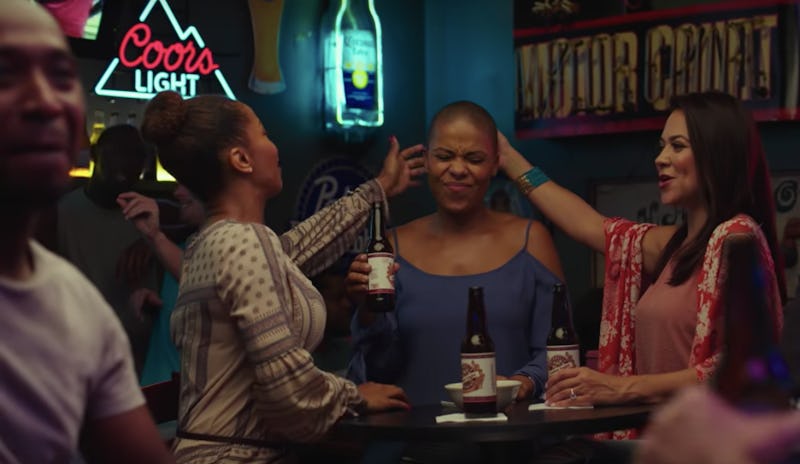 Netflix
Sanaa Lathan's new original Netflix rom-com Nappily Ever After tells an empowering story about Violet Jones, a successful executive who has dedicated her life to striving for perfection. But once her work and love life begin to go awry, she decides to shave her head, embracing her natural beauty and setting out to focus on other aspects of life beyond superficiality. The film may seem realistic enough to be taken from reality, but Nappily Ever After isn't a true story. It's actually based on the first novel from Trisha R. Thomas' Nappily series.
In a 2014 interview with writer Develyn, Thomas explained that the inspiration for the novel came from her experience as a middle school teacher in the '90s. "The kids were so mean to each other and they were teasing — still teasing — the girls who didn't have their hair completely straight." Thomas noted that one of the most common insults was calling the girls "nappy head."
"I said 'I cannot believe we're still doing this.' In this day and age, we're still talking about the pecking order of whether your hair is straight or it's long or even the color of your skin…all of that played in," explained Thomas. This inspired her to create a character who grew up with this criticism and finds a way to empower herself by realizing that she doesn't have to look a certain way to achieve happiness.
In the new Netflix film, Violet (Venus in the book) spends her whole life meticulously taking care of her hair. In the trailer, she's shown brushing it in the bathroom before her boyfriend wakes up, with a voiceover explaining that since childhood, her hair was "everything," showing a flashback to having her mom brush her hair with a hot comb as she stroked her Barbie's silky, straight hair. When the novel came out in 2000, many African-American women remarked that the story reminded them of their own struggles with embracing their natural hair, due to remarks such as the ones Thomas mentioned in her interview.
In a 2016 interview with blog So She Writes by Miss Dre, Thomas explained that with fans' immense support, she was inspired to expand the novel into a series. "Venus says what's on her mind. She gets to say and do what we wish we could. Most of my readers feel like I do, she's that best friend who tells it like it is and isn't afraid to take a chance," said Thomas. The readers kind of live vicariously through her. Venus has kicked out her med-school boyfriend, cut off all her hair, quit a job, started a business, met the man of her dreams, fought off a stalker, and raised a family. She's awesome and badass."
Through Violet/Venus' story, Thomas was able to create a character that tells black women that it's their choice to look however they want to without having to worry about pleasing others. By accepting herself, she's able to grow into a confident, successful woman, empowering readers to follow their own path to self-acceptance.