Netflix's 'Ingobernable' Has An Exciting Premise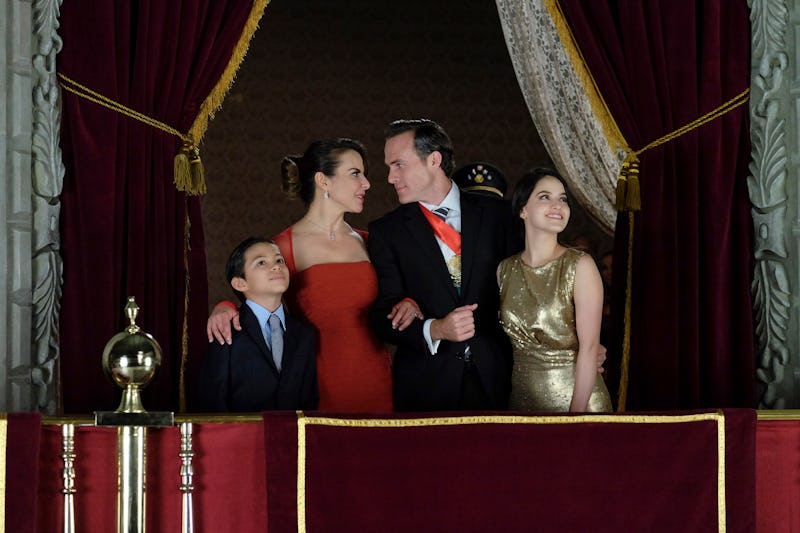 Ken Jacques/Netflix
When I hear about any new show that focuses on politics, my interest is immediately piqued — and the new Netflix series Ingobernable, which begins streaming on March 24, is even more exciting because it's a political thriller. And it looks like quite a dramatic thriller at that — based on the trailer, the series will be action-packed and suspenseful. (Pardon me for a moment while I grab my planner and block off 15 hours this weekend for a marathon.) The plot looks gripping, but is Netflix's Ingobernable based on a true story?
Here's a quick look at the official synopsis:
Emilia Urquiza is the first lady of Mexico with big plans to improve conditions for the country through her commitment in fighting for peace. She is a woman with a strong personality, conviction and clear ideas that make her capable of doing anything. As Emilia starts to lose faith in her husband, Diego Nava, she finds herself at a crossroad where she will need to find a way to deal with a great challenge and uncover the truth.
First of all, I'm stoked to see a political drama that places a woman front and center as the change-maker in her country — and it's awesome that Netflix has continued to expand its original programming to include foreign language series. However, this particular series is not based on actual events — Emilia Urquiza and Diego Nava are fictional characters, and neither appears to be based on a real person.
But, a look at the trailer indicates showrunners may have used a real-life scenario as their jumping-off point. As you can see, a strong focus is placed on Emilia's unprecedented decision to divorce the president.
The implications of a divorce may have been inspired by headlines that spotlight the marriage of Mexico's current president, Enrique Peña Nieto, and his wife Angélica Rivera. In August 2015, The Latin Times reported that rumors of marital discord abounded. According to the outlet, Rivera, a former telenova star, has not been treated kindly by the media — she's been criticized for her spending habits, attitude, and absence from political events. Divorce was allegedly recommended, but not in the way Ingobernable is handling the matter. Rather, Nieto was advised to leave Rivera to save his political career.
The same Latin Times report states that journalist Fernanda Familiar told him "divorce would be the best move" to win back his country's support. She added that "[Rivera's] behavior challenges the public opinion and Mexicans. This is an ongoing reminder of the seal that is now stamped in your Presidency, which is only going down and will most likely crash and burn." Nieto was apparently unswayed by this advice, and the couple remains married.
Needless to say, things are quite different for Emilia Urquiza and Diego Nava.
While Rivera has been criticized for her lack of interest in politics, Emilia's decision to leave Diego appears to be firmly rooted in her desire to become more politically active. Her goals pertain to social justice and peace — and something tells me the divorce is at least partially related to Emilia's own ambitions, which seem to be diametrically opposed to her husband's.
Unfortunately, it looks like her goals to improve Mexico for all its residents will be forced to take a backseat when Diego is reported dead and the prime suspect is (you guessed it!) Emilia. Presumed guilty, Emilia is forced to go on the run and a massive search effort is underway. By the looks of it, the series is a thriller right from the start — and it'll be filled with plenty "edge of your seat" moments that are pure fiction.