Olivia Colman Talking About Her Husband Is Beyond Adorable & We Love Her For It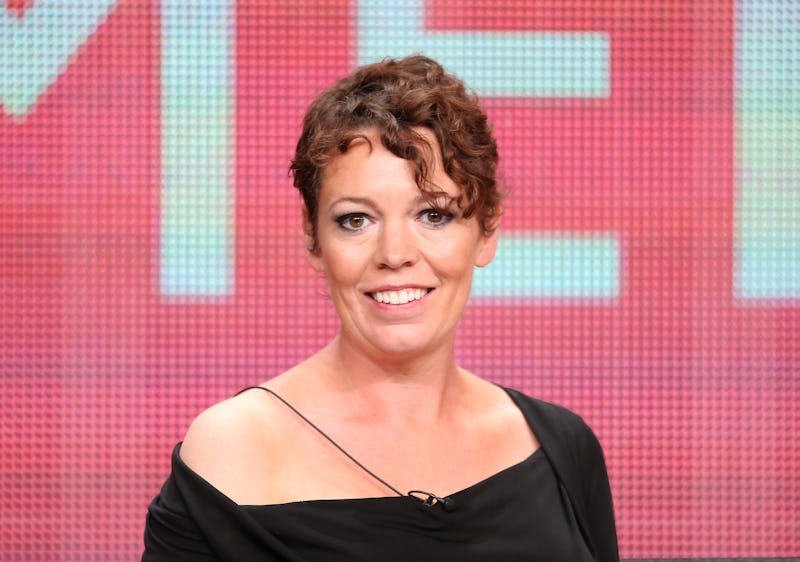 Frederick M. Brown/Getty Images Entertainment/Getty Images
Following the premiere of the second season of Flowers and news that she will be replacing Claire Foy as Queen Elizabeth in The Crown, Olivia Colman has got the nation talking. Sure, she's a beyond talented actress, but seeing her on the telly unsurprisingly creates intrigue around her personal life. "Is Olivia Colman married?" is a question often asked of Google. The answer? Yes, she is married, and her life with husband Ed Sinclair is serious couple goals.
From a shared passion for The Crown — yes, the Radio Times reports that they are both huge fans — to their three children, these two (who have been together for 20 years) have a lot in common. The couple met at Cambridge University where Colman was studying teacher training, whilst Sinclair was a law student. According to the actress, it was love at first sight. "When he walked into the room, I just went, 'That's him!' she told The Telegraph. "Mind you, I suppose if he hadn't wanted me, then I might have gone, 'That's him!' at someone else a week later."
Colman then went onto explain that she didn't really give Sinclair much of a say in their future courtship. "I set my cap at him completely — I really gave him no choice. To begin with I think he was completely bamboozled by the whole thing," she said. "He kept wondering why this jolly, smiley person kept turning and laughing hysterically at everything he did." Oh, Colman, who hasn't been there?
The actress then revealed Sinclair's adorable reaction: "But the fact he was unaware, and a bit of a puzzle was one of the things I liked about him ... he did say recently that he was really pleased that I had." My heart.
Obviously, the pair went on to work in fields entirely different from what they were studying at university. According to the biography on his agency's website Curtis Brown, Sinclair grew up in Fiji, New Zealand, and England, and currently works as screenwriter for TV and film. A graduate of Bristol Old Vic Theatre School, he even worked as an actor himself, though says he's increasingly spent time "the general fort-holder at home for his growing family."
Colman is notoriously unapologetic about her life, which is one of the reasons I love her. She admitted to having Botox in an interview with The Times, saying "I have done Botox and I LOVED it [but] I've done it when I know there is a big gap [between roles]," she said. "I didn't tell my husband and then for about six months he kept saying, 'Hello, pretty!' and then I told him and he found it hilarious."
She's even comfortable in opening up and talking about how people look at her and her husband walking down the street. "When I'm out with my husband Ed, who is gorgeous, I see people look at us and sort of go, 'Urghh?'" she said to The Daily Mail. "Because they can't believe we're a couple. But, you know, Ed and I are the wind beneath each other's wings. Neither of us would be any good without the other."
Although Colman is pretty private when it comes to her personal life — and, to be honest, we can understand why given the level of scrutiny some actors endure — on the rare occasion that she does talk about her hubby, it's clear that they seem to be really happy together. And I'm guessing the feeling is mutual on his part too because, come on, he's married to Olivia Colman.