Otto Warmbier's Coma Has Sparked Some Grim Questions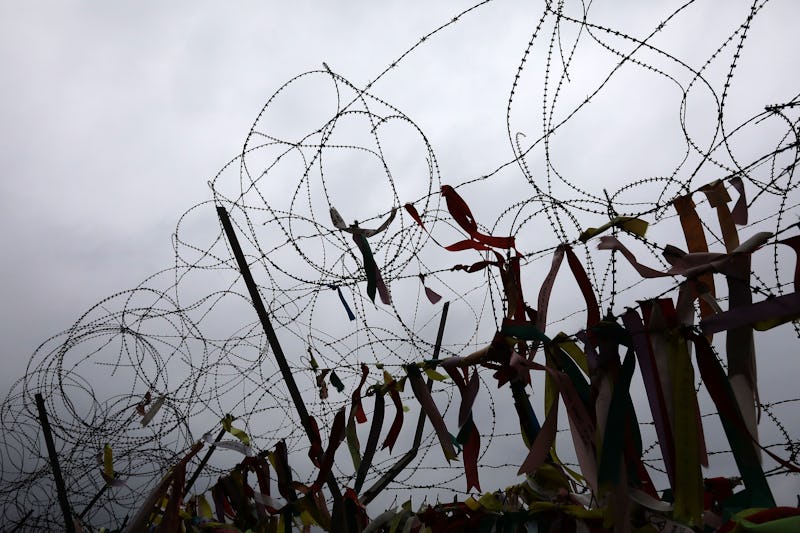 Chung Sung-Jun/Getty Images News/Getty Images
On Tuesday, American student Otto Warmbier returned home to Cincinnati, Ohio, after serving about 17 months in a North Korean detention center. The 22-year-old was finally reunited with his family after being sentenced to 15 years of hard labor for trying to remove a political propaganda sign during a trip to Pyongyang in 2016.
Tragically, he couldn't enjoy his homecoming: Otto Warmbier is reportedly still in a coma, according to the Associated Press, and he was transported to the University of Cincinnati Medical Center upon his arrival in the country.
The North Korean government claims that Warmbier contracted botulism — a rare and serious disease caused by food poisoning — during his detainment. State officials said that he was then given a sleeping pill and never woke up. This reportedly occurred a year ago — but his family was just alerted of his condition last week, according to a statement released by the Warmbier family.
Numerous U.S. officials, however, are questioning North Korea's narrative. According to The New York Times, American officials suspect that Warmbier's condition could be the result of brutality he may have suffered at the hands of prison guards, given that the North Korean regime has a history of mistreating prisoners.
Health care professionals have also weighed in on Warmbier's case, though they decline to offer specific explanations for what he may be suffering from and why. Pritish Tosh, an infectious disease specialist at the Mayo Clinic, told The Washington Post that in some very specific instances, patients suffering from botulism may be placed in medically induced comas while being connected to a ventilator to facilitate their care, though it is currently unclear if that's what happened to Warmbier.
Regardless of how Warmbier's coma began, his prognosis could be grim, given that he has been in a state of unconsciousness for approximately a year. James Bernat, a coma expert at New Hampshire's Dartmouth-Hitchcock Medical Center, told the Post that the probability of a person recovering from a coma or vegetative state depends heavily on how long the condition has lasted. A patient's chance at full recovery after a year in a coma is unlikely, but not impossible.
Warmbier's recovery is also dependent on the nature and quality of medical care he received at the beginning of his condition and throughout his months in a North Korean detention center — specifics that, at this time, are unknown. If Warmbier does wake up from his coma, his recovery could consist of visual, auditory, and motor stimulation to improve his brain function.