Paranormalcon Is Perfect For 'Santa Clarita Diet'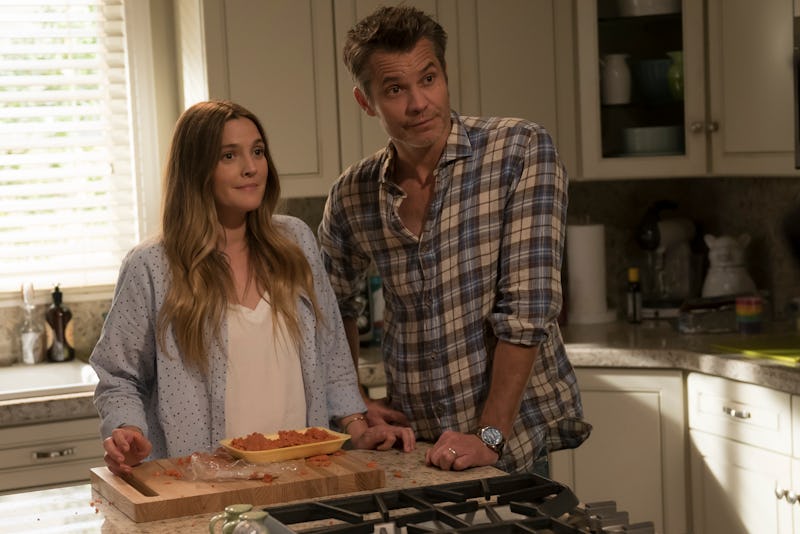 Saeed Adyani / Netflix
In her first major TV role, Drew Barrymore stars in Netflix's Santa Clarita Diet, which premieres on Friday, Feb. 3. In the new series, her character, Sheila, finds herself and her family dealing with an extremely unique and entirely paranormal situation that requires a shift in the way she lives (or doesn't live) her life. To put it simply, she becomes a zombie. Luckily, she finds herself acquainted with a neighbor, Eric, who happens to love all things paranormal. At Eric's urging, her husband ends up attending an event called Paranormalcon in Santa Clarita Diet Episode 9, where they hope to get guidance from a zombie expert. to seek out a zombie expert for guidance. Unfortunately for fans of all things strange and mysterious, this particular convention doesn't appear to be one you can attend in real life.
In the context of the series, it's very real and important, because it offers some hope that Sheila can give up her new, bloody eating habits. You see, this transformation actually requires her to consume raw flesh and freshly killed meat. Of course, if you or I were in a similar situation, we would probably want to seek some guidance from people who know their stuff. That is why Sheila's husband Joel, played by the always dreamy Timothy Olyphant, heads to Paranormalcon with Eric — he needs some answers for the quandary they find themselves in.
But Paranormalcon is not a real thing outside of the series, though there are definitely conventions that cater to those interests. In fact, Paranormal News Insider keeps a running list of similar conventions and events that enthusiasts can attend, such as ParAmeriCon, Salem Con, Ghost Cons, and more. For something more zombie-specific, there is also Walker Stalker Con for fans of The Walking Dead and anything undead-related. And of course, you'll often see zombie series, movies, and comic books represented at the popular Comic Cons across the country.
So if Santa Clarita Diet piques your interest in the paranormal, there are real events you can attend to meet fellow fans. I just wouldn't go looking for the husbands of suburban California zombies there — they stick to the fictional Paranormalcon.