This Netflix True Crime Show Finds New Evidence In Haunting Disappearances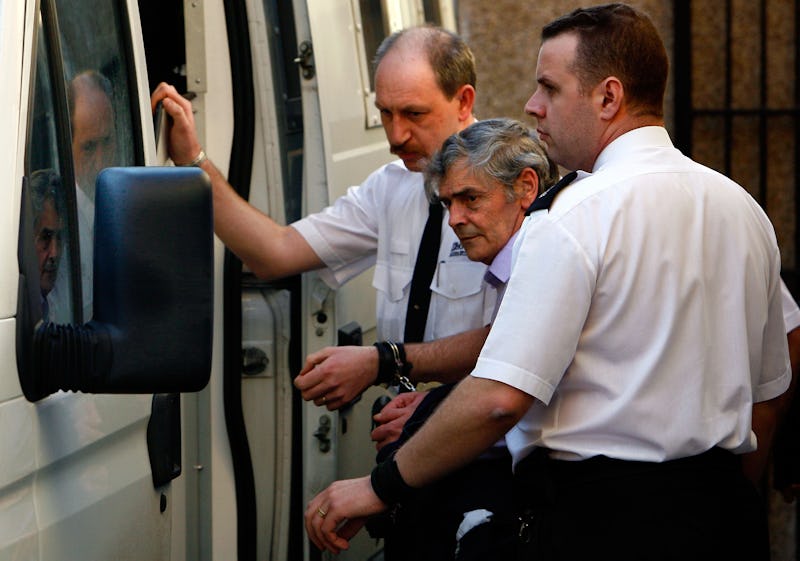 Jeff J Mitchell/Getty Images News/Getty Images
The Simon Cowell-produced British true crime seres The Investigator hits Netflix with its second season on Aug. 19. The show takes a look at unsolved women's disappearances, with the 1988 disappearance of Louise Kay getting the focus of Season 2, according to the Mirror. The titular investigator is Mark Williams-Thomas, who has a theory that UK serial killer Peter Tobin deserves a second look. According to the BBC, Peter Tobin is still in prison following his three life sentences for three other women's murders. He has not been officially charged with Kay's disappearance and is not a formal suspect.
Williams-Thomas is basing his speculation on reports that Tobin has claimed to have murdered more than just the three women police know about. According to another BBC article, Tobin was convicted of the 2006 murder of 23-year-old Angelika Kluk. In 2007, two more of his victims' bodies were uncovered, buried in the garden at Tobin's former house. He was then convicted in 18-year-old Dinah McNicol's death and 15-year-old Vicky Hamilton's death, per BBC. His three life sentences will ensure that he spends the rest of his days in prison. BBC reported in 2016 that he was being house at Saughton Prison in Edinburgh and was 69 at the time, making him 71 now.
According to another Mirror article, Tobin has reportedly claimed to have a much higher victim count than the official one. The outlet reported that Tobin claimed to the prison's psychiatrist that he's allegedly responsible for the deaths of 48 women. After his alleged admission, he reportedly smiled and said, "Prove it."
Another BBC article reported that after Angelika Kluk's murder, investigators strongly considered the possibility that Tobin had killed more than one person. "I strongly, strongly suspected and formed the theory that Tobin may have indeed been a serial killer," said Kluk murder case lead Detective Superintendent David Swindle. "It was also while interviewing relatives of Tobin, that we got indications that Tobin may have been involved in other crimes." He added, "The fact of his age and the method of [Angelika's] killing, and all the other factors surrounding Tobin, made us think this guy's done this before."
By age being a factor, Swindle likely meant that it would be unusual for the then 60-year-old Tobin to have only just started a life of crime. As criminologist and professor David Wilson told the Mirror, serial killers usually start in their teens or early 20s.
In any case, Tobin has never been formally charged or formally suspected in any other cases beyond the three he's been convicted of. For those, he'll spend the rest of his life in prison, sentenced by a judge who made it clear why he doesn't want Tobin to ever be released. According to the Sun, the judge said Tobin was "unfit to live in a decent society."
Now, The Investigator will dive into Tobin's cases at various entry points, since both old and young Peter Tobins have been cast in the series. (David Bannerman and Billy Machin play those characters respectively.) Tune in Sunday, Aug. 19 on Netflix to see what Mark Williams-Thomas tries to dig up.