The Palace Finally Revealed Whether Prince Philip Can Make It To The Wedding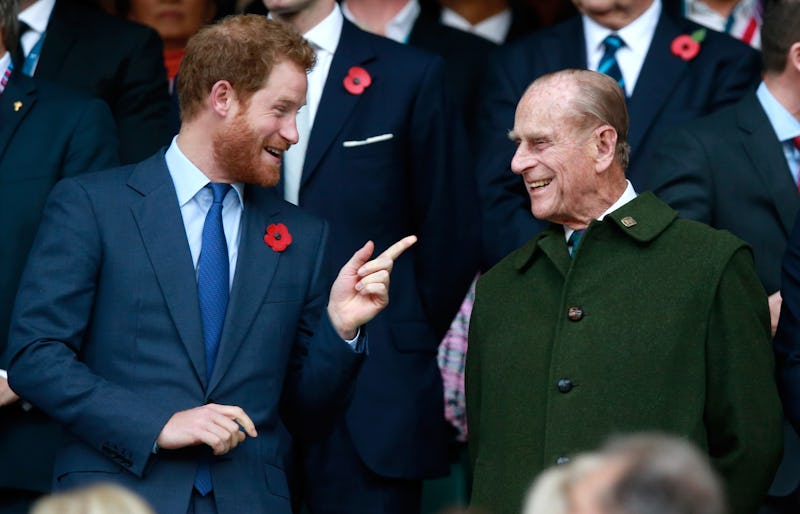 Phil Walter/Getty Images Sport/Getty Images
One of Prince Harry's closest family members will indeed be at the royal wedding, despite some recent health complications. As People reported, Prince Philip will be at the royal wedding, as confirmed by Buckingham Palace on May 18. So, Queen Elizabeth's husband will officially be able to celebrate his grandson's big day with the rest of the royal family.
The palace confirmed the news one day before the May 19 nuptials after much speculation about whether the prince would physically be able to attend the big affair. Philip's wedding guest status was unclear because he underwent hip replacement surgery on April 3, as People also reported. On April 4, the palace shared that he was doing well following the medical procedure. "He is progressing satisfactorily at this early stage. His Royal Highness is likely to remain in hospital for several days. He is comfortable and in good spirits," they said in their statement.
One month after the surgery, the royal family wasn't sure whether Philip would be up to attending the May 19 event. Their spokesperson said that they "very much hope" that he would be able to attend, per People. But now, it's clear that he'll able to make it to St. George's Chapel, which must be great news for the entire family.
The Duke of Edinburgh's May 19 outing will mark the first time that he will appear in public in an official capacity following his hip surgery. He's already missed a couple of big events, such as the queen's birthday celebration on April 21, because he was still recovering.
This is amazing news for Harry especially, who's very close to his grandfather, as Entertainment Tonight noted. In fact, multiple details about his wedding have some ties back to his relative. According to ET, the couple chose St. George's Chapel for their venue in part because it's close to Philip and Elizabeth (Time reported that the Queen spends a good deal of time at Windsor Castle in the spring, where the chapel is located).
Harry and Markle also reportedly chose the May wedding date because of his grandfather. They're moving along with everything quickly because, as a source said, "He's incredibly close to his grandfather and, being 96, Harry thought it was it was a great thing to [have] the wedding sooner rather than later, so his grandfather could be there, fit and healthy," as reported by ET.
Obviously, Philip isn't the only family member of Harry's who will be in attendance. Many royals are coming out for the affair, with some of them even having specific roles to play in the wedding. It was previously announced by Kensington Palace on April 26 that the groom's brother, Prince William, will be his best man. William will be returning the best man favor on May 19, as Harry was by his side during his 2011 wedding to Kate Middleton.
Prince Charles, Harry's father, will also have a major role to play during the festivities. On May 18, not long after Markle announced that her father would not be attending the wedding, Kensington Palace shared that Charles had been asked by the bride herself to walk her down the aisle. So, the royal family will have some big parts to play during the exciting event.
It's wonderful that Harry's family members will be there to fully support him on his big day. Now, thanks to Buckingham Palace's recent confirmation, royal watchers can expect the prince's grandfather to be there to support him, as well.