This Netflix Drama Explores An Aspect Of Motherhood That's Rarely Seen Onscreen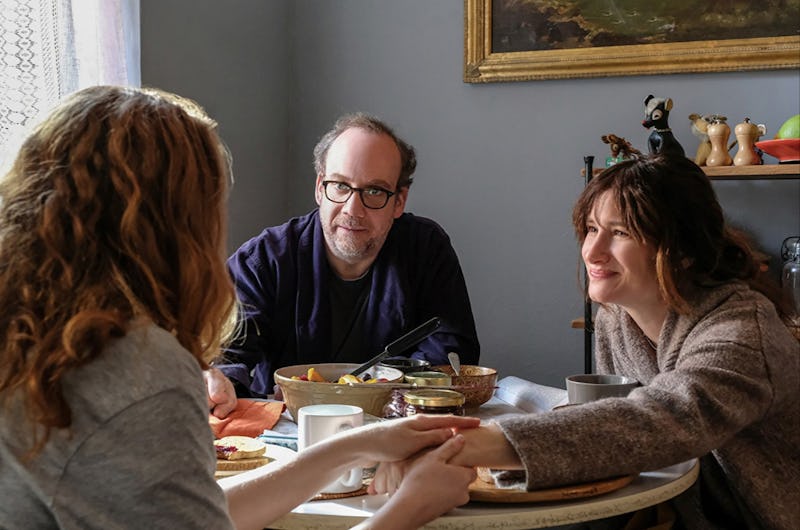 Netflix
Netflix's new original film Private Life tackles an issue that isn't often captured on-screen: infertility. In the film, streaming Oct. 5, middle-aged couple Rachel (Kathryn Hahn) and Richard (Paul Giamatti) desperately try to have a child, trying out fertility treatments in hope that it'll work out. But the procedure they need costs too much, so they end up asking Richard's 25-year-old step-niece Sadie to donate her eggs. The movie explores a real struggle that many couples face, but Private Life isn't a true story. It is, however, loosely based on writer-director Tamara Jenkins' own struggles.
In an interview with Vulture, Jenkins discussed her own experience with infertility, saying that while she was making her second movie, she was also struggling to become pregnant. "I just remember Ping-Ponging between disappointments," recalled the writer-director. When she confided in a documentary-filmmaker friend about her struggles, the friend told her that it'd make "good material."
But, at first, Jenkins didn't want to write a movie about infertility. "The word that comes to mind is repulsed," Jenkins said. "I thought to myself, 'There's no way I would write about this.' But of course I did," divulged Jenkins.
In a red-carpet interview with AV Club, Jenkins also expressed the challenges that come with writing a film that isn't fully autobiographical but is heavily influenced by her own experience. "It's always complicated because it's not a direct autobiographical," explained Jenkins. "So, the launch pad was my own experience because I and my husband went through a lot of— we tried to adopt, we tried a lot of things like that."
She also explained in that same interview what the catalyst for finally writing the film years later was. "I looked around and all of these people—a lot of people I knew—were going through this process and it was sort of this little epidemic among a certain group of people of my age at the time," she said.
But Jenkins wanted to focus on exploring a specific side to this story in a film: how gender plays into this. She shared that one thing she noticed was that many women felt they had to put motherhood on hold to have a career, only to find themselves not being able to achieve pregnancy once they wanted to start a family. "The biological tyranny of being a woman was something that I was really interested in exploring," she said.
Though there have been some movies and TV shows that tackle infertility, from Maybe, Baby, to Friends, Private Life does so in a way that actually shows what many women confront in real life, and not just a portion of that. Women are often told that they need to choose between having a family and starting their career, but then are chastised when they decide to start a family later in life, while also dealing with biological issues that make it difficult to achieve pregnancy. Through making this film that mirrors her own struggles Jenkins is showing a raw, realistic portrayal of the emotional pain many women endure in the process of having a child.