This Lifetime Movie Is Like 'Mean Girls,' But Deadlier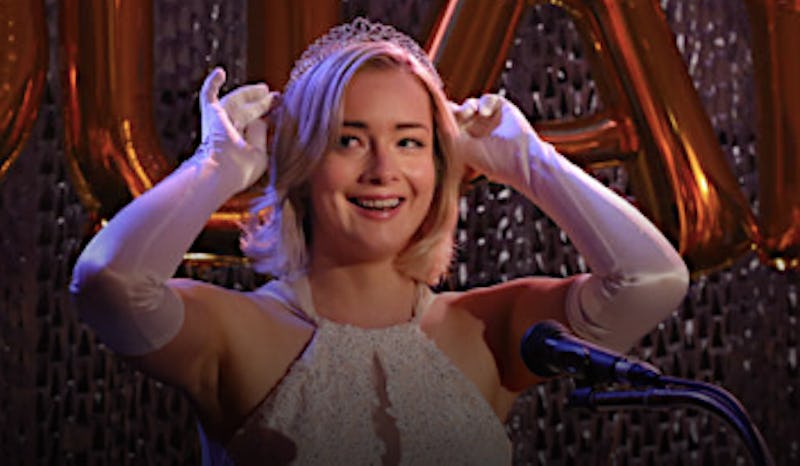 Lifetime
The start of November means that it's officially acceptable to spend your entire weekend curled up on the couch watching movies. (You know, in case you weren't already doing that anyway.) And it doesn't get any better than marathoning your way through some Lifetime originals, such as Psycho Prom Queen, premiering on Sunday. But if during your viewing experience, you find yourself wondering if Psycho Prom Queen is based on a real story, take comfort in the knowledge that your high school years are behind you.
The movie centers around Julie Taylor, who, following the mysterious death of her friend and fellow teacher, is brought on to teach a senior math class for the final few weeks of school. At first, things seem to be going well, but Julie starts to worry when her teenage daughter, Miya, becomes close to one of the meanest girls in school — a girl will go to pretty much any lengths to win that crown come prom night. It's basically a much darker version of Mean Girls. (In fact, according to the movie's IMDB page, the original title was called Mean Queen, which feels very fitting.)
However, you'll be relieved to know that, just like many Lifetime movies before it, Psycho Prom Queen is a work of fiction and not based on any real life events or people.
Of course, there are certain aspects that could've happened to someone at some point. Proms, for example, are a longstanding high school tradition, and the pressure kids can face to be popular among their peers is very real as well. But in regards to this specific storyline, the only truth that exists is in concept alone.
To get a better idea of what to expect from this two-hour event, the official synopsis for Psycho Prom Queen reads as follows:
"Following the suspected suicide of her friend and fellow teacher, Julie Taylor is hired to take over the senior math class for the last few weeks of school. It's been a difficult year for Julie and this is a fresh start for her and her teenaged daughter Miya. Though Julie hopes that being both the new kid and the new teacher's daughter won't be too hard on Miya, she can't help but worry when her daughter becomes fast friends with the school's resident mean girl, Amy Turner. Amy's dangerously manipulative ways and fierce obsession with becoming prom queen leave Julie not only concerned for her daughter's safety, but questioning just how far Amy will go to win that crown."
So how does Miya fair at prom and will her mother be able to talk some sense into her friend choices before it's too late? Interested viewers will just have to tune in to find out how this all plays out. But at the very least, it'll serve as a good reminder to us all about how tough being a teen can be.
Psycho Prom Queen airs on Sunday, Nov. 4 at 8 p.m. ET on Lifetime.