Rachel Could Be The Next 'Bachelorette'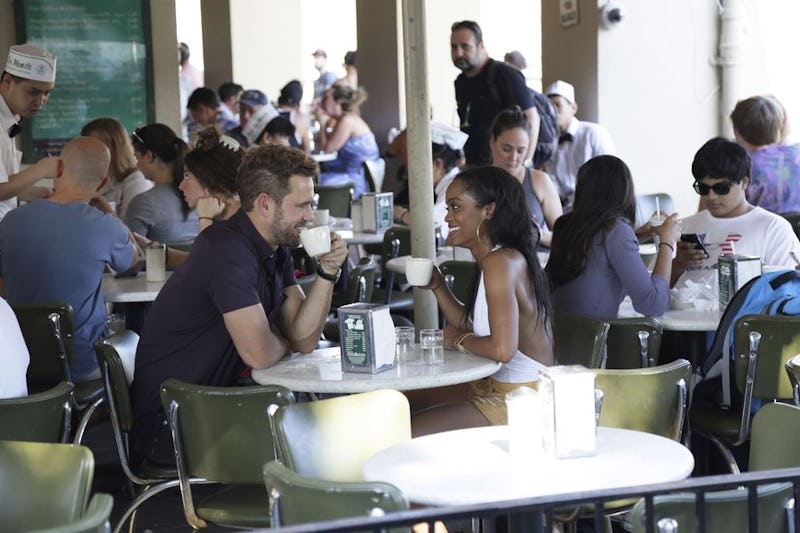 Mark Coffey/ABC
Rachel is probably my favorite woman on The Bachelor this season — she's funny, she's smart, she's beautiful, and Nick Viall seems to like her, too. Rachel nabbed the first impression rose (and, according to TV Guide, was the first black contestant to do so), and, most importantly, she seems to have a good head on her shoulders about all of this Bachelor nonsense. It's pretty insane to go on television to try and find love, of course, but Rachel seems like she has a sense of humor about the crazy. Is Rachel single now that The Bachelor wrapped?
I don't know how far in Nick's competition Rachel ultimately goes, but seeing them smooch in a yurt in the preview for the season has to be a good sign for her, right? Also a good sign is that Rachel has seemed to fly under the radar for the beginning part of Nick's season. She's not a villain or a drama queen or a frontrunner (yet, perhaps), and that bodes well. I've watched way too many seasons of the show, and I know that if you're the lead woman at the beginning of the season, you probably will not be at the end. It's just Bachelor science. I also gave Rachel's social media a thorough look-through, and there seem to be no romantic entanglements that she's willing to put out there in the public eye. Could she be dating someone? Yeah. Is she engaged to Nick? She could be. But whatever it is, she's not ready (or contractually able) to show it off.
In my heart of hearts, I don't want Rachel to be in a relationship right now. No, not even with Nick. That's because what I really want is for Rachel to become the next Bachelorette. ABC has been a little funny with its casting of the Bachelors and Bachelorettes recently. It used to be that the third or fourth-place contestant got their shot at the next season, but the producers have gotten wise to the fact that we've gotten wise, and they've changed it up. In the past it was hard to have the runner-up be the Bachelor or the Bachelorette, because he or she has to sit there and tearfully ask what went wrong on the After The Final Rose special and then spin around and say how excited he or she is about their new season. It's a little too much like whiplash. That all changed with JoJo Fletcher, who was named Bachelorette after Ben Higgins' season. It looked like third place Caila Quinn was the next Bachelorette and then, bam! Runner-up JoJo came out for the win.
A similar thing happened with Luke and Chase and all of the other guys (they all look the same to me, I'm sorry but I cannot tell them apart) from JoJo's season. It seemed like Luke would grab the Bachelor title, and then Nick Viall said, "Not in my house!" and snatched it away (not literally, of course).
No matter if Rachel is the runner-up or she gets sent home in Week 6, she needs to be the next Bachelorette. It would be historical, because she'd be the first black Bachelorette on a show that has not exactly represented diversity well in the past (the same TV Guide article from above reported that no black woman has ever made it past Week 5). But Rachel is also a modern, well-rounded, smart woman. It's always refreshing to me to see a contestant come in cool as a cucumber on a show usually known for it's dramatic meltdowns. She would bring a breath of fresh air into the show in a number of ways, so here's hoping she's just single enough post-show to get that slot for next season.