Why Ricky Martin Can't Wait To Share His Upcoming Wedding With The World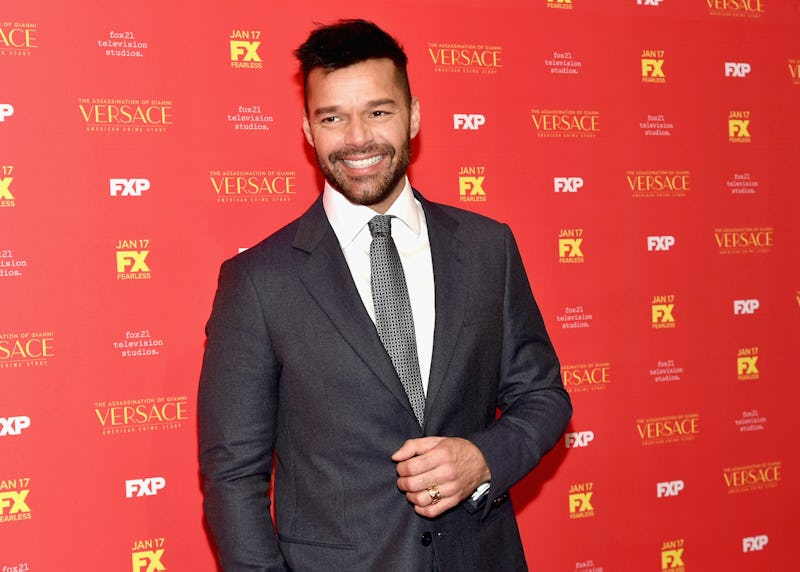 Mike Coppola/Getty Images Entertainment/Getty Images
It's been just over a year since Ricky Martin announced his engagement, but wedding updates have been few and far between. So, as he takes the stage at Sunday night's 2018 Golden Globes, you may find yourself wondering: Is Ricky Martin married? Is he still in the throes of planning? Or has yet another celebrity couple succumbed to the fates of Hollywood?
Fortunately for fans, Martin is still happily betrothed to partner Jwan Yosef, a Syrian-Swedish artist who he began dating in 2016. Martin announced their engagement while on The Ellen DeGeneres Show last November, explaining that they'd met because he's an art collector and fell in love with Yosef's work — and then, he fell in love with Yosef. He also said he was very nervous to propose, and that it took him 30 minutes to realize Yosef had said yes. As he told DeGeneres:
"I got on my knees and I took out the little metal box. I just had it in a little velvet pouch and instead of saying, 'Will you marry me?' I said, 'I got you something!' Bad. Then he was like, 'Yes.' I said, 'I want to spend my life with you,' and he was like, 'What is the question?' 'Would you marry me?' That's it."
As of June, the couple hadn't yet tied the knot, but Martin did detail some of his wedding plans to E! News. He said he'd like the ceremony to take place in his home country of Puerto Rico, and that the celebration will be huge. "It's going to be a big event. I want something massive," he told the outlet. "[Puerto Rico] is where I'm from, it's where my family is from. He's from Sweden and some of his relatives are from Syria so we're going to do something international. We'll see what happens."
And while Martin certainly seems eager to head down the aisle, his busy schedule has been holding him back. Last year alone, he launched a Las Vegas residency (which continues this year) and filmed the upcoming second season of American Crime Story, The Assassination Of Gianni Versace (in which he plays Gianni Versace's longtime boyfriend, Antonion D'Amico), all while continuing to raise his two children, nine-year-old twin boys Valentino and Matteo. "Everybody is talking about the wedding but nobody is talking about the planning of the wedding because it's so difficult" he continued to E!. "I didn't know it was so complicated to put together an event like the one we want."
Still, it doesn't take more than a scroll through Instagram to see that he and Yosef are still very much together, as the two frequently share sweet photos of each other. "Happiest of birthdays to my glorious Man. I love u beyond words," Yosef captioned a picture in late December. "I love this man," Martin wrote the previous month. And even more recently, both men posted a family shot to ring in the New Year.
So while Martin isn't married yet, he's definitely working on it, and when the time does come, he'll let fans know. "People will be talking about it," he told Entertainment Tonight in September. We're a modern family, and I think people need to see, and I want to normalize the beauty of our family. That's why I'm making it public and I am going to share my wedding with the world."
For now, though, he seems perfectly content with his growing family, and it doesn't need to be official on paper in order to feel complete. His personal life has been tabloid fodder for decades, and after being pressured to come out for years, it's nice that now, he can just be.