Fans May Recognize Some Aspects Of 'The Good Doctor' Hospital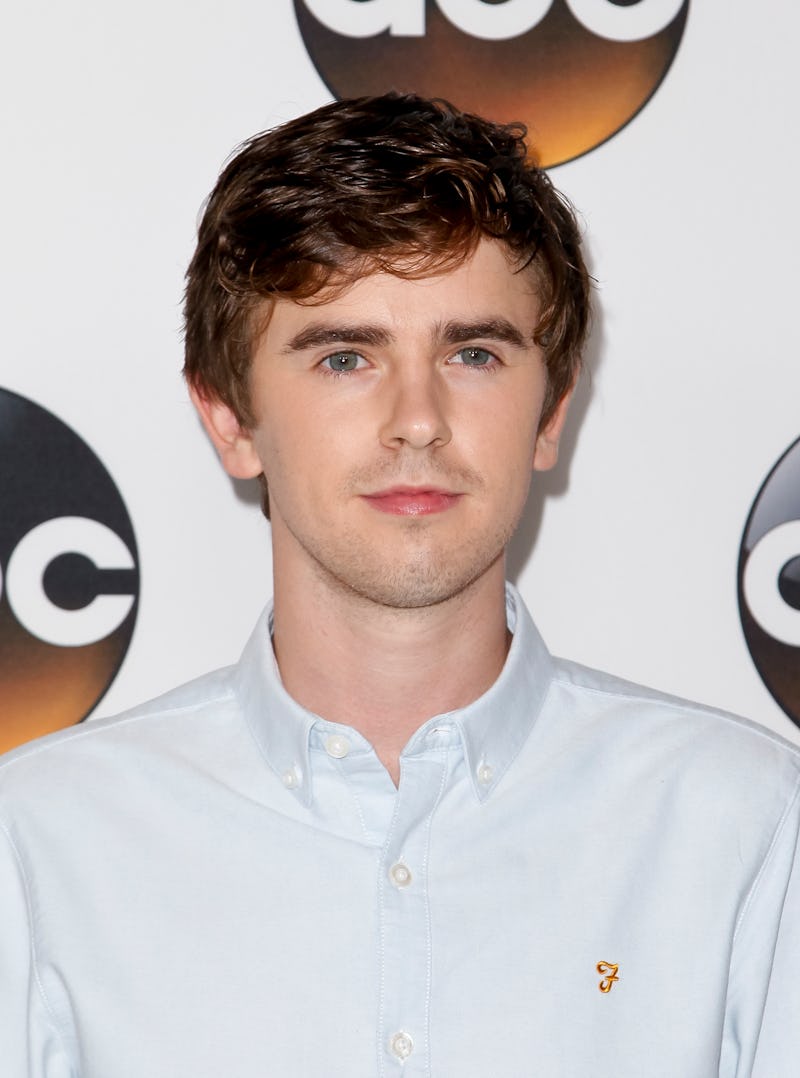 TIBRINA HOBSON/AFP/Getty Images
Monday, Sept. 25 marks the series premiere of ABC's The Good Doctor, a medical drama created by David Shore and Daniel Dae Kim. The show will see Freddie Highmore playing a young doctor living with autism and savant syndrome while working at San Jose St. Bonaventure Hospital. Since so much research goes into the writing when it comes to medical dramas, it's easy to think that many of those that have ended up on the small screen were inspired by true events, locations, or people. So is San Jose St. Bonaventure a real hospital? Not quite, but that wouldn't necessarily make the show any less interesting to watch.
The Good Doctor is a fictional show based on a 2013 South Korean television series of the same name. Just like Grey's Anatomy's Grey-Sloan memorial hospital (and the two names the hospital held before that), San Jose St. Bonaventure doesn't exist in real life. But there may still be a few similarities between the fictional hospital and real-life facilities in the San Jose area. San Jose is home to Good Samaritan Hospital, a family friendly hospital that's been named as one of the Bay Area's best places to have a baby.
In addition to that, it's a favorite among families in the area and it's also been given the Outstanding Achievement Award from the American College of Surgeons Commission on Cancer five times in a row. Good Samaritan Hospital was also one of the first in the country to become Stroke Certified, meaning that the hospital provides some of the best for patients who have suffered from strokes in the past. Still, that's only the start of the hospital's list of impressive achievements since it was founded in 1965.
It's clear that Good Samaritan Hospital has a way of making hospital-goers happy and doing meaningful work that will benefit the community in the long run. And since The Good Doctor focuses on the career of a brilliant young pediatric surgeon trying to prove that he can use his skills to do as much good in the world as his peers, Good Samaritan Hospital is probably more similar to the fictional San Jose St. Bonaventure than one might initially think.
The city is also home to Pediatric Associates, a facility that's dedicated to "making decisions for your child's healthy future," according to the hospital's website. San Jose Pediatric Associates boasts a team of well-trained professionals that offer care to infants, children, and adolescents. Though Freddie Highmore's on-screen workplace isn't only a children's hospital, his title is enough to make one assume that viewers will be seeing him working with children a lot on the show.
Aside from that, The Good Doctor still has a pretty promising storyline that might allow for it to become an instant fan favorite just like the medical dramas that have preceded it. Freddie Highmore is set to be the show's star, Dr. Shaun Murphy, who has to prove to his peers that he's capable of doing good work. Richard Schiff (The West Wing) will star alongside Highmore as Dr. Ira Glassman, the president of San Jose St. Bonaventure. According to Deadline, Schiff's Glassman is supposed to be a mentor to Murphy, even advocating for his hire at the hospital. Also among the show's cast are stars like Hill Harper (who plays head of surgery Dr. Marcus Andrews), Antonia Thomas (who plays Dr. Claire Browne), and Nicholas Gonzales (who plays attending surgeon Dr. Neil Melendez).
San Jose St. Bonaventure Hospital may not be a real facility, but it's clearly filled with a lot of talent that will surely shine when The Good Doctor premieres on ABC on Monday night.