'Dirty Dancing' Gives A 'Modern Family' Star A New Way To Shine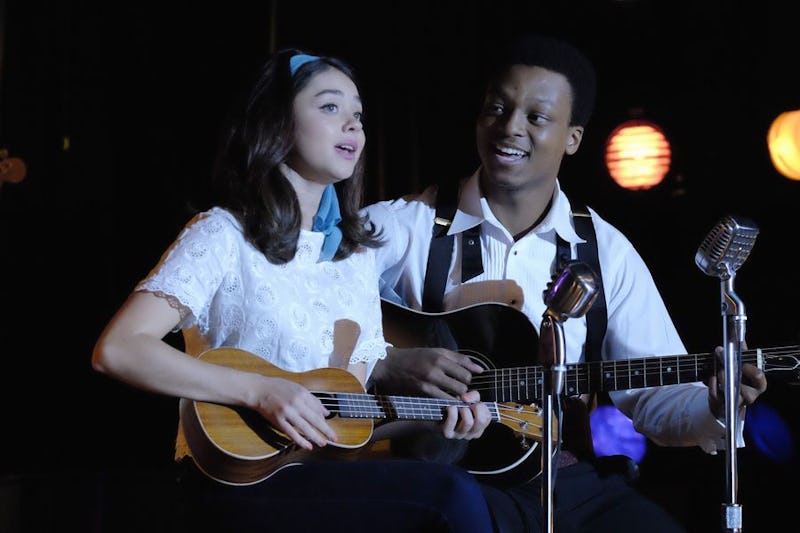 Guy D'Alema/ABC
ABC's remake of the classic '80s dance movie Dirty Dancing airs Wednesday, May 24, with a star-studded television cast. Abigail Breslin stars as Frances "Baby" Houseman and Sarah Hyland plays Baby's sister, Lisa. (Plus Debra Messing, Bruce Greenwood, Katey Segal, and more.) The music from the remake has already been released, and the event is being touted as a musical, so you can be sure that there will be vocal performances by these well-known actors, including the Modern Family star. But is Sarah Hyland really singing in Dirty Dancing?
Hyland herself announced on Twitter when her duet with J. Quinton Johnson from the Dirty Dancing soundtrack was released. She tweeted, "It's out! My duet w/ @JQuintonJohnson is now on iTunes everyone! Listen here first half the song is cut in the movie." The song Hyland and Johnson perform in the movie is a cover of Bob Dylan's "Don't Think Twice, It's Alright," and it's really good. So yes, Hyland's voice is well above average.
While some viewers may be surprised to hear that Haley Dunphy can sing, the actor's fans won't be. The Modern Family star has a creative background in more than just acting. Hyland made her Broadway debut playing the young Jackie Bouvier from 2006 to 2007 in the musical Grey Gardens, inspired by the well-known documentary of the same name. And her first screen role was Molly in the televised Annie remake starring Kathy Bates. From the start, it seems Hyland has been singing on screen and on stage.
Modern Family made Hyland a household name, but she didn't stop singing once she got the gig. In 2014, Hyland joined Kristen Bell, Hunter Parrish, Amber Riley, Jenna Ushkowitz, and Beverly D'Angelo for a three-night run of Hair at the Hollywood Bowl. She also performed in something called The Unauthorized Musical Parody of Scream. Her sitcom has incorporated her voice talents on occasion too — remember that adorable "Midnight Train to Georgia" number?
In November 2016, the Internet was abuzz after Hyland, with Boyce Avenue, released a cover of The Chainsmokers and Halsey's "Closer." The cover got acclaim from Hyland's peers and fans who were intrigued by seeing a new side to one of their favorite actors, and The Chainsmokers even took note. Per Billboard, the EDM duo tweeted, "Hey @Sarah_Hyland and @boyceavenue you sound awesome! So cool y'all did that." (The tweet appears to be gone now, however.)
While it has been no secret that Sarah Hyland can sing, many people tuning into ABC's Dirty Dancing on Wednesday will likely be surprised by Hyland's voice — and the pipes of a few of her co-stars too. Dirty Dancing features performances by all of its core ensemble. And, who knows? This could be the beginning of more musical roles for Hyland.