Selena Gomez Has Blonde Hair Now & OMG, It Is So Major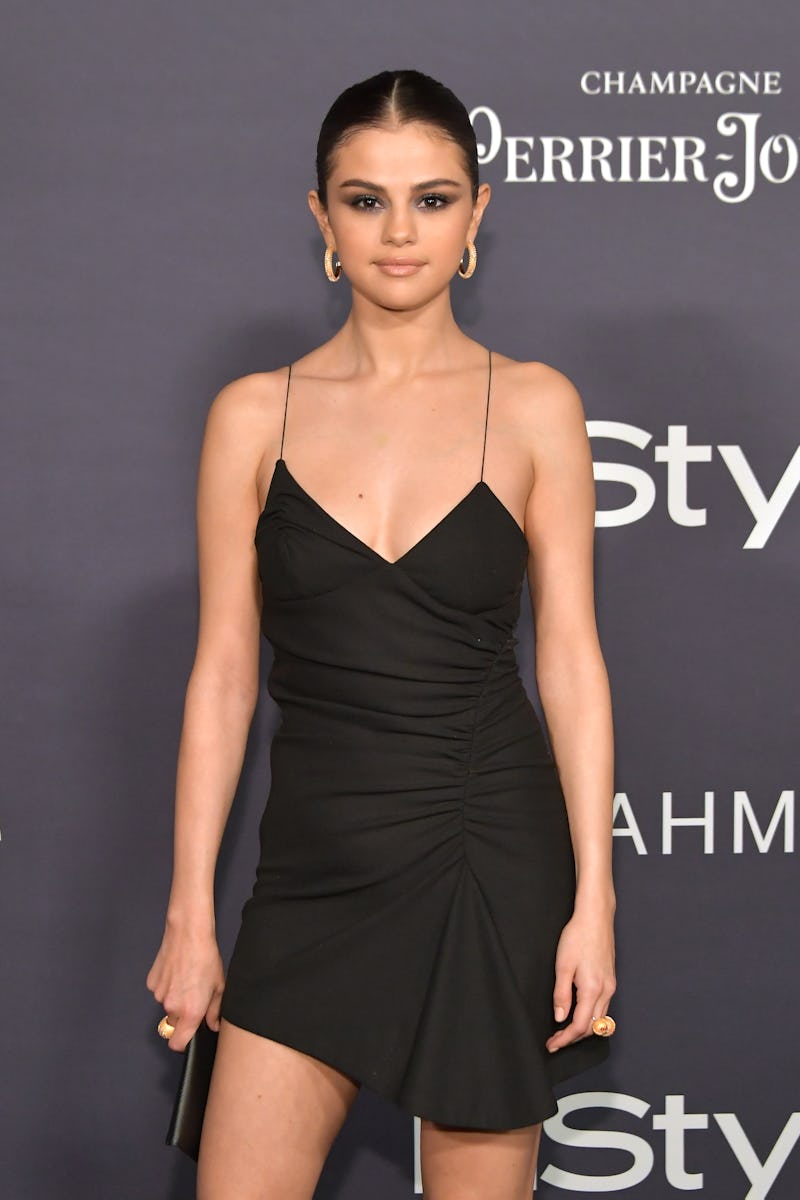 Neilson Barnard/Getty Images Entertainment/Getty Images
November 2017 has been a month of huge changes for the always fabulous and fashionable Selena Gomez. She split with her boyfriend The Weeknd and appears to have reunited with her ex and epic first love Justin Bieber. Even more drastically, Gomez debuted blonde hair at the 2017 AMAs and OMG! Her new mane is totally major.
The singer is known for her mega-long and extra-glossy black locks, which is why she is a Pantene spokesperson. But she has gone shorter in 2017. At the AMAs, though, Gomez rocked a shoulder-skimming lob in a white hot, almost platinum shade.
Gomez also opted for a wavy, bedhead texture with a deep side part that showed off darker roots, along with a "no makeup" look defined by berry-stained lips, statement lashes, and bold brows. That way, nothing competed with her stunning new cut and color.
To the naked eye, Gomez's blonde locks appear totally real, rather than the work of a wig. Ultimately, the entire follicular presentation was a total departure that suited her.
Gomez also wore a super sexy black leather dress with a short hem, long sleeves, and lots and lots of zippers. Her blonde locks and leather frock were pretty punk rock and took inspo from rock 'n' roll and fashion icon Debbie Harry, with a dash of her BFF Taylor Swift.
Uh-mazing. That's the only appropriate word to describe Gomez's new 'do and hue.
That pose, though! Gomez showed off legs for days and a seductive LLBD, which stands for "Leather Little Black Dress," of course. But notice how her posture is confident and poised — you can tell she loves her coif and her ensemble. Despite the "Wowza" factor of Gomez's frock, you won't be able to stop staring at her locks.
Here's to hoping that Gomez decides to remain a blonde for more than a minute. It would be awesome if this isn't a "one night only" pitstop at the shade before she returns to her usual raven-hued hair. This particular color works with her skintone and it's fun to see her ditch the sleek, super shiny, and stick straight hair she is known for in favor of something more undone and edgy.
Justin Bieber is probably thanking his lucky stars that Gomez is giving him a second chance, hanging out at his hockey games, and planting smooches on his smacker. Even though the shock of blonde hair and the fabric of her dress are "tough," there is still an inherent softness, sweetness, and ultimate "Selena-ness" to this AMAs look.
Check out the star detailing on her leather LBD. This is what you call serving up a lewk. It's not too early to call it — Selena Gomez was one of the best dressed of the night.
Gomez has been crushing LBDs lately. This strappy slip dress was hawt AF and the severe, center-parted, and slicked-back hair was a gorgeous compliment.
Of course a legion of Selinators were here for Gomez's new blonde strands.
Feelin' it.
We cannot disagree with this statement.
Everyone is loving Gomez as a blonde.
The appreciation is real.
And here is a little reminder of Harry. The singer has to be one of the sources of inspo for Gomez's 2017 AMAs look, whether Gomez knows it or not!
Gomez's bestie T. Swift had a platinum blonde phase. While her 'do and hue were a bit brighter and choppier, it's obvious that Tay Tay's influence rubbed off on Sel. That's a good thing and is essentially what best friends are for.
Once more with feeling! Gomez's adorbs smile in this shot lights up the room... just like her hair!