Rupert Grint Related To His 'Sick Note' Character For Such An Alarming Reason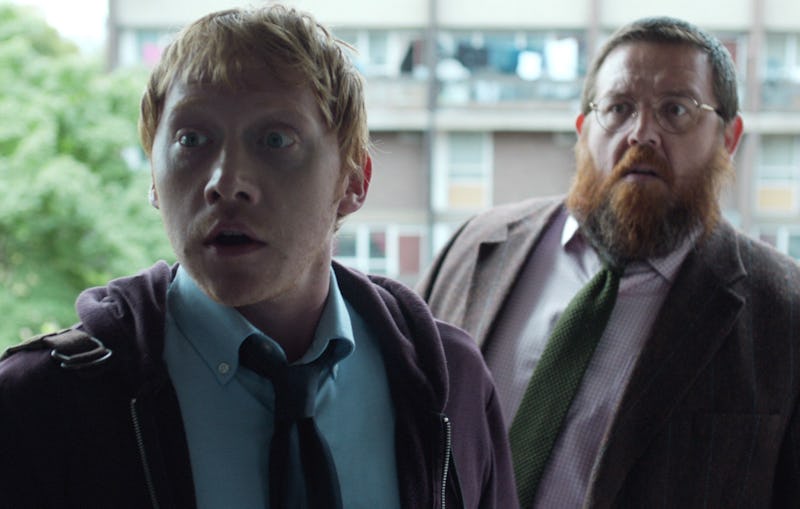 Netflix
Rupert Grint may have made a name for himself as Ron Weasley in the Harry Potter franchise, but he's since proven that he's capable of playing much more than a lovable teen wizard. His latest role is as the lead in Sick Note, a British series that's now coming to Netflix, and the dark comedy gives him a whole new way to show off his acting chops. He stars as Daniel Glass, a man who is mistakenly diagnosed with cancer, and while Sick Note isn't a true story, Grint related to the character because of a health scare of his own.
In an interview with the UK's Sun, the 30-year-old actor said he began suspecting he may himself have cancer just a day before starting filming for Sick Note. "I actually had a cancer scare the day before we started filming. I had a mole that hurt, but it was a spot. I was convinced. I thought: 'Ginger people are more likely to get melanoma.' It was a new mole I'd never seen and it really scared me," he explained, though the mole apparently ended up being benign.
"Cancer is terrifying," he continued. "When we had to do the diagnosis scenes, just hearing someone say: 'You have cancer' is such a powerful thing. In a way, it's good to laugh about it. You take ownership of it. Since doing this, I'm not as scared."
Grint's character on the show doesn't have cancer, but he discovers that after people think he's sick, he's treated much better by those around him. And from there, the horrifying lie just keeps on going. "Daniel suddenly gets the worst news possible when he is diagnosed with a terminal illness. But he doesn't come clean when he realizes he's been misdiagnosed because everything is so much easier for him when people think he is ill," Grint told Ireland's Buzz. "Suddenly he is not completely invisible anymore – people are noticing him. He also manages to save his relationship. All of a sudden, he gets a burst of life that he's never had before."
If Grint's character sounds unforgivable, he kind of is — but he does, at least, recognize that what he's doing is wrong. "It's not easy for him. He is aware that it's a terrible, terrible thing to do, but he feels he has no choice because everything is going so much better," Grint continued to Buzz. "Now he's got everything he wants. He thinks his hand has been forced."
Grint doesn't relish in playing a liar — he told the Evening Standard that being in Daniel's shoes upset him deeply. "It's quite immersive, just being the character and being on set," he said. "It affected me more than anything I've done because lying is one of my triggers and I get very anxious."
It's a troubling premise, to be sure, but it seems built for laughs. Sick Note fits right in with dark, edgy, uncomfortably funny British comedies that the country is known for (cough cough, The End of the F*cking World). And as Netflix opens the show to a new audience, it's sure to have plenty of viewers squirming in their seats.