Sienna Miller Is Making 'The Rachel' Haircut A Thing Again & You Won't Even Be Mad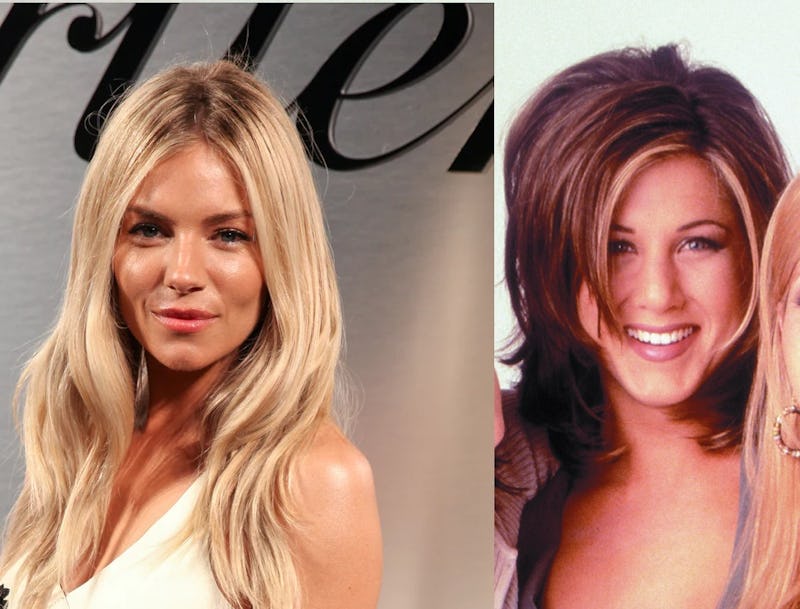 Warner Bros TV/Bright/Kauffman/Crane Pro/Kobal/REX/Shutterstock
The '90s were an iconic time for beauty and fashion, where silky slips and spaghetti straps ruled supreme, and zig-zag center parts and porcupine bun spikes were the styles to copy. But there was one look that arguably defined the decade: The Rachel haircut, debuted on Jennifer Aniston's head in 1994. And now, Sienna Miller is bringing The Rachel back.
The Rachel is a square cut, deeply layered lob haircut with a lot of bounce to it, and was the prevailing look of Rachel Greene — rich girl slash fashion lover turned waitress. Seeing how Rachel was supposed to be the most stylish of the gang, her hairstyle quickly shot into a cult following status, and by 1995 women all over the States were sharing clippings of the look at their hair salon appointments.
Even though the chunky highlighted look hasn't been seen for nearly 20 years since, Miller is bringing it back, but in an updated way. The throwback look was spotted on the red carpet in New York City for a UNICEF event, where Miller came wearing a tangerine spaghetti strap slip dress and suede coral clutch. Her hair was sitting in piecey layers that were both turned in and flipped out, just like Aniston's during her Friends days.
Whether she intentionally channeled The Rachel or not, it does bring a heavy dose of nostalgia back. But like with all things that come back around, there are some noticeable, more modern differences. While Aniston's iconic look was blow dried to reach maximum bounciness and shape, Miller's look is more finger tousled and lived-in, where the ends bend in and bend out in a subtler way.
The original cut was created by hairstylist Chris McMillan, who is something of a legend in the hair world. He has been cutting hair for over three decades, and has helped to create some of the most memorable looks in Hollywood. Not only was he behind the piecey Rachel bob, but he also created Miley Cyrus' asymmetrical pixie when she wanted to transfer from her Disney persona to her twerking, I'm-a-young-adult look, and was also the trusted stylist at Kim Kardashian's Florence wedding.
Interestingly enough, the choppy layers of The Rachel were first created to help hide Aniston's growing out bangs. McMillan shared with The Telegraph, "I told her she should grow her fringe out, get some highlights and just try something a bit different. We cut the length and added in all these layers to blend the bottom to the bangs — and the rest is history." So if you're struggling with your own grow out stage, dabbling with this '90s look is on the table.
But just because it became a staple in pop culture didn't mean that Aniston loved the 'do. In fact, she would like to forget that she ever played with the style. In 2011, Aniston shared with Allure, "Let's say there have been moments I'd rather not relive, like that whole Rachel thing. How do I say this? I think it was the ugliest haircut I've ever seen. What I really want to know is, how did that thing have legs?"
One of the main reasons she didn't like it was because it was hard to style. It wasn't one of those wake-up-and-go looks. She told Glamour, "Looking back — honestly, even during that time — I couldn't do it on my own. I needed [my hairstylist] Chris [McMillan] attached to my hip. Left to my own devices, I am not skilled with a hairbrush and blow-dryer."
Miller's updated look takes that problem right out of our hands — with it's easy layers and casual flicks, all you would need is a little styling wax, a quick hair straightner flick, and you'd be good to go.